Debt is reduced
Repayment terms are extended
Reduced interest rate
In-page navigation
---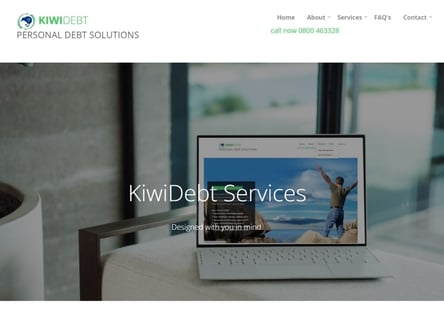 Author Kiwi Debt. Screenshot of Kiwi Debt website.


[Accessed March 7, 2023]
About Kiwi Debt
Kiwi Debt was established by a family in Auckland in January 2008 who saw the effects of the global financial crisis and its impact on New Zealand families.
To date, they've helped many people get their financial life back on track by working with them and their creditors to reduce their payments and alleviate their financial stress.
Privately owned
Kiwi Debt is privately owned, which puts them in the position to make decisions independently, without the influence of market forces and the financial market. They are committed to helping clients find solutions to their debt problems and making New Zealand's economy successful.
Kiwi Debt puts its clients' needs first
The company offers debt counselling and debt review to help clients get back on their feet after hard times. All payment plans are tailored to suit the customer's income schedule, and Kiwi Finance does not try to make money from clients through hidden charges.
One of the first to offer online services
Before the Covid Pandemic, Kiwi Debt has been assisting clients using their online platform from all over the country. This service allows clients not to talk to someone face to face about their problems, which makes the process a bit less stressful.
Kiwi Debt Services
Clients who find themselves with no clue how to manage all their debt can ask Kiwi Debt's friendly and experienced staff for assistance with affordable debt counselling and debt review services
Often, people need a bit of help to get them moving in the right direction after getting into debt- debt consolidation is the perfect solution for those in need of support and guidance
Debt Management
A Debt management plan is a process where Kiwi Debt negotiates with the client's creditors to lower the cost of their repayments. This plan is not a form of insolvency and does not stop clients from using insolvency options if they should need it in the future.
Debt Settlement
Debt settlement allows clients to ultimately settle their debt by paying off an agreed-upon amount and then closing the account. Clients who suddenly have access to extra funds can use it to pay their debt in whole or in part.
Debt Repayment Order
Clients can order a formal repayment structure under the insolvency act using a debt repayment order. This plan is usually restructured for a period of an average of three years. Clients that have less than $5000 of unsecured debt can apply for debt repayment to make their repayments less.
Kiwi Debt – Debt counsellor
Loan Type

Debt counselling
Benefits of Kiwi Debt
Effective debt management
Lower interest rates
Extended repayment terms
---
Debt counselling is an effective method to regain control over your finances
Kiwi Debt specializes in providing accessible and affordable solutions to debt problems.
Apply online for various products, or talk to a consultant over the phone, to start the journey towards becoming debt-free.
Debt review
A debt repayment order is the same as a debt review: it is a formal repayment structure under the insolvency act. It is usually 3 years long and works best for clients with less than $5000 of unsecured debt that can't keep up with their regular repayments.
How debt review works
As soon as a client is placed under debt review, their payments will be re-arranged and based on their affordability, and their living expenses. Any NZ citizen can apply for a loan online, and those who live overseas can also apply, as long as they are able to manage regular uninterrupted payments.
Let Kiwi Devt handle your repayments
Clients who receive acceptance on their debt review, will not be contacted by creditors about repayments anymore. Creditors will have to contact the DRO SUpervisor for information, meaning that clients don't have to stress about arguing with them.
Get valuable advice from expert consultants
KiwiDebt does not provide debt consolidation loans, but they can assist clients with many products that have to do with debt counselling and debt review. Clients can talk to consultants via telephone, email or an office visit to discuss what options they have available.
Customer Reviews & Testimonials
"
I approached Kiwi Debt to get some advice on how to manage my debt better. Very helpful.
Chrissie M.
— Auckland —
Affordable debt counselling service, great staff.
Denver M.
— Auckland —
Excellent customer service, their consultants are world-class.
Lorrina W.
— Auckland —
Kiwi Debt Contact
Contact Number
E-Mail
Website
Physical Address
89 McKenzie Ave

Whangaparaoa

Auckland Region

0943

New Zealand
---
Postal Address
PO Box 906, Whangaparaoa, 0943, New Zealand
Opening Hours
Monday

10:00 – 18:00

Tuesday

10:00 – 18:00

Wednesday

10:00 – 18:00

Thursday

10:00 – 18:00

Friday

10:00 – 16:30

Saturday

– Closed

Sunday

– Closed