Bad credit loans up to $20,000
Low-interest starting from 29.95%
Repayment up to 7 years
In-page navigation
---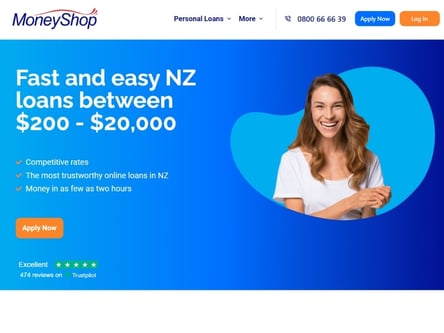 Author Moneyshop. Screenshot of Moneyshop website.


[Accessed March 6, 2023]
About Moneyshop
At Moneyshop, they believe that each borrower deserves fair treatment and great personal attention, which contributes to the fact that Moneyshop is different from your other lenders, thus making them very reliable and trustworthy.
Their finance company is based in Auckland and specializes in low-rate personal loans. By offering simple, fast, and easy finance packages tailored to the individual needs of their clients, they can stay on top of their clients' needs.
Flexible lending guide
Moneyshop will take into account your circumstances, budgets, and lifestyle to ensure that the loan, which you obtain fits your needs and budget. With almost 18 years of experience, Moneyshop has always had a strong partnership with its staff and customers. Their services are based on complete understanding and respect. Moneyshop provides professional financial solutions to you at any of their four branches in the Auckland region.
Moneyshop Services
The quick loans of MoneyShop range from $500 to $50,000.
You can borrow any amount that you require, whether it be paying for a purchase, a project that needs to be completed, or simply a special event. Moneyshop can also assist you with a whole lot of other financial solutions among them being debt consolidation and managing your finances.
Unsecured loans for bad credit
Moneyshop has personal loans for bad credit clients which is simple and easy in addition to being highly considerate. They consider your individual needs, requirements, and budget to come up with the most suitable finance solution for you as well as provide assistance from the beginning to the end. To apply for a loan at Moneyshop, you can visit any of their branches or use the online loan application form on their website.
Benefits of Moneyshop
Supply affordable bad credit loans
Has a fast system for loan processing
Provides friendly loan services
Moneyshop – Bad credit loan
Loan Type

Bad credit loans

Interest Rate

29.95 – 34.95% p/a

Loan Amount

up to $20,000

Repayment

6 months to 7 years
Benefits of Moneyshop
Affordable bad credit loans
A fast loan processing system
A friendly loan service
Bad credit loan calculator
Need cash in a hurry? Apply for a bad credit loan & get instant loan approval
Get instant loan approvals with your bad credit loans at Moneyshop.
At Moneyshop, they do personal loans for bad credit customers from $200 to $20,000 in Auckland. They supply the best administration, with the friendliest individuals to assist you with not only getting the right loan but also to assist you in managing your repayments.
Their entire loaning procedure is composed of adaptability which allows their loans to fit your needs. Moneyshop realizes that everybody has different needs and requirements, therefore when you don't qualify for a bad credit loan they will let you know what you'll have to do so that you will be able to be helped in the future.
You have bad credit but need a personal loan
Moneyshop has branches across Auckland and North which provides their clients with a fast and simple online loan NZ application form. It has never been this easy to get a personal loan with a bad credit history, but Moneyshop has jumped right in to accommodate you and your needs.
Getting an individual loan
It has been made easy to apply and register for a loan, as all the work is being done online. It can be done via the internet and mobile phone or you can simply visit the website that is made available and apply through the online platform, which is user-friendly and easy to work with. Now you can get cash in a flash.
In-store loans for bad credit
There are a whole lot of options which have been made available for applications, among them, being in-store services. Moneyshop also offers an Instalment Protection Plan, which is a reimbursement waiver arrangement that covers the borrower for ailment or death. You never know what may happen next in our life therefore Moneyshop has made arrangements for times of distress.
The provided Instalment Protection Plan helps you through these circumstances. On the off chance that you are unable to work for a while or become disabled, or in the event of death, their payment protection model will be of benefit to you.
Customer Reviews & Testimonials
"
Money shop is literally like a shop with a very nice large variety of loan options. Their bad credit loans are fair and affordable.
Patrick M
— Wellington —
Excellent service received from a consultant, the rates were very low and the repayment terms nice and flexible.
Max H
— Hamilton —
Very easy to navigate and a userfriendly site I applied online and had my funds the next morning.
Zachariah W
— Napier —
Moneyshop Contact
Contact Number
E-Mail
Website
Physical Address
253 Lincoln Rd, Henderson

Otahuhu

Auckland Region

0610

New Zealand
---
Postal Address
PO Box 76566, Manukau, Auckland, 2241, New Zealand
Opening Hours
Monday

08:30 – 17:30

Tuesday

08:30 – 17:30

Wednesday

08:30 – 17:30

Thursday

08:30 – 17:30

Friday

08:30 – 17:30

Saturday

09:00 – 15:00

Sunday

– Closed