Debt consolidation up to $50,000
Low-interest starting from 13.95%
Repayment up to 5 years
In-page navigation
---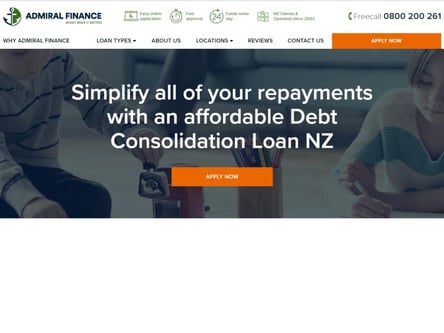 Author Admiral Finance. Screenshot of Admiral Finance website.


[Accessed March 7, 2023]
About Admiral Finance
We look into the individual circumstances and needs of our customers to offer the most suitable loan. At Admiral Finance, we work differently in that we consider the circumstances of each and every one of our clients.
Specializing in personal loans, debt consolidation, car finance, and other types of credit products, we have a financial solution for you. Our loan criteria have been altered to cater to a number of different financial situations.
We provide personalized solutions
Our story began in 2003, when Dougal Shand, a Chartered Accountant with an international career, started the company. He assembled a team of people with great experience in the finance industry and invested in advanced systems to ensure perfect organization and maximum efficiency. This enables us to produce the best results for our clients.
Admiral Finance Services
Admiral Finance is a specialist in the provision of secured and unsecured debt consolidation loans in New Zealand.
If your debt is getting out of control and the bills keep piling up, you can turn to us for help. Thanks to our diverse experience in the finance industry, we know that debt can accumulate not only due to low income but also because of poor management and unexpected emergencies.
Debt consolidation can help you
Often, just a few missed payments can lead to considerable debt due to late payment charges. What is our solution? We will provide a single affordable personal loan to you and you will use it to repay all of your existing debt. As a result, you will have a single monthly payment to look after. We will offer a completely customized solution that is built around your current income.
Admiral Finance – Consolidation loan
Loan Type

Debt consolidation

Interest Rate

13.95 – 24.95% p/a

Loan Amount

up to $50,000

Repayment

6 months to 5 years
Benefits of Admiral Finance
Get a loan in 60 minutes
Loan rates are competitive
Flexible debt consolidation options
Applying online is easy
---
Turn to Admiral Finance for expert debt consolidation services
Debt Consolidation Loans are easily available from Admiral Finance in Christchurch New Zealand.
We offer debt consolidation loans to cut the anxiety in your life and your finances. Searching for secured or unsecured debt consolidation loans NZ? Have your debts taken over your life? Are the bills piling up? It truly doesn't make a difference what amount you gain, hundreds of individuals battle to deal with their cash.
It may be that the credit card bills are spiraling out of control or that the day-to-day expenses are building up. On the other hand, possibly you simply battle to continue to get a grasp of what you have to pay every month. When you start missing payments on your debts you continue getting hit with late installment charges.
Whatever the reason, a debt consolidation loan from Admiral Finance will offer you some assistance with starting over once more. It isn't only that we bring everything under one single reasonable advance to make things less demanding, we likewise offer you some assistance with budgeting. Our debt consolidation is focused around installments that you can bear the cost of at this moment, with your present salary.
We have debt solutions
You can get your debt consolidation loan quickly. It's exceptionally easy to apply for a loan. You get the cash to sort out your debts within a time frame of only 24 hours.
We're flexible and affordable
If you can manage the cost of the reimbursements, and meet our loaning criteria, we'll help you get your loan. If you've been turned away from other financial lenders, because of a low salary, or because of your credit history, don't let this get you down – we can help you.
We choose the amount we can loan you. You get individual attention and a personalized loan. Admiral Finance is a genuine business - with genuine individuals and cash to loan. You can even come and see us in our Christchurch workplaces whenever you please. We will be happy to sit with you and discuss your quick loan options.

Admiral Finance is a trusted & reliable provider of debt consolidation
Customer Reviews & Testimonials
"
I am not proud to say that, once you get into debt it gets harder and harder to get out, thankfully I was able to leave my mountain of debt behind me thanks to Admiral Finance. They offered me a ...
Laurel B.
— Auckland —
Admiral Finance helped me simplify my debt and it has been a lifesaver!
Laquetta W.
— Christchurch —
Debt is a personal problem and needs a personal solution, AF took the time to help me work out my solution.
Robin E.
— Rotorua —
Admiral Finance Contact
Contact Number
E-Mail
Website
Physical Address
45 Mandeville St

Riccarton

Christchurch

8011

New Zealand
---
Postal Address
PO Box 36 606, Merivale, Christchurch, 8146, New Zealand
Opening Hours
Monday

08:00 – 18:00

Tuesday

08:00 – 18:00

Wednesday

08:00 – 18:00

Thursday

08:00 – 18:00

Friday

08:00 – 18:00

Saturday

– Closed

Sunday

– Closed