Debt consolidation up to $80,000
Low-interest starting from 9.95%
Repayment up to 5 years
In-page navigation
---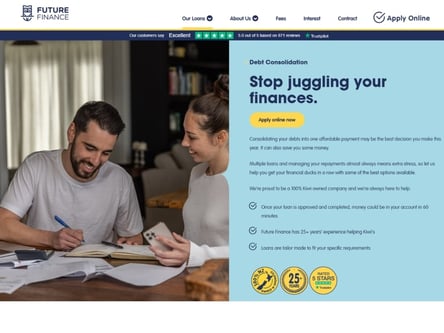 Author Future Finance. Screenshot of Future Finance website.


[Accessed March 7, 2023]
About Future Finance
For more than 10 years, Future Finance has been providing effective financial solutions to New Zealanders.
Their finance company specializes in debt consolidation NZ, cash and vehicle loans, car refinancing, and second mortgages. Future Finance operates nationwide therefore their client base is constantly expanding to include more and happier customers.
Excellent customer services
The directors of the Future Finance company work every day together with the whole team to provide online quick loans of the highest quality. Each one of their consultants is fully equipped to make a loan decision. There is no need to wait for head office approval as you can get your approval within hours of submitting your applications.
Future Finance has a team of employees, which is their biggest asset. They listen to the customers and work closely with them to come up with the best solution given for their individual situations. Future Finance also provides packages that match the individual needs and suit each one's budget.
Future Finance Services
As a specialist in debt consolidation loans, Future Finance offers solutions that help customers to gain full control over their debt and finances.
They take your financial stress and turn it around in financial solutions. They have a consolidation service that works simply and efficiently. It involves combining all of your existing debt from personal loans NZ, credit cards, overdrafts, and hire purchases in a single loan with a highly competitive interest rate.
Instead of four payments, you will now only have a single payment to make each month. With a debt consolidation loan NZ you can also generate great savings during the month. Keep in mind you will have less stress, fewer worries, and more savings.
Reduced interest rate
Other finance companies set hire purchase rates up to 30% and even at times, it can be above 30%. In this case, you can save hundreds and even thousands of dollars every year by consolidating your debt with Future Finance.
Future Finance – Consolidation loan
Loan Type

Debt consolidation

Interest Rate

9.95 – 19.99% p/a

Loan Amount

up to $80,000

Repayment

6 months to 5 years
Benefits of Future Finance
Hassle-free debt consolidation loans
Quick online loan applications
No hidden fees
---
Are you overwhelmed by debt? We have the solution
You will have more income to spend at the end of the month and avoid debt in the future when taking out a debt consolidation loan from Future Finance.
It has been made so easy that you can make a loan application online directly from their website. Future Finance Debt Consolidation Loans in New Zealand join all your debts into a solitary, focused loan.
They understand how stressful life can be and how difficult it is to balance your creditors and your debts at the end of each month. Therefore, they have created a solution to your problem.
In most cases, your debts accumulate so much that you can't even cover them with your end-of-month wages. Why make different installments and high financing costs, when it is difficult to handle it. Future Finance has a way out for you! You can merge all of your debts into one convenient advance. Take control of your accounts today, and you'll see the difference in your budget each month from here on.
Get fast approval
For a speedy loan approval and a quick online loan NZ application process, you can visit their online application tool, which conveniently and quickly gets your application processed in minutes. Getting a debt consolidation advance with Future Finance is as simple as it could ever be.
Future Finance has an expert loaning group that will comfort your concerns and worries as they come up with a simple and affordable solution to end your debt and move it into one simple credit. Even better, once affirmed and all your criteria fit the requirements; you can have cash in your account within the same or very next day. It couldn't be any easier for you to get rid of all your excess debt.
How to apply?
You can apply on the web or telephone for a significantly quicker endorsement 0800 25 10.
Prepare your documentation - Future Finances' well-disposed loaning group makes debt consolidation loan arrangements and customizes them to suit your needs.
Approval and Payment - When your credit is affirmed and all the documents have been completed; money will be paid into your banking account in only an hour!
They have a team of advisors who are available at any time to assist you through the process, as well as assist you with any inquiries you may have.

Future Finance is a trusted & reliable provider of debt consolidation
Customer Reviews & Testimonials
"
Taking out a loan to consolidate my debt has actually SAVED me money. I pay much less in interest than I would have before, I actually have more money available in the month now that I am using t...
Matt H.
— Palmerston North —
The site was very useful, informative, and easy to navigate. I applied online for my loan and had my funds the next day.
Ethan H.
— Gisborne —
A wonderful consultant lady was able to answer all the questions I had about my options and we decided on one that I am very happy with.
Robert Y.
— Hastings —
Future Finance Contact
Contact Number
E-Mail
Website
Physical Address
Camberley

Hastings

4120

New Zealand
Opening Hours
Monday

08:00 – 17:00

Tuesday

08:00 – 17:00

Wednesday

08:00 – 17:00

Thursday

08:00 – 17:00

Friday

08:00 – 17:00

Saturday

– Closed

Sunday

– Closed