Debt consolidation up to $50,000
Low-interest starting from 6.99%
Repayment up to 7 years
In-page navigation
---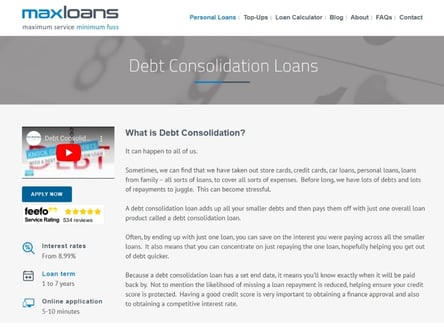 Author Max Loans. Screenshot of Max Loans website.


[Accessed March 7, 2023]
About Max Loans
At Max Loans, they understand people, as well as the struggle with their finance.
This allows them to offer customized financial solutions to New Zealanders. When you go to them, they will listen to you.
Max Loans wants to know as much as possible about your situation and needs to find a loan that fits your needs just right. They will not make you go through a complicated borrowing process that is based on tons of paperwork and endless questions.
Making the process easy and comfortable
Max Loans has a friendly and experienced team that is always ready to help, whether you require a personal loan nz, car finance, or a debt consolidation solution. They will use everything within their knowledge and expertise to ensure that you will obtain the best possible loan in the most convenient way.
Max Loans Services
The loan is designed to help you pay off all of your existing debt irrespective of its source.
You will end up with a single manageable payment instead of a list of payments and if it is that the payments have downsized, you will have more cash throughout the month.
Become debt-free
Let Max Loans help you take full control over your income and spending with a debt consolidation loan NZ. They can help you to secure competitive rates, a repayment schedule that matches your needs, and the opportunity to pay off your new personal loan early without penalty.
Max Loans can arrange both secured and unsecured debt consolidation loans for you. They can assist you even if you have a bad credit history. It is even possible to borrow extra money with the new loan for maximum flexibility. To get started, you need to fill out the online application form on their website.
Max Loans – Consolidation loan
Loan Type

Debt consolidation

Interest Rate

6.99 – 29.95% p/a

Loan Amount

up to $50,000

Repayment

1 year to 7 years
Benefits of Max Loans
Easy online loan applications
Fast loan approval
Reduced expenses
---
Our debt consolidation loans can help become debt free
Max Loans in North Shore New Zealand have debt consolidation loans that can get you back on budget.
Consolidating your debts into one installment can set you free from undesirable panic and stress. It is the door to your advanced finance.
Debt consolidation to assist you
Debt consolidation is a standout amongst the most mainstream credits that financial providers do. It takes every one of your debts whether it's credit card bills, store cards, credit HP or cash you owe, and pays all of them off in one payment. At that point, we compose one standard advance reimbursement that fits your budget and your ideal needs.
Debt Consolidation NZ will deal with your cashless demands and you could pay off your debts much sooner. With Max Loans, you can apply for a loan online from the comfort of your own home. No need for going the extra mile, when they are taking the extra mile for you.
The benefits of a debt consolidation loan
No additional charges. It permits you to close and complete all those niggling outstanding cards, accounts, and bills. You become back in control of your finances, knowing you only have one single personal loan to pay off instead of multiple accounts and balances. The interest rates and fees will be considerably lower, and your installment will also be reasonably low.
With a debt consolidation loan from Max Loans, you will be able to walk away with a little extra cash each month to enjoy life a little more.
No penalties for early repayments
So when you come upon extra cash, you can pay it towards your loan to finish it quicker, at no additional charges. One consistent sensible reimbursement. Having a reimbursement that turns out on your payday, permits you to stay focused on your money-related duties.
It will allow you to get your financial affairs and your budget together. When you have debts mounting up and dragging you down, life can feel draining and difficult. Now there is an alternative measure to help you get out of the debt trap and live a happier financially stable life

Max Loans is a trusted & reliable provider of debt consolidation
Customer Reviews & Testimonials
"
One of my favourite things about getting a consolidation loan from Max Loans is that they do not charge me more for paying off my loan early.
Charles P.
— Rotorua —
They really helped me get control of my life and my finances again. Thank you.
Chase S.
— Dunedin —
Simple to use website that has a very useful loan calculator that helped me see just what I could afford to pay back monthly.
Henry M.
— Queenstown —
Max Loans Contact
Contact Number
E-Mail
Website
Physical Address
27/27-29 William Pickering Drive,

Rosedale

Auckland Region

0632

New Zealand
Opening Hours
Monday

08:30 – 18:30

Tuesday

08:30 – 18:30

Wednesday

08:30 – 18:30

Thursday

08:30 – 18:30

Friday

08:30 – 18:30

Saturday

– Closed

Sunday

– Closed