Debt consolidation up to $50,000
Low-interest starting from 13.90%
Repayment up to 5 years
In-page navigation
---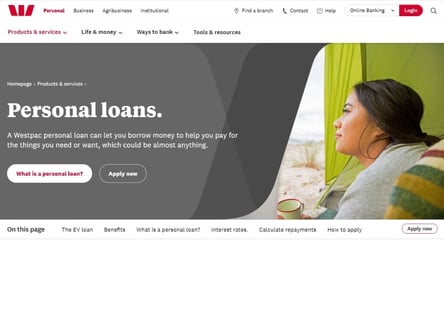 Author Westpac. Screenshot of Westpac website.


[Accessed March 7, 2023]
About Westpac
At Westpac, they are proud of their history which began in the year 1860.
They have always placed the main focus on innovation to offer the most technologically advanced and functional financial solutions to their clients. They make it their prime goal to grow with the country. Therefore Westpac is currently the second-largest bank in New Zealand.
Helping you develop financially
Westpac has a comprehensive range of products to meet and exceed the needs of their private, business, and institutional clients. They offer a variety of accounts and financial products for individual customers to help them achieve the goals which they have set for themselves.
Westpac's credit products range from unsecured short-term loans and vehicle finance to home loans and debt consolidation loans. Business customers can select from a wide range of customizable solutions to fit the needs of their companies. They help you to grow and succeed in your finances.
Westpac Services
You can wrap all of your outstanding debts together and make one single payment every month with a debt consolidation loan from Westpac.
Instead of dealing with many payments on credit cards, hire purchases, and personal loans online, you will only have one installment to take care of. This will make things so much easier and convenient for you.
Debt Consolidation loans to meet your needs
Westpac can tailor a debt consolidation loan to fully match your requirements and to free up some cash for you during the month. You can secure a competitive interest rate that is much lower than those on credit and store cards, overdrafts, and some personal loans.
You get to select the term of the loan. A longer-term will result in smaller regular payments while a shorter one will allow you to save on interest payments. These are all aspects that need to be considered before taking out a loan.
Westpac – Consolidation loan
Loan Type

Debt consolidation

Interest Rate

from 13.90%

Loan Amount

up to $50,000

Repayment

6 months to 5 years
Benefits of Westpac
Get quick decision
Flexible repayment options
Easy online application
---
Choose the debt consolidation partner in NZ, choose Westpac
Make 'one day' happen today with a Westpac Debt Consolidation Loan in Warkworth.
Are you drowning in built-up debts which make it almost impossible to get by each month? Now is the time to consolidate your loans into one debt under one installment each month. It is quick and simple to apply, and the advantages can be organized to suit your needs.
There are many ways to get this loan
Apply for a loan online
Visit their branch anywhere
Call them at 0800 177 277
Simple online applications for Debt Consolidation loans
One size doesn't fit it all in finance, therefore Westpac has quick loans nz that are adaptable. With diverse term lengths, competitive rates, and no penalties if you pay it off ahead of schedule, you will find the ideal loan to fit your needs when using Westpac.
Their easy-to-use loan calculator will allow you to work out just how much you can borrow, as well as how much your installments will work out to be each month. This little tool can help you budget ahead of time and prepare you for your application process.
Now is the best time to end up in a good place financially as well as get the things you have always wanted, and experience your dreams. A debt consolidation loan gives you more than just financial related support, it helps to make your dreams come true. It could also spare you on premium charges, offer you some assistance with avoiding different installments for different debts, and many more. That is only the beginning of how a debt consolidation loan can change your life.
Consolidating your debts today
Spare yourself a heap of interest and worries by putting all your debt into one credit. Store cards, credit cards, personal loans, or even things that you just cannot afford to budget for anymore, could all be paid off as a major aspect of a Westpac Debt consolidation loan with one basic reimbursement each month. It is the quickest process and decision you can make to a better financial future.
Customer Reviews & Testimonials
"
I needed a hand to help me get my debt under control. I approached Westpac and they listened to my needs and helped tailor a loan to help me consolidate my debt. Truly excellent service.
Gabrielle V
— Wellington —
Great service, good interest rate, and a flexible repayment term to suit my budget. Yes, please!
Lexi Y
— Rotorua —
I did my research online before going into a branch and was able to get assistance immediately. Wonderful service and very efficient.
Paula B
— Hastings —
Westpac Contact
Contact Number
E-Mail
Website
Physical Address
298 Broadway

Newmarket

Auckland Region

1023

New Zealand
Opening Hours
Monday

10:00 – 13:00

Tuesday

– Closed

Wednesday

10:00 – 13:00

Thursday

– Closed

Friday

10:00 – 13:00

Saturday

– Closed

Sunday

– Closed