Short-term loans up to $50,000
Low-interest starting from 13.90%
Repayment up to 5 years
In-page navigation
---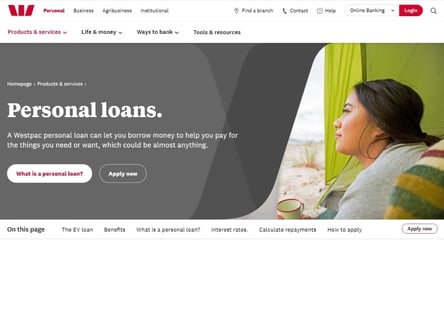 Author Westpac. Screenshot of Westpac website.


[Accessed March 3, 2023]
About Westpac
Westpac as a major bank that has been serving New Zealanders for more than 100 years, offers one of the largest selections of credit products and services to various communities.
Ever since the first bankers rode on horses to serve gold miners in Otago in the 1860s, Westpac has maintained its presence as a leading banker in the country. Today as a major innovator, it offers the most modern and advanced solutions to their individual, business, and institutional customers.
Westpac offers different credit services
Westpac is giving every New Zealander who requires a Bad credit loan, the chance to enjoy their preferred lifestyle. From home loans to asset finance to speedy unsecured short-term loans, they have everything to offer that has put communities back on an even financial footing.
Their tailor-made microfinance and investment solutions for individuals and businesses are putting people at the forefront of the economy.
Westpac offers Unsecured Bad Credit loans of up to NZ$50,000, which is payable over a five-year repayment term at affordable rates of interest. The banker's services are focused on being fuss-free, fast, and reliable, thanks to online technology that is making it the go-to bank for these types of loans.
Stress-free loan application process
Many New Zealanders are facing a credit crunch due to tough prevailing economic times. There are always bills to pay and sometimes money is not available to fix emergencies, such as paying off school fees or fixing a car.
Westpac Services
With a Westpac Easy Loan for Bad Credit, clients can choose to either pay it off monthly or fortnightly.
If clients pay off a loan before the loan contract agreement expires, the bank will not charge a penalty fee. The advantage of a Westpac short-term loan is that clients can top up the loan amount if their financial needs change.
What clients get with a short-term loan
Loan amount up to NZ$50,000
Interest rate pegged at 13.90%
Flexible repayment options from 1 – 5 years
Money paid in 24 hours
Loan top-up is allowed if the client's financial situation changes
Applying online for a Bad Credit Loan
Loan applicants simply sign onto the website and provide details such as name, address the amount of the loan, and repayment period preferred. The customer will have to supply supporting documents such as proof of address, proof of residency, and a valid ID document. Westpac will also assist foreign immigrants with loans where it is possible
Westpac's updated online technology makes applying for a Bad credit loan in New Zealand a no-fuss, no-frills affair. Once the application is lodged, Westpac's expert staffers will take charge from there. They will phone the client back immediately once they have received the information and discuss the loan with the client.
Westpac – Short-term loan
Loan Type

Short-term loans

Interest Rate

from 13.90%

Loan Amount

up to $50,000

Repayment

6 months to 5 years
Benefits of Westpac
Flexible repayment options
Affordable short-term loans
Easy online application
Short-term loan calculator
Best Rate Short-term Loans at Westpac
Westpac understands the issues at play and will always come up with a solution for Bad credit loan clients.
They will custom a loan to suit every client's need because they are acutely aware that not everyone can afford similar loans in the market. As a bank that takes pride in its duty as a registered banker and Responsible lender, expert staff will always ensure that clients can comfortably afford to lend a specific amount and pay it off easily.
Easy online loan calculator
Westpac is aware that clients like to know in advance what they qualify for and what the cost of acquiring a loan would be. This means clients are better prepared when applying for any loan so they can make the necessary financial arrangements
The online calculator available on the website is an ideal tool that can prepare the client for the costs to be met, should they qualify. The applicant enters the loan amount in the appropriate field then chooses the loan repayment term – of between 6 months and 5 years. Once the interest rate is applied the calculator will assess the cost of the loan including interest.
For example, if a client borrowed NZ$10,000 over 3 years at 13.90% p.a, with a monthly repayment of NZ$345, the total that would be repaid would be NZ$12,409 (including a NZ$100 establishment fee).
Apply now for a short-term loan
Need to renovate but the cash is limited due to Bad Credit? No worries Westpac's short-term loans can help increase any property portfolio. Financing a renovation or new build can be done in a number of different ways, depending on the size and scope of the project.
The options available
Apply online for "conditional" approval
Mobile mortgage managers will come to clients whenever it suits them
Walk into a branch and speak to an expert
Or call during office hours - Monday to Friday
Westpac's home loan NZ lending criteria and terms and conditions apply. An establishment charge and an equity margin may apply. An additional fee or higher interest rate may apply to home loans if the application is accepted but does not meet the standard lending criteria.
Customer Reviews & Testimonials
"
Money paid over really quickly. Super friendly service!
Kieran McMahon
— Palmerston North —
I found the application form difficult to understand, but my loan was approved in a few minutes. I had the cash in hand the next day.
Radikah A.
— Auckland —
A speedy approval rate combined with a great payout in record time! Couldn't ask for more, even if I wanted to!
Ayoub S.
— Wellington —
Westpac Contact
Contact Number
E-Mail
Website
Physical Address
1/135 Pakuranga Road,

Pakuranga

Auckland region

2010

New Zealand
---
Postal Address
53 Galway Street, Auckland, 1010, New Zealand
Opening Hours
Monday

10:00 – 13:00

Tuesday

– Closed

Wednesday

10:00 – 13:00

Thursday

– Closed

Friday

10:00 – 13:00

Saturday

– Closed

Sunday

– Closed