Car finance up to $20,000
Apply in 9minutes
Low-interest up to 11.97%
In-page navigation
---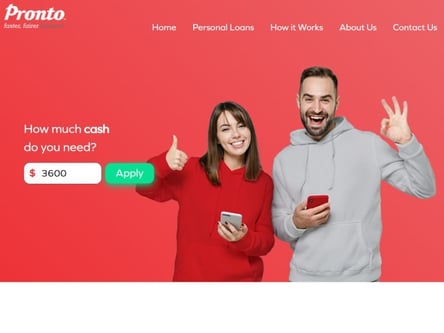 Author Pronto Finance. Screenshot of Pronto Finance website.


[Accessed March 6, 2023]
About Pronto Finance
Modern finance is all about efficiency, innovation, and affordability – three aspects that Pronto Finance is happy to boast about.
Advancements in modern technology have allowed our team to foster our expert services and repack it into a simpler and more effective platform.
An improved online platform
Pronto Finance is a registered digital finance company based in Nelson, offering car loans and a variety of other financial products to Kiwis in financial need. Due to our improved online platform, we are able to cater to the requests of clients all over the country in only 9 minutes – guaranteed!
The new and improved digital signature technology
Digital signature technology is only one of the many technological improvements we have employed. With our new system, customers are able to sign their car loan documentation online. No rushing to the fax machine or arranging to take time off work. It's as easy as visiting our website on your personal computer or Smartphone.
Up to $20,000 in finance
Pronto Finance offers borrowers the opportunity to access both small and large personal loan amounts to cover an array of borrowing needs – including car loans! Customers are able to borrow from $200 up to $20,000 and make weekly, fortnightly, or monthly repayments – the borrowing period depends on the repayment frequency.
Early repayments with no strings attached
We encourage our borrowers to finalise their loans as soon as possible by taking advantage of our 'no early repayment charge' policy. This means that if you choose to repay your car, personal or short-term loan early, we will not penalize you as many lenders do. Instead, we welcome the notion!
Pronto Finance Services
At Pronto Finance we understand that sometimes Kiwis are in dire need of financial assistance which is why our finance is flexible.
We are not only open to lending to those with less-than-perfect credit, we even offer joint loan application opportunities.
Financing a new set of wheels
Whether you are starting a new job, enrolled in college, or want to purchase a vehicle for your child's eighteenth birthday, Pronto can help you arrange the vehicle finance that you need.
With a maximum borrowing amount of $20,000, customers can easily arrange for vehicle finance for either a new or second-hand vehicle.
The expected annual interest rate can range between 11.97% to 29.97% depending on the client rating – this rating differs according to the customer's borrowing safety rank.
A few scrapes and bumps
The good news is that we also aid with smaller car loan amounts, as low as $200, to finance those unexpected vehicle repairs, maintenance, or odd jobs that need to be done.
Apply for a loan the process is quick and easy and your car can be sent to the repair shop and you will be back on the road in no time.
Ideal for emergency situations
What makes Pronto finance great is that your emergency loans can be arranged fast – or pronto, you might say! Within 9 minutes loan applications can be processed and approved and it's all thanks to our automated systems.
In fact, we are so sure of our policy that we will even pay your first month's repayment if our processing time is longer than the guaranteed 9 minutes.
Pronto Finance – Car loan
Loan Type

Car finance

Interest Rate

11.97%

Loan Amount

up to $20,000

Decision

9 minutes
Benefits of Pronto Finance
Low-interest rates
Quick online loan application
Affordable loans
Change your life with a four-minute application
Pronto Finance has not only ensured that our automated system reduces the overall turnaround time of your loan to 9 minutes, but we have also simplified and optimized the application to ensure it can be completed in a meager four minutes. Grab a cup of coffee and sit down in front of the computer – it will all be over before you know it!
It's as easy as 1, 2, 3, 4!
While most financial lenders have complex application processes, at Pronto we like to keep matters simple. You can have your car loan application sorted out in four easy steps. All you need to do is follow these easy steps:
The complete online application
The loan application is assessed
Digitally sign the documentation
The car loan is paid into your account.
A few simple requirements
Before applying for one of our car loans, there are a few requirements that you need to meet. If you are not certain whether or not you qualify, you can always complete the application or give our customer service people a call!
All applicants should be:
Over the age of eighteen
A New Zealand resident
Employed full-time or part-time
Able to produce all relevant documentation
We even accept applications from those with less-than-perfect credit so do not let your credit rating be a hurdle – if it comes to it you can always arrange a joint application or a bad credit loan online.
What you will need for a Pronto loan
There are a couple of documents and administrative formalities that will need to be dealt with along with your application. When you apply for a car loan you should ensure that you have the following documentation is available:
Valid driver's license
Bank account number and 90 days of income and expense statements
Vehicle registration plate
An active mobile number and email address – for contact purposes
The matter of collateral
Because you are going to be applying for a car loan, collateral is not as complex in this situation as it can become with other loan types. The vehicle that you are using the finance to obtain will be offered as collateral until the final repayment is made on the car loan.

Pronto Finance is a trusted & reliable provider of car finance
Customer Reviews & Testimonials
"
October 2019
Pronto Finance has the lowest interest rates
Lydia D
— Nelson —
June 2019
It was very easy to apply for a car loan with Pronto Finance
Anthony T
— Wellington —
Pronto Finance Contact
Contact Number
E-Mail
Website
Physical Address
2 Cambridge Street

Nelson

7020

New Zealand
Opening Hours
Monday

09:00 – 17:00

Tuesday

09:00 – 17:00

Wednesday

09:00 – 17:00

Thursday

09:00 – 17:00

Friday

09:00 – 17:00

Saturday

– Closed

Sunday

– Closed