Affordable Car Finance
Quick Online Application
Repayment up to 6 years
In-page navigation
---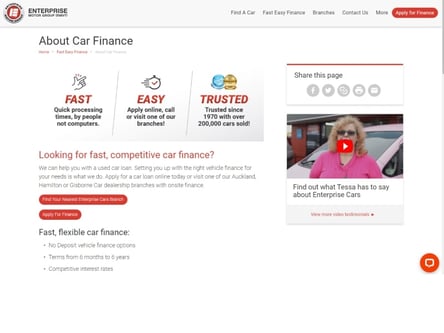 Author Enterprise Motor Group. Screenshot of Enterprise Motor Group website.


[Accessed August 8, 2023]
About Enterprise Motor Group
Within the bustling landscape of pre-owned car marketplaces and vehicle finance, Enterprise Motor Group has sculpted an unparalleled position of its own.
This esteemed organisation has been consecutively acknowledged as a reliable brand by the people of New Zealand over the past four years, a clear reflection of its unwavering dedication to excellence and customer delight.
Quality assurance: The Enterprise Motor Group promise
What sets Enterprise Motor Group apart is its unwavering dedication to quality. The company ensures that every vehicle in its inventory undergoes rigorous independent inspection and servicing.
This meticulous process guarantees that each car is in optimal condition, complete with a new Warrant of Fitness (WOF) before it is handed over to the customer. This commitment to quality is a key reason why New Zealanders are repeatedly placing their trust in Enterprise Motor Group.
Customer-centric approach: The Enterprise Motor Group's difference
The company's branches are staffed with approachable and knowledgeable individuals who are eager to assist you in finding the perfect vehicle together with the required vehicle finance to suit your needs. Whether you need a family car in Hamilton, a business vehicle in New Lynn, a student car in Manukau, or a retirement car in Gisborne, the team at Enterprise Motor Group is ready to provide personalised service and expert advice.
A reputation built on trust and quality
Enterprise Motor Group's reputation as a trusted used vehicle dealership is not just a claim; it's a reality backed by the faith of countless New Zealanders.
The core values of Enterprise Motor Group are clear: quality, trust, and customer satisfaction. These principles guide every aspect of the company's operations, from the selection of vehicles to the training of staff. By adhering to these values, they ensure that it not only meets but exceeds customer expectations, reinforcing its status as a trusted name in the used vehicle market.
Enterprise Motor Group's unique qualities, experience, work methodology, reputation, and core values make it a standout choice for anyone seeking a quality used vehicle in New Zealand.
Enterprise Motor Group Services
Enterprise Motor Group's approach to car loans is designed to be swift, straightforward, and tailored to your individual needs.
Flexible vehicle financing options
Enterprise Motor Group's car loans are designed with flexibility in mind. They offer terms ranging from 6 months to 6 years, competitive interest rates, and the option for weekly, fortnightly, or monthly payments. This flexibility makes it ideal for you whether you are self-employed or a stay-at-home parent.
Using your car as a deposit to secure a loan for your new car
If you're looking to purchase a new vehicle, Enterprise Motor Group allow you to use your existing car as a deposit, even if you still owe money on it. This feature provides an additional layer of flexibility if you're looking to upgrade your vehicle.
Their approach to car loans is characterised by flexibility, understanding, and a commitment to customer service. Their range of tools and options makes the process of securing a car loan as easy and stress-free as possible.
The power of no-deposit car loans
Enterprise Motor Group offers a unique no-deposit car finance option, a swift route to owning the perfect vehicle that aligns with your budget. This approach to financing is not dictated by algorithms or automated systems, but by real people who understand the unique circumstances of each customer.
Trade-in opportunities
They have a trade-in option, allowing you to upgrade your current vehicle, even if you still have outstanding payments. This service includes an online valuation tool, providing you with a quick and easy way to determine the worth of your current vehicle.
Tools for informed decision-making
Enterprise Motor Group provides a suite of tools to help you make informed decisions about your car loan. Their car finance calculator, for instance, allows you to determine your weekly loan payments, ensuring you know exactly what you can afford before committing.
Understanding credit challenges
They recognise that financial difficulties can occur. They're willing to consider your application even if you have credit issues, offering you a chance to explore their financing options.
Enterprise Motor Group – Car loan
Loan Type

Car finance

Repayment

6 months to 6 years
Benefits of Enterprise Motor Group
Quick online loan applications
Pre-approval
Reliable finance options
Navigating car loans with Enterprise Motor Group
This section will guide you through the process, from application to approval, ensuring you're well-equipped to navigate the road ahead.
How much can you borrow?
The amount you can borrow depends on factors such as your income and living expenses. For a quick estimate, you can use their affordability calculator or complete their online form for a preliminary quote.
Starting your journey: The application process
Initiating your car loan application with Enterprise Motor Group is a breeze. You can kickstart the process either online or by reaching out to any of their branches. If you prefer a more personal touch, a simple phone call will set you on the right path.
Securing pre-approval: The first milestone
To secure preliminary approval for your vehicle finance, you'll need to fill out a digital application form online. You can also visit any of their branches, where their friendly staff will be more than happy to assist you.
Calculating and understanding repayments
The amount you'll repay depends on the sum you borrow and the duration of the loan. They prioritise your financial comfort, ensuring your repayments align with your budget. Their team is dedicated to discussing the best options for your unique needs, so you won't have to stress about not having enough left for other financial commitments.
Switching lanes: Already pre-approved elsewhere?
If you've already secured pre-approval elsewhere, it's still worth discussing your options with them as they can help you save on your loan payments.
No deposit car finance: Do you qualify?
In the majority of instances, they have the ability to grant approval if you're seeking no-deposit car finance. To determine your eligibility, simply apply for an obligation-free pre-approval by filling out their online form.
Packing for the journey: Required documentation
To secure pre-approval, you'll need to provide the following:
Bank statements from the past three months
A current and valid identification document
Information regarding any existing financial obligations or ongoing payments
The journey ahead with a lender you can rely on
Their online car finance application is a straightforward 5-10 minute process. You can conveniently save and return to continue with the form at any time. After submission, you could be preliminarily approved and have your loan paid out before the next day.
For any support with your application, don't hesitate to contact them. With Enterprise Motor Group, your journey to secure a car loan is in safe hands.
Safeguarding your journey: Vehicle finance insurance
While not mandatory, they highly recommend protecting your car loan with their comprehensive protection package.
The package consists of:
A 4-year warranty
Guaranteed Asset Protection (GAP)
Payment Protection Insurance Policy (PPI)
Two-year Vero motor insurance policy
You can opt to pay for this separately or they can incorporate it in your vehicle finance repayments.
Making a warranty claim
If you need to make a warranty claim, your warranty book will guide you through the process. The first step is to call Provident, their insurance partner, who will assist you further.
Customer Reviews & Testimonials
No reviews for this business.
Enterprise Motor Group Contact
Contact Number
E-Mail
Website
Physical Address
645 Te Rapa Road, Te Rapa

Hamilton

3200

New Zealand
Opening Hours
Monday

08:30 – 17:30

Tuesday

08:30 – 17:30

Wednesday

08:30 – 17:30

Thursday

08:30 – 17:30

Friday

08:30 – 17:30

Saturday

08:30 – 17:30

Sunday

08:30 – 17:30