Earn reward points
Low-interest starting from 19.95%
Manage your finance
In-page navigation
---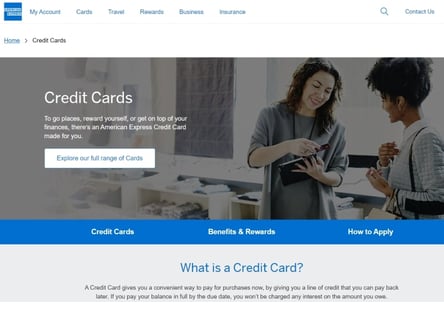 Author American Express. Screenshot of American Express website.


[Accessed March 7, 2023]
About American Express
American Express International (NZ) provides credit cards, insurance, traveler's cheques, and foreign exchange services.
The company is a qualified financial entity under the Financial Advisers Act 2008.
The leaders in the local credit card market
Its solutions are used by an ever-growing client base consisting of individuals and businesses. The company offers a wide selection of credit cards that fall into three main categories– personal, small business, and corporate products. Customers can select cards with different limits, repayment terms, interest rates, and extra benefits such as reward programs.
Get top-class travel insurance
The company specializes in travel insurance for individuals and companies and private accident protection insurance. Its personal and business travel solutions, including booking and foreign exchange, are known for their flexibility.
How to pick the right card
Check the credit limit of the card - Each card type has a unique credit limit, which is the amount clients are allowed to spend on their credit cards NZ.
Check the card fees - All American Express fees are available on their website
Check the credit card interest rate - Each card has a different interest rate charged on the amount borrowed. Clients can explore which low-rate credit card fits their needs best.
American Express Services
American express card solutions offer a wide variety of rewards that clients receive every time they use their credit cards to make purchases.
Membership rewards are available for customers to reward points that can be redeemed to receive lifestyle benefits.
American Express rewards
American Express clients receive a range of rewards: travel tickets, holiday packages, hotel accommodation, meal vouchers, and gift cards. The points that are accumulated don't expire and can thus be redeemed whenever needed. Higher spending will allow clients to receive more points and exciting benefits on their credit cards in NZ.
Get advice from experienced consultants
The American Express consultants are available 24 hours a day, seven days a week, to help clients reach their financial goals. On top of advising about the best financial products, the consultant also ensures that clients receive purchase protection, fraud protection, and ongoing customer support.
Insurance options
American Express offers accident and account protection options for clients to ensure that their finances are secure in case something unexpected happens. Frequent flyers also have the opportunity to opt for American Express travel insurance which protects them and their belongings when traveling.
American Express – Credit card
Loan Type

Credit cards

Interest Rate

from 19.95%
Benefits of American Express
Get bonus Airpoints dollars
Get access to a range of rewards and bonuses
Complimentary travel insurance
---
American Express in New Zealand one stop credit card shop
Benefits of American Express
Get bonus Airpoints dollars
Get access to a range of rewards and bonuses
Complimentary travel insurance
One-stop credit card shop
American Express in New Zealand is Auckland's most efficient and well-known provider of credit cards. The company is proud to offer clients an easy-to-use site to apply for their credit card, which is secure and straightforward to access worldwide.
Repayments structured according to your needs
Credit cards are much easier to apply for and less demanding to manage than a personal or payday loan NZ. Customers receive a credit limit that matches their ability to keep up with repayments without getting into debt.
Advantages of a credit card
Credit cards are designed to cover almost any expense within the credit limit of the card. Many people use their card to pay for a long-awaited holiday with the family, pay for vehicle repairs, and take care of the end-of-year shopping.
Reliable and efficient financial service provider
American Express offers credit card insurance options and a fully secure platform to ensure that no fraudulent payments get charged against clients accounts. As much as it is the customer's responsibility to manage their finances, the institution must ensure proper measures are in place to prevent fraud.
Apply for a credit card within three steps
Step 1 - Before applying, it is best to browse through the different credit card options offered by American Express
Step 2 - A quick test is performed to see if the applicant qualifies for their chosen card option
Step 3 - Complete the online application form, and wait for approval. Applications are approved within 5 to 10 working days.
What applicants need to be able to apply
Proof of identification and residence
A working email address or phone number
Proof of annual income, monthly living expenses, and employment details
Details of any other forms of credit
Customer Reviews & Testimonials
"
It could be better, but as far as banks go, it's not the worst either. It gets the job done without hassle.
Rilla S.
— Auckland —
As a student, everything is expensive. Everything from our books to accommodation, and of course monthly necessities. I invested in a credit card from American Express in case of emergencies, and...
Raven C.
— Wellington —
American Express's cashback rewards are fantastic! No hidden costs or fine print nonsense. I get more value for my money with every swipe.
Peggy C.
— Christchurch —
American Express Contact
Contact Number
E-Mail
Website
Physical Address
Building A Level 3/600 Great South Rd

Ellerslie

Auckland Region

1051

New Zealand
---
Postal Address
PO Box 4005, Shortland Street, Auckland, 1140, New Zealand
Opening Hours
Monday

08:30 – 19:00

Tuesday

08:30 – 19:00

Wednesday

08:30 – 19:00

Thursday

08:30 – 19:00

Friday

08:30 – 19:00

Saturday

– Closed

Sunday

– Closed