Apply 100% online
Compare credit cards
Low interest rates
In-page navigation
---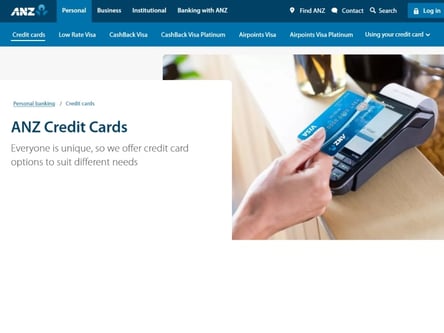 Author ANZ. Screenshot of ANZ website.


[Accessed March 7, 2023]
About ANZ
ANZ is a local New Zealand credit card provider that operates with a wide range of brands that include UDF Financial, OnePath.
Clients have the benefit of using their ANZ card internationally to make purchases and draw money. The company provides services that enable individuals, families, small businesses, corporations, and institutions to achieve their financial goals.
Make keeping up with payments a bit easier
Instead of going to the bank to make payments, clients can choose to use three different methods of banking: Internet banking, GoMoney and phone banking. All options allow customers to check their balances and transaction history, move money between their accounts, manage their automatic payments, and more.
Contactless card services
ANZ credit cards in NZ offers contactless payment technology that helps make purchases as quickly, secure, and convenient as possible. The chip inside the card allows clients to make payments by simply holding the card next to a payment terminal.
Get a better financial wellbeing
ANZ provides clients with a helpful financial wellbeing tool that allows them to change their life for the better. Once they receive the score, they can choose what the next step will be: budgeting, savings, investing and more.
ANZ Services
ANZ is a leading provider of banking and finance products. They offer a diverse range of credit cards in NZ.
Clients can now choose from different rewards cards that help them save money on interest every month. ANZ offers four rewards cards which include: Cashback Visa, Mastercard and Platinum plus Airpoints visa platinum.
ANZ travel rewards
The travel rewards cards offer air travel benefits to clients. To use these benefits, apply for the Airpoints Visa, Platinum Visa, ANZ Visa or Mastercard. Frequent flyers will manage to save money on every flight when using their ANZ credit card.
ANZ's low-interest credit card
Clients will save money on interest when opting for an ANZ Credit card. They will receive up to 55 days interest-free on purchases and no annual card fee changes. There are more credit card options that have a lower annual fee, as ANZ wants to make sure that all clients get the opportunity to save money.
Earn points every time you swipe
Cardholders earn cashback points by using their credit card for everyday spending. Cash rewards allow clients to enjoy the freedom of choosing how they spend it and when they spend it,
Benefits of ANZ
Choose between credit card options
No annual fees
Lower rates
Optional balance transfer
---
ANZ offers adaptable and affordable credit card options
Benefits of ANZ
Choose between credit card options
No annual fees
Lower rates
Optional balance transfer
ANZ offers affordable credit card options
ANZ is a proud Hamilton NZ company, which offers flexible and affordable credit card options. The company's purpose is to provide clients with a simplified process that makes getting a credit card in NZ quick and easy. This approach ensures that customers' individual needs are considered by allowing them to make credit and save money.
The benefits of credit card at ANZ
Clients receive personalized services constructed around their individual needs
Apply for a card via telephone, online or email correspondence
ANZ has a professional and efficient administrative team that ensures that clients get credit card options that are affordable and according to the clients' budget.
Reliable and trustworthy services
ANZ performs a clear and transparent assessment of each client's application to ensure that they receive the most suitable repayment structure. All clients can feel safe knowing that they are instantly aware of what charges apply to them from day one.
55 days interest-free days on repayments
ANZ offers credit cards that have interest-free periods that range between 44 and 55 days. Clients who make their repayment before the end of the period will thus not pay any interest on their credit. Each card is different so make sure to check credit card conditions online or contact an ANZ consultant.
Reasonable credit card limit assessment
Each client's credit limit relies on their salary and what they can easily afford to pay back at the end of each month. ANZ offers a sensible credit to allow customers to avail themselves of an amount they can afford to ensure that they have money left for living costs.
How do they screen your application?
ANZ considers each client's occupation status and history, credit report, any record of loan repayments, and their capacity to deal with Visa installments responsibly.
Apply for a credit card within minutes
Browse through the everyday account options offered by ANZ and choose one that seems like the right option for your budget.
Apply online or via phone or email. Clients can also apply using the goMoney mobile app, which only takes a maximum of 15 minutes.
After applying, clients receive notice about their application within record time.
Credit cards in NZ Application requirements
Clients need to be:
A permanent NZ resident
At least 18 years old
Hold a current NZ passport or driver's license
Customer Reviews & Testimonials
"
It's a good deal once you get over the annual fee, which isn't all that bad. It basically pays for itself when the benefits start kicking in.
Patti K.
— Dunedin —
I'd like to call myself a foodie, and frequently dine at new restaurants around town. Unfortunately, I am also a part-time waitress, and although the tips are good, it's not always enough to pay ...
Bree E.
— Wellington —
ANZ Contact
Contact Number
E-Mail
Website
Physical Address
215 Lambton Quay

Wellington

Wellington Region

6011

New Zealand
---
Postal Address
Private Bag 92210 Victoria St, West Auckland, 1142, New Zealand
Opening Hours
Monday

09:00 – 16:30

Tuesday

09:00 – 16:30

Wednesday

09:00 – 16:30

Thursday

09:00 – 16:30

Friday

09:00 – 16:30

Saturday

10:00 – 14:00

Sunday

– Closed