Apply online
Fast approval
Low rate cards
In-page navigation
---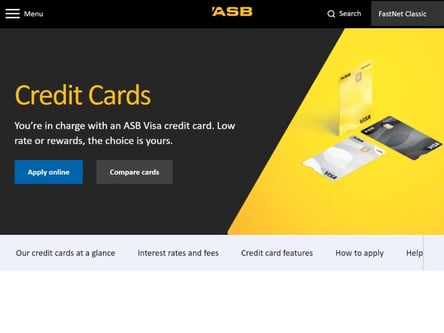 Author ASB. Screenshot of ASB website.


[Accessed March 7, 2023]
About ASB
Since 1847, ASB has been dedicated to serving the NZ community and supporting the economy's development.
The company has experienced continuous growth, thanks to the fact that they are always trying to better their services. ASB is constantly working toward satisfying its clients' banking and money management needs and keeping up with the market changes.
ASB successes
ASB helps customers reach their milestones, whether they are big or small. Every time a client reaches their goal, big or small, it inspires the company to do even better.
When opting for ASB, clients receive products from an internationally recognized provider of integrated financial solutions. They were the first to introduce internet banking and mobile banking to New Zealand citizens. On top of that, they also created the world's first digital money box for kids.
Convenient services are a top priority
All financial products and services are designed according to clients' needs by ensuring that all customers receive the attention and help they need. ASB aims to make sure that all customers reach their financial goals, which shows that they are successful at their work. They draw on the inspiration of their clients to continuously perform better and achieve new heights.
ASB Services
Those who enjoy receiving a discount on purchases can opt for an ASB Visa Card, which comes with True Rewards.
The rewards accumulated are redeemable at the ASB online store and participating stores such as House Of Travel and Farmers.
Credit cards are easy to apply for
Credit Cards are easier to manage than personal or short-term loans because clients have a lot more freedom with their spending. With ASB low-interest credit cards, clients save money while using their credit if they make sure to repay what they owe within the interest-free period. ASB cards work everywhere in NZ and can also be used overseas as an optional service.
ASB card control
Card Control has many benefits that include managing your ASB Visa card anywhere and at any time using the ASB mobile banking app. Clients can temporarily lock their card, set spending limits and turn off ATM withdrawals at any time. To set up card control, simply follow four steps: Log in to ASB, CHoose a card, unique feature, and get notified.
Manage your credit card
ASB Customers can choose to do internet banking using the FastNet Classic internet banking services and the ASB Mobile app. Using internet banking helps cardholders manage their payments, track their interest, and make transfers within seconds.
Benefits of ASB
Low rate credit cards
Earn rewards
Manage business cash flow effectively
Fixed interest rates
---
Simplify your finances & enjoy the extra added benefits
It is necessary to have a credit card NZ to make online purchases or bookings, such as for flights.
Clients receive many long-term benefits if they keep up with their minimum repayments. Those who are mindful of their repayments will be able to build up a good credit portfolio, making their interest rate even lower.
Benefits of ASB
Low-rate credit cards
Earn rewards
Manage business cash flow effectively
Fixed interest rates
Enjoy the extra added benefits
ASB Bank in Auckland offers low-interest credit cards that give clients credit to use for purchases and help them save money. mThere's nothing more satisfying than purchasing the things needed in life without having any financial stress. Having access to a low-interest ASB credit card allows clients to build their future by ensuring they have credit to make payments and buy essential products.
Qualifying for a credit card at ASB
Over the age of 18, any NZ citizen will apply for a credit card at ASB. The entire application process happens online using a fast and straightforward platform. Applying for a credit card has never been this easy – It is not even necessary to leave the house or stand in long lines.
Flexible and reliable credit card terms
ASB credit cards come with a low financing cost and simple reimbursement terms that work monthly. Clients can use their credit card at any shop or pay online for their purchases, whichever is easier for them.
Get rewarded for making purchases
Clients receive great deals when they use their credit cards to make purchases. They can choose between earning true rewards dollars or AA smart fuel discounts with the points they make while using the card.
ASB Visa Light credit card
The Visa Light credit card has the lowest interest rate, starting at 13.50% per year. Clients receive a 0% per year fixed interest rate for six months on $1000 or more purchases on smart rate purchases.
Rewards credit cards
With the Rewards credit card, clients earn true rewards dollars on every purchase made. Those who are frequent flyers will find the Visa Platinum Rewards card has excellent travel insurance options available.
Balance transfer credit card
With the balance transfer option, clients save money on interest. They receive 0% per year fixed interest for six months on their transferred balance, which can be up to 90% of their available credit.
Customer Reviews & Testimonials
"
I started working on my credit rating pretty late in life, so it came as no surprise that my score was only 522 at the time. I inquired at several banks, comparing deals, rates, and annual fees. ...
Skyler S.
— Hastings —
I've always been a pay upfront kind of guy, but when an unforeseen expense came knocking, I needed a little help getting by. ASB Bank offered a fast, competent service with reasonable interest ra...
Gale W.
— Wellington —
ASB Contact
Contact Number
E-Mail
Website
Physical Address
174-180 Lambton Quay

Wellington

Wellington Region

6011

New Zealand
---
Postal Address
PO Box 35, Shortland Street, Auckland, 1140, New Zealand
Opening Hours
Monday

09:00 – 16:30

Tuesday

09:00 – 16:30

Wednesday

09:00 – 16:30

Thursday

09:00 – 16:30

Friday

09:00 – 16:30

Saturday

10:00 – 14:00

Sunday

– Closed