Earn reward points
Get interest-free days
Low rate cards
In-page navigation
---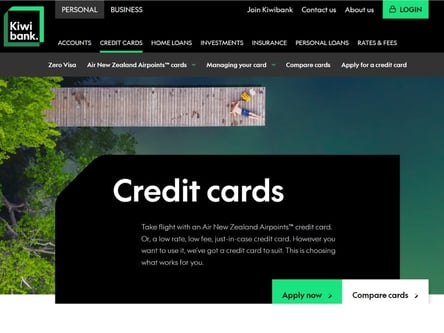 Author Kiwibank. Screenshot of Kiwibank website.


[Accessed March 7, 2023]
About Kiwibank
The bank that helps kiwis build their financial know-how.
Kiwibank is a truly 100% locally owned and managed New Zealand bank that operates in the interest of the people of NZ. Established in 2002 and grown to the bank they are today with standalone branches countrywide or their banking services via PostShops.
Committed to improving and supporting customers and communities to achieve their financial capability, with well-designed products and services backed by the best partnerships and with more than 800,000 happy customers to prove they are committed to customer relations. They have introduced the Banqer service to more than 1,000 NZ schools. You can do business with them through their mobile app or online banking.
Manage your money the right way
Doing business the right way for their customers by setting up different methods to educate them on how to manage their money better. Here are two examples.
Free Stepping UP workshop to learn how to do banking online.
How to get out of debt, start saving or build investments.
A wide range of low-interest credit cards is available to suit every kiwi out there. Starting with their Zero Visa card that has no account fees and up to 55 days free from interest and other choices like their Platinum Visa card also interest-free for 55 days and a six-monthly account fee of $40, just to name a few. Kiwibank has a credit card for you.
Kiwibank Services
There are two categories of credit cards, the low-interest credit card range with interest rates per annum from 9.95% and up to 13.95% with 55-day interest-free.
Then they offer the Airpoints credit card range with interest rates between 16.90% and 20.95%. Airpoints rewards by Air New Zealand Airpoints, you earn Airpoints Dollar on eligible purchases with benefits and discounts and monthly draws to name a few. You can compare and select the credit card with different payment options and rewards suited for you, payback within the interest-free time and you pay 0% interest saving you money.
Personal loans – quick access to cash
A personal loan NZ can help if you are short on cash for that big purchase or need to clear up some small debts into one loan that you can manage.
The Best is all their personal loans have a fixed interest rate per annum, choose the bracket for you:
Borrow between $2,000 - $9,999 at 18.95% p.a fixed.
Amounts of $10,000 and up at 16.95% p.a fixed.
Their best-fixed rate of 13.95% for loans of more than $20,000.
Home loan from Kiwibank, pay only 13.95% interest p.a.
Let the money do some work for you
If you are a pro or new to investments there is an option for your needs. Notice Saver to start with 32 or 90 days from 0.55% to 1.25% per annum, more advanced investments with Term Deposit over a period of 30 days and up to 5 years earning up to 2.25% per annum. It's never too early to start saving and with Kiwibank, anyone can afford to invest.
Benefits of Kiwibank
Low rate credit cards
Get up to 55 days interest-free
Balance transfer
---
Talk to us today about the benefits we offer with our credit cards
How to apply for a credit card
Requirements for applying for a credit card NZ
Age of 18 years or older.
Living in New Zealand, a New Zealand citizen or Visa holder for permanent residency.
Acceptable credit history – they apply credit checks.
Banking statements of three months reflecting income (banking with Kiwibank no need to supply statements).
Self-employed provide them with IRD statements to verify income.
Provide details for all your financial obligations and expenses to assure you can repay a credit card.
The application process made easy
Fill in the online loan application form with the information needed, 10 to 15 minutes of your time to complete.
Existing Kiwibank customers can apply with the mobile app or with internet banking.
1 to 3 days to process a credit card application, results will be emailed to you.
Got your card approved then you will receive your credit card by post
Follow the instructions on how to activate and choose your pin for the credit card.
The Benefits of applying with Kiwibank
Highly competitive interest rates.
Transparent and straightforward.
Ongoing support and advice.
Helpful tools to help you manage your money better.
Easy repayment plans.
Quick assistance from a highly experienced team.
Have the freedom of shopping online, in-store anywhere in the world.
Earn great rewards and cashback benefits.
The option of not paying interest if you work smart.
Customer Reviews & Testimonials
"
I wouldn't exactly refer to myself as cheap, but I know a good bargain when I see one. Why pay more when you can pay less? And Kiwibank's many cashback rewards is a definite bargain in my books. ...
Belinda B.
— Wellington —
If you strive for excellence, or simply want to switch to a bank that goes that extra mile to suit your needs, Kiwibank is perfect for you.
Jacquelyn M.
— Auckland —
Kiwibank Contact
Contact Number
E-Mail
Website
Physical Address
94 Lambton Quay

Wellington

Wellington Region

6011

New Zealand
---
Postal Address
Kiwibank Limited Private Bag 39888 Wellington Mail Centre, Lower Hutt, 5045, New Zealand
Opening Hours
Monday

09:00 – 16:30

Tuesday

09:00 – 16:30

Wednesday

09:00 – 16:30

Thursday

09:00 – 16:30

Friday

09:00 – 16:30

Saturday

– Closed

Sunday

– Closed