Compare credit cards
Find the best deal
Low-interest starting from 25.5%
In-page navigation
---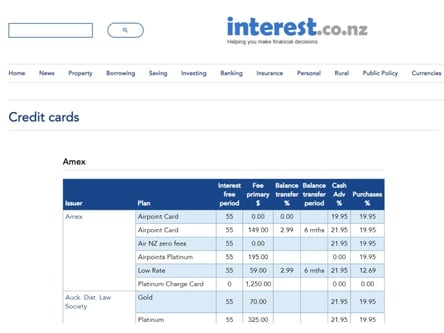 Author interest.co.nz. Screenshot of interest.co.nz website.


[Accessed March 7, 2023]
About interest.co.nz
Find Everything you need to make a great financial decision in one place including information on the best credit cards, loans, investment plans, insurance, and more!
Interest.co.nz is a market-leading financial and economic news hub in New Zealand that provides resources to compare interest rates and is updated daily most of the time, you won't find this anywhere else in the country.
Since 1999, they have been providing the needed tools together with intelligent information based on industry and market figures, helping Kiwis to make well-informed financial decisions that will improve their lives.
Low-interest credit cards
Planning on getting a credit card? Get all the information you need about all the available low-interest credit cards in New Zealand, whether it is just for you, your small business, or a corporation. Access up to date and accurate data regarding the lowest credit card rates across the country.
This market intelligence service has extensive databases to maintain the ongoing live and free online resource. You will be able to compare credit cards from all providers such as banks and finance companies in New Zealand. Use their calculator to get a better understanding of what you will be paying or saving whether it is over 30 days or 30 years.
interest.co.nz Services
Conveniently access credit that can be used in-store, online and world-wide!
Credit cards are one of the most popular methods of obtaining finance in New Zealand. There are a wide variety of different types of credit cards for different purposes such as individual credit, credit for small businesses, or large corporate credit cards.
The great benefit of a credit card is that you'll have the opportunity to qualify for a 0% interest rate if you pay back the credit you borrowed within a certain time, this can differ from card to card and from lender to lender. There are other features and benefits like earning rewards while you spend or saving on certain purchases, etc.
Everyday banking
They offer comparative information on all the bank card providers in the country, their features, benefits, and charges. This will enable you to pick the right bank to do your everyday banking with, knowing that you have the best in NZ.
Insurance – get cover that will payout
Their stats will show you who is who in terms of insurance, whether it is a car, home, life, pet, or business insurance. By looking at their data you will be able to protect yourself financially with an insurer that has the best value for money insurance and the highest number of paid claims.
interest.co.nz – Credit card
Loan Type

Credit cards

Interest Rate

from 25.5%
Benefits of interest.co.nz
Compare credit cards and save
Competitive interest rates
Easy loan application
---
Credit cards are not only convenient, but a safer method of handling cash
How to apply for a credit card – online, get the lowest interest rates in NZ
What you need
15 minutes of your time.
18+ years old.
Have an income.
Knowledge of your income and expenses.
Bank statements.
Be an NZ resident.
Be able to afford possible repayments.
How to apply
Use their online calculator to see what you can afford.
Complete their online loan application form.
Pick a credit card that suits your needs best.
They will then finalize your application with the relevant provider on your behalf and might ask you for some supporting documents like proof of ID, proof of address, bank statements to see if you are financially viable.
Once you are approved, they will present you with a loan agreement for your credit card.
Once you accept the offer, you will receive your credit to spend anywhere in the world in-store and online.
Why Interest.co.nz
Pick the right credit card for your needs.
Quickly access the best deals in the country.
A comprehensive and accurate comparison of the interest-free periods, the primary fees, the balance transfers, and the balance transfer periods.
Enjoy a service that is online and completely free of charge.
Helpful tools and user-friendly site.
Fast and reliable service.
No need for piles of paperwork as the application process is easy and completely online.
Customer Reviews & Testimonials
"
When I gave Interest a ring, I expected the result to be the same as every other bank I had phoned that morning. Robotic. Overpriced monthly fees, and unreasonable interest rates. However, the co...
Donna M.
— Hamilton —
I had made the mistake of buying a flat-screen TV from a less than reputable seller. Seemed like a good deal at the time, and half of what everyone else was asking. But when I got home, the scree...
George K.
— Napier —
As with any business, dry spells are unavoidable. Not having made my quota for the month, I suffered through countless sleepless nights. Until my colleague suggested Interest. I went in, got the ...
Gulshan H.
— Masterton —
interest.co.nz Contact
Contact Number
E-Mail
Website
Physical Address
206 Jervois Rd

Herne Bay

Auckland Region

1011

New Zealand
---
Postal Address
PO Box 47-756, Ponsonby, Auckland, 1011, New Zealand