Get premium rewards
Flexible payment options
Travel rewards
In-page navigation
---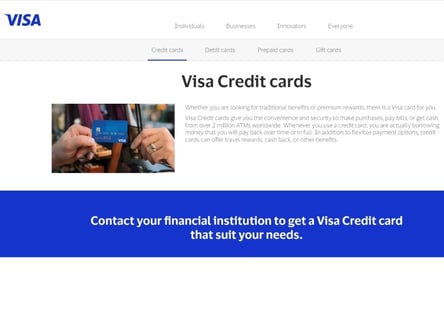 Author VisaCard. Screenshot of VisaCard website.


[Accessed March 7, 2023]
About VisaCard
Enjoy the digital world of payments through their innovation and highly sophisticated technology whether you are a consumer or a business owner.
Their simple and unwavering vision has always been to be and become the best way for everyone from everywhere to pay and be paid. They have been improving millions of lives, providing secure and seamless payment methods since 1958.
Consumers, businesses, banks, and governments are connected by them worldwide in over 200 countries and territories as they are a global payments technology company. In terms of sustainability, they have a few ongoing operations in place to protect the planet and to make the world a better place.
Convenient credit and payments
They have over 2.5 billion happy Visa credit cardholders across the world. Visa continues to drive global commerce with the cards they provide and the billions of transactions they process each year. Become a happy client today by applying with your local bank or just about anywhere.
They are very passionate about helping people, preserving the planet, communities, creating opportunities, and aiding people and businesses with the credit they need to reach their goals. Enjoy a high level of openness and transparency when you apply for your Visa credit card NZ.
A diverse team of experienced experts that has different backgrounds and perspectives creates a fully inclusive environment that enriches their organization and drives their global success.
VisaCard Services
Get the Visa credit card that suits your needs!
They have just the right Visa credit card for you whether you are looking for traditional benefits or premium rewards, there is a wide range of options for you.
Enjoy rewards when you travel, cashback benefits, and a wide range of other benefits that makes a Visa credit card the most convenient way to pay bills, make purchases or get cash from over 2 million ATMs worldwide while enjoying flexible payment options and more.
Visa prezzy card – for that special someone
A thoughtful way of letting someone know how much you care about them; this card can be used anywhere in the world where a visa card is accepted online or in-store it is also completely safe and easy to use. These cards are available in varying amounts.
Security and fraud prevention
With Visa, you can confidently transact and shop wherever you go knowing that the needed safety measures are in place to keep your information and money safe and secure and to prevent any suspicious activity or fraudulent acts.
They have multiple layers of security to detect and resolve fraud at the soonest opportunity possible. Enjoy a high level of protection as they continuously evolve their high-security measures at the same speed as their innovative technology and transaction methods.
Benefits of VisaCard
Flexible repayment options
Travel rewards
Global payment technology
---
Get access to almost 2 million ATM's when you apply for a Visa credit card today
How to apply for a Visa credit card
Eligibility requirements
You'll typically have to be 18+.
Have an income.
Proof of address.
Proof of ID.
Getting a Visa credit card
One: Visa cards are provided by most banks across the world, you can also apply for a loan online with your financial institution or call for assistance. You'll have to answer a few questions to confirm if you are viable.
Two: The provider will then present you with a visa credit card agreement you can sign to accept.
Three: You can then receive your visa credit card within a few days to use wherever you go! Use the credit for whatever reason you might need it.
Benefits of getting a Visa credit card
It is safe and secure.
Buy anything anywhere in the world.
Easy online purchases.
Fast transactions are made possible by highly innovative technology.
Strong fraud prevention measures are in place.
You can make contactless payments by tapping your card (country limits apply).
Access a Visa card from anywhere in the world.
Convenient and easy to use.
Managing your money better.
Customer Reviews & Testimonials
"
Everyone knows Visa and that is because they are a good and reliable finance provider. I will always recommend them.
Teddy J.
— Nelson —
While traveling I had an issue with my card not being accepted at one merchant - I called the call center and someone was able to assist me right away. Great service!
Thistle B.
— Gisborne —
VisaCard Contact
Contact Number
E-Mail
Website