Interest-free offers
Worldwide services
Safe and secure
In-page navigation
---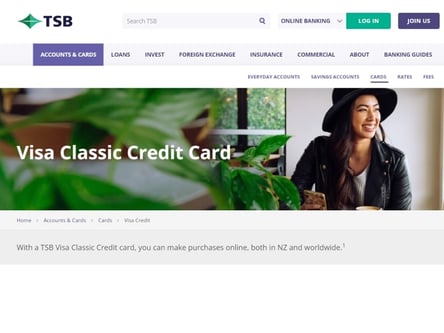 Author TSB. Screenshot of TSB website.


[Accessed March 7, 2023]
About TSB
Make online purchases worldwide with the TSB Classic credit card!
Get the perfect credit card NZ from a bank that will take the time to listen to your situation and needs and direct you to the right solution. They have a variety of products with great features and benefits that can help you save, spend and reach your financial goals. They are a bank that cares enough to make it happen for you, even in difficult times.
If you prefer face-to-face assistance you can visit your nearest branch or you can apply completely online at any time or you can do the application over the phone during the same times you can visit a branch which is between 8 am and 6 pm on Mondays to Fridays.
Interest-free credit up to 55 days
Access the credit you need today and whenever you need it. Apply and get approval before 6 pm to receive your credit on the same day if you have been banking with them for at least 3 months. Otherwise, you might only get the credit on the following working day. Enjoy using your credit card everywhere you go whether it is in-store, online, or worldwide.
Remember if you work smart and pay back the credit you used within a certain time, you won't have to pay interest on the borrowed amount, how great is that? Thousands of people use this finance option as a backup plan for whenever life happens so they always have backup cash to help them out with whatever situation life might throw at them.
TSB Services
All our services are delivered with a smile and customer service is important to us.
Here at TSB, we offer a variety of financial services including regular banking services, credit cards, investment services, foreign exchange services, insurance, and of course personal loans.
International credit card
You can use your card to make a varied. Borrow money at a 0% interest rate for the first six months and Choose from a range of credit cards with different features and benefits for your daily use, solving your daily finance problems.
A credit card will enable you to borrow money and put it back quickly. You can borrow money at a 0% interest rate for the first 55 days, if you take longer to pay it back an interest rate of 18.50% applies. If you are smart you can continue to borrow money without paying any interest. If you don't have savings to rely on, this can be a great option for you to solve daily cash problems.
How much you can borrow
You can borrow an amount between £1,000 and £25,000 and pay it back over 1 to 5 years. You might qualify for much more if you are an existing client, up to £50,000 possibly over a longer period depending on your profile. Get rid of short-term cash problems such as overdue bills, funeral arrangements, holiday bookings, buying a wedding dress or fixing up a car, etc.
Benefits of TSB
55 days interest-free
6-month interest-free balance transfer
Use your card worldwide
---
Apply for a TSB credit card today and start shopping
Cover yourself, your family, your business, and your assets financially so that you don't find yourself in a hopeless situation when life, storms, fire, theft, death, or disability happen.
The insurance they offer
Home insurance
Travel insurance
Life insurance
Gadget insurance
Savings – access a savings plan
They have a variety of savings plans designed for almost every income level. Remember a small start is always better than no start at all. Access a fixed deposit plan where you can also earn some interest while you save or you can get an instant access saving plan, allowing you to access your money at any time while you save.
How to apply for a short-term loan online
You must be 18+.
An NZ Passport or Driver's Licence.
Currently residing in New Zealand.
Have a webcam on your phone or computer.
Accept the TSB's Privacy Notice
Have an income.
Applying for a credit card – it's easy and quick!
One: Their online loan application process will only take about 10 to 15 minutes. You'll need to provide them with some basic information.
Two: They will almost immediately come back to you with an answer and might ask you for more information if needed.
Three: Receive your credit either on the same day if you are an existing client that got approved before 6 pm or alternatively on the next day!
Benefits of a credit card with TSB
It's unsecured credit that can be used anywhere in the world.
Spending interest-free for up to 55 days.
No interest fees for six months on balance transfers from other credit cards.
Quick approval.
Low-interest rates and low account fees.
Great features and innovative tools can help you to manage your credit better.
Fraud protection
Support from a highly experienced team.
Customer Reviews & Testimonials
"
I have been a client of TSB Bank for years and they were the only institution I would approach for any and all of my financial needs.
Kodey D.
— Auckland —
More than affordable rates and fees. I have no trouble using my card when traveling abroad either, I can highly recommend them.
Frank K.
— Dunedin —
Excellent product and service, you cannot go wrong with TSB.
Joe S.
— Christchurch —
TSB Contact
Contact Number
E-Mail
Website
Physical Address
149 Lambton Quay

Wellington

Lambton

6011

New Zealand
Opening Hours
Monday

09:00 – 17:00

Tuesday

09:00 – 17:00

Wednesday

09:00 – 17:00

Thursday

09:00 – 17:00

Friday

09:00 – 17:00

Saturday

10:00 – 13:00

Sunday

– Closed