Reliable credit cards
Lower interest rates
No annual fees
In-page navigation
---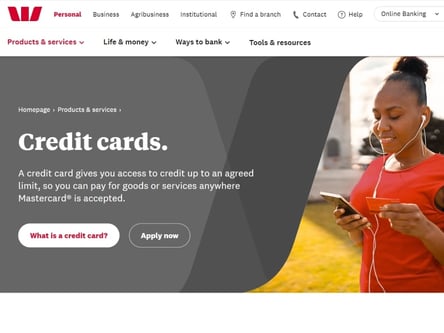 Author Westpac. Screenshot of Westpac website.


[Accessed March 7, 2023]
About Westpac
Interest in a credit card? With Westpac, you can access the most profound credit cards in New Zealand!
They started assisting clients in 1861 and currently have more than 1.3 million happy Kiwis customers. A responsible lender that is driven to help millions of New Zealanders become financially secure, thrive, and succeed through the wide range of products and services they offer.
World-class, enthusiastic, and upfront service is what you'll enjoy when you apply with them. They care about the people of New Zealand and have a proud history of supporting and working with local communities across the country, helping them reach goals, grow, and prosper. Climate change is also something they are heavily invested in and they are passionate about creating a better world to live in.
Pay bills with your credit card online
With the following methods in place, you can pay bills, go shopping and buy online without any worries.
CardGuard is a method they have in place to keep you safe and protected against fraudulent activities. Here's how:
24/7 protection that enables you to use your card anywhere, anytime.
You can use your mobile device with Apple Pay3 while enjoying all the benefits of your Westpac credit card NZ.
Westpac Services
The convenience of having credit on the go! Wherever you go!
This card has no annual fees and this is their lowest-interest credit card available at 12.90% p.a. with 0% interest for up to 55 days if you pay off the amount you borrowed within this period.
They also offer 24-hour emergency assistance for your credit card and the great part is that you can pay without providing your PIN for transactions up to the country limit. You can also pay via Apple Pay3 using your mobile device.
For flights, the Airports store, and more
Going on holiday or booking a flight? You can earn 1 Airpoints dollar for every $70 to $130 you spend, depending on the card you choose. They have cards with annual account fees ranging from $70 to $310 at a purchase interest rate between 16.95%p.a. and 20.95%p.a. with the opportunity to get up to 400 bonus Airpoints Dollars with a new Westpac Airpoints credit card.
Hotpoints credit cards
This Mastercard is accepted anywhere in the world and you can enjoy earning hotpoints for your everyday spending while you can use those points to pay for eligible goods and services.
Access a range of Hotpoint Mastercards allowing you to earn between 1 and 3 hotpoints for every $1 spent on eligible purchases with annual account fees ranging between $40 to $285 at a purchase interest rate from 16.95%p.a. to 20.95%p.a.
Benefits of Westpac
Low rate credit cards
55 days interest-free
Reliable online support
---
Apply for a credit card online & improve your cash flow today
CashNav is a method in place to help you track your spending.
This will help you to see where your money is going and might help you to improve your spending habits. You can also access free workshops, online classes, and tools to help you learn how to manage your money better.
How to get a credit card NZ
You can quickly apply for a loan online, via Westpac One, call them or if you prefer face-to-face assistance you can also visit a branch between 8 am - 6 pm Monday to Friday or 9 am - 3 pm Saturdays.
Provide them with basic information like who you are, where you live, your income, expenses, and contact details.
They will contact you to see how they can assist you with your application to ensure they know exactly what you need and how much you can comfortably afford.
Once your credit card agreement has been finalized you will receive your card and tailored credit you can use anywhere worldwide.
Their criteria
18+ years old.
Proof of ID.
Proof of address.
An income.
The ability to afford repayments.
The advantages of getting a credit card
Qualify for interest-free purchases by paying back the borrowed amount within 55 days.
Low-interest credit cards.
Worldwide spending online or in-store.
A high level of safety and security.
24/7 emergency assistance.
Contactless payments (country limits apply).
Payment options via your mobile device.
Customer Reviews & Testimonials
"
No one prefers to have a credit card, mainly because it comes with the temptation of overspending someone else's money, while yours stays safely tucked in your wallet. However, unexpected expense...
Brienne D.
— Whanganui —
Getting a student credit card is a lot like going out to buy a new pair of shoes. There are so many to choose from, different colours, special offers, and of course the pair of black stilettoes t...
Eila H.
— Ashburton —
Westpac Contact
Contact Number
E-Mail
Website
Physical Address
298 Broadway

Newmarket

Auckland Region

1023

New Zealand
---
Postal Address
Westpac, FATCA Operations, P.O. Box 934, Shortland St, Auckland, 1140, New Zealand
Opening Hours
Monday

09:00 – 16:30

Tuesday

09:00 – 16:30

Wednesday

09:00 – 16:30

Thursday

09:00 – 16:30

Friday

09:00 – 16:30

Saturday

– Closed

Sunday

– Closed