Competitive card offers
Rewards and discounts
Interest-free cards
In-page navigation
---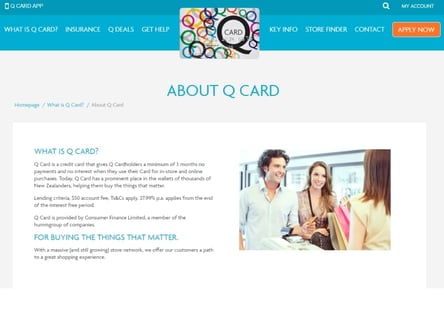 Author Q Card. Screenshot of Q Card website.


[Accessed March 7, 2023]
About Q Card
Q Card is a credit card used by thousands of New Zealanders, which provides clients with affordable credit from a trusted provider.
Consumer Finance Limited is a member of Flexi Card Groups and is the owner of the Q Card. Since 1973, Consumer Finance has become a popular and hugely successful credit card provider in New Zealand.
Why Q-Card is the talk of the town
Q Card is known for being one of the only credit cards NZ that provide clients with a minimum of 3 months to repay the amount owed without being charged credit. This applies to in-store and online purchases. Thousands of New Zeelanders use Q Card as their preferred credit card provider to access the above-mentioned service.
Q Card-The most preferred credit card
Q Card has become an innovative revolving credit product since its launch in 2004. The card's purpose is to provide cardholders with a pre-approved amount of credit that they can use on a large variety of famous New Zealand stores.
Get a credit card with a unique design
A very proud moment in the history of Q Card took place when the company relaunched the card in 2011 to give it a more modern look. The new colorful appearance of the card was introduced to the public through an innovative promotional advert. The company wanted to create a card that attracts the attention of the young entrepreneurs of New Zealand, as they are the future of the country.
Q Card Services
Q Card is the perfect and easiest solution for those who need some credit to purchase their needs, thanks to the easy online loan inquiry process.
It is the perfect shopping partner to pay for big or small purchases, and it combines the benefits of a traditional credit card with a variety of interest-free deals and payment holidays.
Long-term interest-free deals
Q Card offers interest-free deals to their clients, making them one of the cheaper forms of credit in the country. It also allows clients to use payment holiday terms to help them cover their much-needed holiday expenses. Overall, the purpose of credit cards is to alleviate the user's stress and allow them to purchase what they need while still saving money.
Competitions, discounts, and exclusive offers
Q Card cardholders benefit from being the first to receive information about exclusive promotions, discounts and deals from popular stores. Clients can also take part in incredible competitions where they can win big prizes.
Get low-cost insurance deals
Q Card provides insurance policies issued and underwritten by Cigna Insurance New Zealand Limited (Cigna). They offer three main products :
Term life - Term life provides a lump sum payment( free of tax) if the policyholder gets diagnosed with a terminal illness or passes away.
Funeral plans - This is a simple way for clients to ensure their loved ones that they have financial support during a difficult time.
Accidental death insurance- This policy issues a lump sum if the client accidentally passed away from a sudden accident.
Benefits of Q Card
Competitive interest-free credit card deals
Exclusive offers and discounts
Apply for a payment holiday
---
Get a credit card through Q Card and discover the benefits we have to offer
Get a credit card through Q Card and discover the benefits it has to offer
The benefits of a Q Card
Competitive interest-free credit card deals
Exclusive offers and discounts
Apply for a payment holiday
Q Card has managed to become a popular credit card in New Zealand over the past 13 years.
Applying for a Credit Card
To apply for a Q card, clients need to provide identification and a stable income. The identification document can consist of a passport, NZ drivers' license, or firearms license. As soon as the application is approved, customers immediately access many benefits that quick and short-term loans don't provide.
Required documentation
A registered bank issued Credit Card (Visa or MasterCard)
American Express
Debit Card
Diners Club Card
Eftpos Card
Farmers Finance Card
Lowest interest credit card in New Zealand
Clients get charged a standard interest rate of 25.99% per year, depending on when they apply, as Q Card provides special offers with a lower interest rate from time to time.
Use the Q Card app to manage finances
Q Card created an app so their customers can check their balance at any time from anywhere while out shopping. The app makes it easier to know how much money is available for spending. It is 100% free and can be downloaded on any android or iPhone device.
Who can apply for it
Clients who struggle to keep up with their credit card repayments because of injury, illness, employment loss or other reasonable causes can apply for the unforeseen hardship variation. Once approved, they have the option to change their contract to make the payments more manageable.
Customer Reviews & Testimonials
"
I really appreciate the generous interest-free period, great product!
Maggy C.
— Gisborne —
Excellent customer service and good credit card option. Plenty of benefits.
Maria H.
— Hastings —
Good service and an affordable credit card option!
Salia H.
— Wellington —
Q Card Contact
Contact Number
E-Mail
Website
Opening Hours
Monday

08:30 – 18:00

Tuesday

08:30 – 18:00

Wednesday

08:30 – 18:00

Thursday

08:30 – 18:00

Friday

08:30 – 18:00

Saturday

09:00 – 18:00

Sunday

09:00 – 18:00