Debt consolidation up to $20,000
Low-interest up to 11.79%
Repayment up to 5 years
In-page navigation
---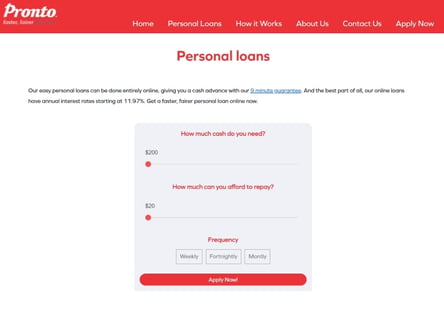 Author Pronto Finance. Screenshot of Pronto Finance website.


[Accessed March 7, 2023]
About Pronto Finance
At Pronto, we have made borrowing faster and fairer, since we do everything online. We have replaced a branch network with innovative online financial technology, which allows us to offer our services in a guaranteed 9 minutes.
Reasons to choose an online company
When you apply for a loan from a digital company, you do not have to stand in queues or miss out on work to go to the lender's offices.
You can apply for Pronto's loans from the comfort of your home or business, anytime, anywhere.
You can use our system and borrow money using any device such as a mobile, tablet or computer. And you do not need to have access to a printer, scanner, or fax machine.
The Pronto Finance mission
We have been around for many years and we have seen many people live on short-term and payday loans.
We have observed how traditional banks become slow and inflexible when people need loans. Our main mission is to get rid of the word 'wait'.
We want to see those who qualify for a loan, able to receive it at the time they are still in need of it as well as ensure those who need to consolidate debt are able to do so in a manner that makes financial sense.
We want people to get rid of the fear they experience when they think about bank queues. We want people to start applying for loans in the comfort of their own homes and get approved sooner.
Pronto finance is here to simplify the lives of New Zealanders
At Pronto, we care about the people of New Zealand. As a locally owned business, we have their best interests at heart. At Pronto finance, you are in control of your personal loan application.
Everything is done online, there is no paperwork. And when you decide to settle your loan early there are no early repayment fees. Complete the whole application process online and receive your cash in a few minutes.
Pronto Finance Services
Pronto finance offers personal loans nationwide. You do not have a reason to look around to get an affordable personal loan. We are the quickest lender you will ever find!
Incredible and affordable personal loans
As much as Pronto Finance is the quickest financial service provider, we are also a lender that provides affordable services. Our quick loans online have an Annual Interest Rate starting from 11.97% and you can borrow from $200 to $20,000. You can choose whether to pay monthly, fortnightly or weekly.
Pronto debt consolidation loan
You can apply for our incredible personal loan deal and use it to consolidate your debts. Debt consolidation is the process of combining all your debts into one larger loan. After consolidating your debts, you will have one loan left to pay that has one interest rate, which is simpler than having lots of loans with different interest rates and fees.
Pronto is the best personal loan lender
Pronto has been around for a long time. We fully comprehend the needs of our people and we strive tirelessly to keep things simple and to accommodate everyone.
Some of the things that make PRONTO the best:
Pronto's application form takes approximately 4 minutes to complete.
You will receive your approval message and cash in 9 minutes.
Everything is done and dusted online. And you will sign all your documents electronically.
The uses of Pronto personal loans in Auckland
A personal loan is not like those loans that are applied for a specific reason like home loans. A personal loan can be used for more different reasons depending on the borrower. Here are some of those reasons:
It can be used for car repairs and maintenance
Money for a rental property or bond
For purchase of furniture and appliances
To repair or upgrade your home
For the purchase of a car
For debt consolidation
To cover the expenses of a wedding or special family event
Pronto Finance – Consolidation loan
Loan Type

Debt consolidation

Interest Rate

11.79%

Loan Amount

up to $20,000

Repayment

26 weeks to 5 years
Benefits of Pronto Finance
Competitive debt consolidation loans
Quick online loan application
Faster loan processes
One affordable monthly payment
---
Few scrolls and links will get you the best loan at Pronto
Pronto is a registered online financial service provider that adheres to the required and recommended credit rules.
At Pronto, we also give those with bad credit the chance to apply for a loan. However, before we give you a loan, we assess your credit rating to determine if you will be able to afford the loan.
We are a responsible lender that does not want to give borrowers more than what they can afford.
How to apply for a consolidation loan at Pronto
Applying for one of our personal or debt consolidation loans is quite easy and convenient. All you need to do is to dedicate a few minutes of your time and start the easy application process.
Step 1- Complete Pronto quick and simple online application form in just 4 minutes.
Step 2- Your application gets assessed and you can expect fast approvals with our 9-minute processing promise.
Step 3- You digitally sign your contract online.
Step 4- all these steps are quick, they can all be done in 9-minutes and after that, you can be cleared in your account with our 9-minute guarantee.
The things you need before you apply
Each lender has its own set of requirements and at Pronto, we ask for the bare minimum in terms of documents; the ones that you use in your everyday life.
Valid email address
Active mobile phone
Vehicle registration for a vehicle registered in your name (secured loans)
A valid bank account and statements
We do not use 18+ cards or birth certificates so you will need a valid license or passport
How to get hold of Pronto
Pronto is a digital company that is based in New Zealand. You can be in touch with us by visiting our website, calling us or following us on Facebook, Google Plus, or send us an email. You can also apply for personal loans online regardless of where you live in the country or the type or loan amount that you're looking for.

Pronto Finance is a trusted & reliable provider of debt consolidation
Customer Reviews & Testimonials
"
June 2019
Pronto helped me take control of my debt
Meagan V
— Christchurch —
August 2019
I got a reliable debt consolidation loan from Pronto Finance
Michelle C
— Nelson —
Pronto Finance Contact
Contact Number
E-Mail
Website
Physical Address
2 Cambridge Street

New Zealand

7020

New Zealand
Opening Hours
Monday

09:00 – 17:00

Tuesday

09:00 – 17:00

Wednesday

09:00 – 17:00

Thursday

09:00 – 17:00

Friday

09:00 – 17:00

Saturday

– Closed

Sunday

– Closed