Debt consolidation up to $40,000
Low-interest starting from 13.90%
Repayment up to 7 years
In-page navigation
---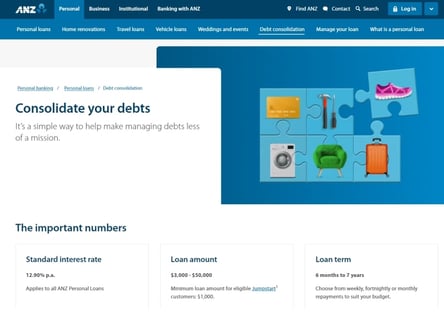 Author ANZ. Screenshot of ANZ website.


[Accessed March 7, 2023]
About ANZ
ANZ in New Zealand plays a big role in helping New Zealanders to achieve their financial goals with confidence.
ANZ offers a wide range of financial products and services via its brands including UDC Finance and OnePath. They are one of the largest companies in the country in terms of profit and assets and offer affordable personal loans including debt consolidation loans.
Constructive financial solutions
ANZ provides you and your family including small businesses and farms, large corporations, and institutions with affordable financial solutions. They have more than 9,000 employees with diverse backgrounds and professionalism which all contribute to the enrichment of their business.
ANZ has well-established sustainable business practices as part of its corporate responsibility policy, a volunteering program, and a Staff Foundation to contribute to communities and the sustainable development of the country. They don't only help you with your financial problems, but they also help to improve the financial development of the community.
ANZ Services
ANZ offers its clients simple and effective debt consolidation solutions.
With an ANZ personal loan, you will have just one payment to make. No more worries about all the deductions that usually take place during the month, now you get to only do one payment each month.
The interest rate can be much lower than those on your credit cards and hire purchase deals. This will help you reduce the cost of borrowing. You can make extra payments without being charged a fee to save even more. The term of the loan is adjustable so that the payment amounts match your budget.
Choose your loan terms
You can use ANZ's debt consolidation calculator to determine how much you can save when you repay the loan in full and what the size of the payments will be. With them, you can consolidate debt from credit cards, store cards, overdrafts, and personal loans from other lenders.
ANZ can help you with any of your debt inquiries and interests. They offer debt consolidation loans of up to $40,000 with an interest rate between 17.95 and 18.95 per annum. You also get to choose a repayment term between 6 months to 5 years, either of which is convenient to you.
ANZ – Consolidation loan
Loan Type

Debt consolidation

Interest Rate

from 13.90%

Loan Amount

up to $40,000

Repayment

6 months to 7 years
Benefits of ANZ
Quick online loan applications
Flexible terms and conditions
Lower interest rates
---
Debt consolidation is an effective method to regain control over your finances
ANZ Bank offers debt consolidation loans in Hamilton that can take the load off your budget.
Juggling loads of debt, for example, credit cards, overdrafts and other debts can be upsetting at times. Merging those debts into only one ANZ debt consolidation Loan can make your life less demanding and could spare you so much interest costs.
Here is the reason why: With only one standard reimbursement to make, you won't need to monitor distinctive due dates and reimbursement sums. The whole process is less complicated and much more straightforward and convenient.
Affordable monthly payment
The financing cost for an ANZ Personal Loan can be lower than other types of credit, like charge cards and clothing accounts, which leads to a decrease in your advantage costs. You can make additional reimbursements to pay off your debt consolidation loan quicker at whatever time you like, without any extra charges.
ANZ also allows you to change the length of the advance so the reimbursement amounts suit your financial plan, in addition, you can pick between week by week, fortnightly, or month to month reimbursements.
You can make use of their debt consolidation calculator to work out the amount you could save by uniting every one of your debts with an ANZ debt consolidation Loan.
Affordable reimbursement amounts
Your reimbursements rely upon what extent you need to reimburse the credit. Does this mean it all depends on how much you need to borrow to cover your existing debts? ANZ has a helpful calculator that can assist you to determine how much you will have to pay back each month on the amount you initially need. You can also apply for your loan online via their website.
Debts that can be consolidated
You can consolidate any of your debt from Mastercards and credit card overdrafts, store cards, other loans, and all other debts you have accumulated over the months or years.
ANZ will likewise consider different types of debts according to your profile, so contact them today to discover how they may have the capacity to offer you assistance with consolidating your debt.
Customer Reviews & Testimonials
"
ANZ Bank has been my go-to bank since I was 18 years old. A few tears back, life happened and I ended up with more debt than I could manage, ANZ Bank offered me a personal loan to help consolidat...
Willow P.
— Napier —
I used to be so stressed about all of my debt and keeping track of payments and missed payments became too hard, ANZ Bank fixed that problem and helped me consolidate all my debt under one paymen...
Chalee R
— Nelson —
ANZ Contact
Contact Number
E-Mail
Website
Physical Address
449 Grey St

Hamilton East

Hamilton

3216

New Zealand
---
Postal Address
Private Bag 92210 Victoria St, West Auckland, 1142, New Zealand
Opening Hours
Monday

09:00 – 16:30

Tuesday

09:00 – 16:30

Wednesday

09:00 – 16:30

Thursday

09:00 – 16:30

Friday

09:00 – 16:30

Saturday

– Closed

Sunday

– Closed