Debt consolidation up to $75,000
Low-interest starting from 8.95%
Repayment up to 7 years
In-page navigation
---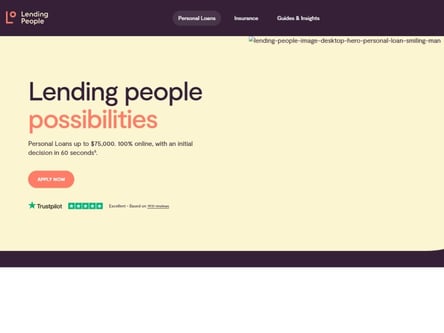 Author The Lending People . Screenshot of The Lending People website.


[Accessed March 7, 2023]
About The Lending People
Although the Lending People have their offices located in Auckland Central, they are an online broker and can therefore deliver loans to Kiwis across the country.
Their online loans range from $3,000 to 75,000 and can be repaid across a wide range of loan terms from 12 months to 7 years. What's more, is that the Lending People can assist you with a loan even if you have a poor credit score!
Consolidation loans that meet your needs
In addition to personal loans and vehicle finance, the Lending people can assist in securing a debt consolidation loan that will meet your needs.
Your information is confidential and secure
The Lending People take your privacy and security very seriously and are, as any other lender and broker, bound by the Privacy Act of 1993.
Since they work with a range of lenders and businesses it is necessary for them to divulge your personal information to them to some degree to enable them to source the best credit options for you.
This is simple a normal part of the credit process and all their partners abide by the Act and strict privacy requirements.
Responsible lending at its best
The Lending People are committed to following the Responsible Lending Code and take their duty to ensure you understand your financial situation and credit needs very seriously.
They will always ensure the credit that you are seeking to obtain is the right choice for your situation and needs and will also ensure that you will be able to make the required repayments.
Not only will they perform a credit check but part of their debt consolidation loan application process will require you to provide a summary of your income and expenses.
This summary will be used in determining affordability not only for you but also for your guarantor, should you have one.
The Lending People Services
When it comes to apply for a debt consolidation loan, the more offers you're able to access, the better. With Lending People you simply make one loan application and have one credit check performed and you will have instant access to a pool of leading providers.
If you have a range of short-term, unsecured debts that you would like to consolidate and need a loan between $3,000 and $75,000, the Lending People are the perfect brokerage to make your application with.
What are debt consolidation loans?
Debt consolidation loans allow customers to repay a range of smaller, existing debts off and then only maintain a single monthly loan. This loan will be larger since it needs to cover all of your existing debts but will typically carry a lower interest rate.
It is important to bear in mind that this does not mean you will pay less on your personal and short-term loans overall since you will likely be paying this larger loan off for a longer period of time.
The debt consolidation loans from the Lending People are sourced from one of many reliable lenders such as NZCU and Spirit Finance. These lenders offer some of the most competitive and reliable debt consolidation loans in the country and you get access to all of their offers just by making one quick and easy online loan application!
A flexible lending criteria
The Lending People have flexible lending criteria and a broad interest rate range that can cater to a wide range of credit profiles and needs.
From those who have a perfect credit score and are looking to finance their special day to those who have a poor credit score and need to simplify their debts with a debt consolidation loan.
The #FairPoint blog
The Lending People offer a range of helpful articles and guides via their #FairPoint blog. From articles that will help you create and stick to a budget to articles targeting first-time vehicle buyers that are looking for smart advice and insider tips, their blog has a lot to offer.
The Lending People – Consolidation loan
Loan Type

Debt consolidation

Interest Rate

from 8.95%

Loan Amount

up to $75,000

Repayment

12 months to 7 years
Benefits of The Lending People
Get approved in 60 seconds
Affordable repayment terms
Apply 100% online
Instant loan decisions
---
Secure your debt consolidation loan in under 15 minutes!
The Lending People have one of the simplest and quickest online loan application processes on the market. Apart from their quick automatic bank statement retrieval using Provisio, their system automatically provides conditional approval in just 60 seconds!
What you'll need when applying for a debt consolidation loan
You must be aged 18 or older, be employed and be earning $500 or more per week and be a New Zealand citizen or have a New Zealand work visa or resident visa to apply. If you meet these basic criteria you are eligible to make a quick loan online application with the Lending People.
Documents that you'll need to provide
A copy of the front and back of your ID
Your 90-day bank statements can also be automatically retrieved using Provisio
A recent payslip
Your proof of address
The settlement statements of all debts that you wish to consolidate
Keeping the Lending People in the loop
Whether you lose your job or encounter an emergency that makes repaying your loan on time impossible, the Lending People encourage you to get in touch with them and let them know about your situation.
Not only will they help you determine if your consolidation loan insurance will cover you but they may just be able to help you arrange a more suitable, alternative repayment plan.

The Lending People is a trusted & reliable provider of debt consolidation
Customer Reviews & Testimonials
"
October 2019
I regained control over my finances with a debt consolidation loan from The Lending people
Christine D
— Wellington —
The Lending People Contact
Contact Number
E-Mail
Website
Physical Address
94 Queen Street, Auckland CBD

Auckland

1010

New Zealand
Opening Hours
Monday

09:00 – 17:00

Tuesday

09:00 – 17:00

Wednesday

09:00 – 17:00

Thursday

09:00 – 17:00

Friday

09:00 – 17:00

Saturday

– Closed

Sunday

– Closed