Quick loans up to $20,000
Low-interest up to 11.79%
Repayment up to 5 years
In-page navigation
---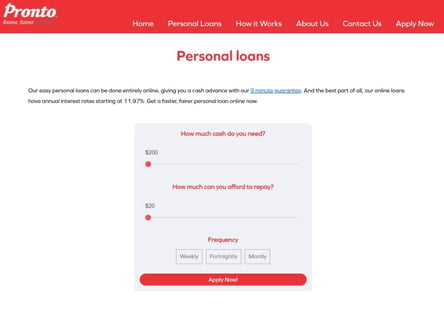 Author Pronto Finance. Screenshot of Pronto Finance website.


[Accessed March 6, 2023]
About Pronto Finance
When you need cash fast, Pronto Finance is your ideal lender with their quick 4 minute loan application and their 9-minute loan payout guarantee.
They offer quick online loans from $200 to $20,000 with loan terms of between 3 months and 5 years which are flexible enough to suit the individual needs of a wide range of borrowers.
No time to complete complicated loan applications and wait around for approval? With Pronto Finance you can rest assured that you will enjoy a quick and simple online loan application and receive loan approval within a short time frame.
An environmentally conscious lender
Pronto Finance is big on sustainability and has, as an organization, decided to become completely paper-free.
Not only does their digital signature technology remove the need to print, sign, and scan to get your personal loan agreement back but, they avoid printing and posting.
They also encourage their customer to save electronic copies of the documents pertaining to their loans rather than printing them out.
A transparent online lender you can trust
In order to remain a transparent lender, Pronto has compiled a complete list of their loan costs. This ranges from their interest rates to their default fees, which we will summarise below.
Pronto's fees and rates
Interest rates range from 11.97% and 29.97%
Weekly administration fee of $4.09
Loan establishment fees:

For loans ranging from $200 to $499 the charge is $160
For loans ranging from $500 to $999 the charge is $260
For loans of between $1,000 and $20,000 the establishment fee is $360

Default fee of 0.97% per day and annual default interest rate of 17.5%
Pronto Finance Services
Pronto offers a range of quick cash loans which are generally unsecured but may also be secured in the case of car loans.
Their loans can be obtained entirely online and are flexible enough to suit a wide range of budgets and needs. They are a registered Financial Services Provider (FSP) and are big on speed, flexibility and excellent customer service.
Lower rate loans
When it comes to quick and payday loans, many people are of the idea that they have to sacrifice affordability. With Pronto Finance this is simply not the case. They offer responsible customers who always repay on time low-interest rates that easily compete with some of the biggest banks out there!
How the 9-minute guarantee works
Pronto Finance are well known for their 9-minute loan guarantee which is essentially a promise to pay put an approved loan within 9 minutes after receiving a duly signed loan contract. If you haven't received your cash within 9 minutes after sending your signed loan contract to Pronto, your first loan repayment of on them!
You must bank with:
ANZ
ASB
BNZ
Kiwibank
Westpac
4-minutes loan applications
When it comes to same-day and quick loans, one of the most crucial tools for a lender is their loan application form.
Pronto's application form is simple, quick and easy to complete and takes the average New Zealander about 4 minutes to get through. You can complete this form on your PC, a laptop, tablet or even your mobile phone!
Pronto Finance – Quick loan
Loan Type

Quick loans

Interest Rate

11.79%

Loan Amount

up to $20,000

Repayment

3 months to 5 years
Benefits of Pronto Finance
Get a loan in 9 minutes
Quick online loan application
Pay your loan early without extra fees
Access your low rate loan in just minutes
When it comes to fast loans online, Pronto Finance is in a league of its own. In addition to having one of the simplest apply online for loan forms, the most competitive interest rates for customers with excellent repayment histories and a 9 minute loan delivery guarantee – they also allow you to customize your loan in a way that suits you while giving you the freedom to repay it earlier.
Pronto has a 5-star rating on Shopper Approved and has excellent reviews from customers who find their services to be simple, affordable, quick and convenient.
Whether you want a small emergency cash loan or a long-term secured loan to purchase a car, they've got you covered with their flexible loans and excellent repayments.
Features that make Pronto's loans the best
Loan amounts that range between $200 and $20,000
Customers can select a loan term between 3 months and 5 years
Secured loans are available for those that wish to purchase a vehicle
The loan application takes only 4 minutes to complete
No need to print, scan, post or fax – everything is done online
Your instant loan will be credited within 9 minutes – guaranteed!
Enjoy the flexibility to repay your loan early with no penalty
Need help or want more information?
Pronto Finance aims to be a transparent lender and, have a comprehensive selection of the information available on their website.
You can make use of their loan sliders to help you select your ideal loan amount and repayments, apply and get your online loan in just 9 minutes once you've returned your signed loan agreement.
In addition, they have a number of important links to other sites such as the Financial Services Complaints Company as well as the New Zealand Companies Office.

Pronto Finance is a trusted & reliable provider of quick loans
Customer Reviews & Testimonials
"
September 2019
I needed a quick cash loan, Pronto Finance helped me with low-interest rates on a quick loan and I got my money instantly
Kevin F
— Upper Hutt —
May 2019
Pronto Finance is my preferred lender when I need short-term finance
Claire H
— Dunedin —
Pronto Finance Contact
Contact Number
E-Mail
Website
Physical Address
2 Cambridge Street

Nelson

7020

New Zealand
Opening Hours
Monday

09:00 – 17:00

Tuesday

09:00 – 17:00

Wednesday

09:00 – 17:00

Thursday

09:00 – 17:00

Friday

09:00 – 17:00

Saturday

– Closed

Sunday

– Closed