Short-term loans up to $5,000
Low-interest up to 364%
Repayment up to 40 weeks
In-page navigation
---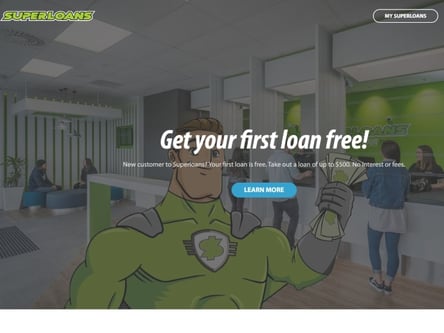 Author Super Loans. Screenshot of Super Loans website.


[Accessed March 3, 2023]
About Super Loans
Super Loans is a direct lender that is helping New Zealanders get their hands on emergency cash for Bad Credit Loans when it is needed.
This registered service provider with four is providing quick payday loan solutions for those unexpected emergencies that crop up at moment notice. Sometimes extra cash is hard to come by when people need a holiday.
A car may have a breakdown or a child's school fees need to be paid when the budget has already been exhausted. Kiwis need not fear as they have an ally in Super Loans.
Quick payday for Bad Credit loan clients
Many Kiwis are under pressure to stretch their budget far enough to see through the month. Super Loans know that sometimes there is not enough money to pay all the domestic bills.
They are aware of the tough economic circumstances that people have to negotiate especially in the "new normal" of our daily lives. The credit lender provides loans to people looking for Easy Loans for Bad Credit to help them through the tough times.
Super Loans provide quick easy loans from NZ300$ up to $10,000 to Bad Credit clients. No credit checks are required, only an item of value is needed as collateral to secure the loan.
Super Loans Services
Apply for easy unsecured loans, stake a claim to a Super Loan.
Super Loans loan applications are as easy as 1-2-3. No-fuss, no-frills. Clients can either access Super Loans via their online portal or through making contact with one of their highly trained professional staffers. Super Loans is strictly a short-term loan NZ provider offering secured and unsecured loans of between $100 and $10,000.
The express loans are the right fit
The loan amount must not exceed NZ$5,000
This is an unsecured loan and applicants must be employed
Applicants must earn more than NZ$300 a month
Repayment terms are between 1 and 6 months
Bad credit stifling your financial progress
Super Loans as responsible lenders do not turn away clients easily if they meet qualifying criteria. So for the unemployed, self-employed, or those who have poor credit, they offer short-term loans of up to $1,000. With these Bad Credit loans, the lender requires that the applicant pawn an item of value as a back-up for the short-term loan.
Super Loans – Short-term loan
Loan Type

Short-term loans

Interest Rate

364%

Loan Amount

up to $5,000

Repayment

7 days to 40 weeks
Benefits of Super Loans
Get your first loan without added interest
Flexible loan terms
Fast loan payouts
Short-term loan calculator
At Super Loans you will get the best deals on flexible loans
At the click of a button, Bad Credit loan clients can determine how much they are eligible to borrow and how much their loan will cost.
And what's more, first-time loan applicants pay no interest or regular fees. The online calculator will need applicants to indicate whether salaries are paid fortnightly, weekly, or monthly. Once the salary is entered, the calculator assesses the loan amount that can be borrowed, the rate of interest, and the payment period.
Clients who apply for a loan be it a free loan or express loan products can generally borrow up to 20% of their monthly income. Once an application is received Super Loans will get back to the client to discuss it. A loan agreement will then be drawn up and the client visits one of the four branches to sign the agreement and collect the cash.
Responsible lending
Super Loans prides itself on the fact that it is committed to responsible lending practices. They want to see New Zealanders sustain their good financial standing. Therefore they welcome with open arms Bad Credit loan clients to apply for financial help.
Responsible lending means Super Loans follow procedures and policies that ensure loans are practical and affordable. Their experienced staff will ensure through careful analysis of each applicants' financial standing to confirm that they are able to pay back any loan.
Super Loans places emphasis on transparency in its dealings with customers. Therefore every client will be informed of the interest and service fees so there are no hidden costs.
Here are the qualifying criteria
This pawn loan will be secured on any item of value
Interest is fixed and does not require a credit check
A loan can be repaid in full within 3 months without a penalty
A qualified staffer and the client agrees on the value of the pawned item
Item is returned when the loan is fully paid

Super Loans is a trusted & reliable provider of short-term loans
Customer Reviews & Testimonials
"
The site is easy to use and understand; my money was promptly paid over just a couple hours later.
Aiden K.
— Ivercargill —
I had some unfortunate expenses which required some extra funds. Luckily with such a speedy approval rate, not to mention how easy it is to apply, I quickly paid my dues. Thanks so much!
Michaela M.
— Auckland —
Good service and a promptly approved loan!
Kaiden W.
— Wellington —
Super Loans Contact
Contact Number
E-Mail
Website
Physical Address
60 Adelaide Rd

Mount Cook

Wellington Region

6021

New Zealand
Opening Hours
Monday

09:00 – 17:00

Tuesday

09:00 – 17:00

Wednesday

09:00 – 17:00

Thursday

09:00 – 17:00

Friday

09:00 – 17:00

Saturday

– Closed

Sunday

– Closed