Short-term loans up to $3,000
Low-interest up to 49.95%
Repayment up to 12 months
In-page navigation
---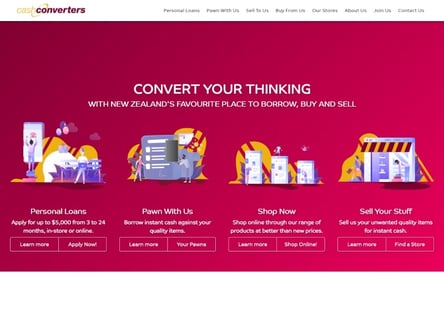 Author Cash Converters. Screenshot of Cash Converters website.


[Accessed March 3, 2023]
About Cash Converters
Cash Converters is helping New Zealanders wanting Easy Loans for Bad Credit to get back on an even financial footing for more than two decades.
The world's largest provider of second-hand goods to the public is fast becoming a world leader in the provision of short-term loans. Since its humble beginnings in 1993, the company has grown to 600 outlets around the globe. The company has built up a reputation as a leading provider of short-term loans because of its legacy.
Excellent service for Bad Credit loan clients
Cash Converters has 22 stores in New Zealand and a staff complement of more than 380 people who are always on hand to provide for the needs of Bad Credit loan nz clients. The company has a solid reputation for providing trustworthy, responsible, and dedicated services when it comes to the provision of short-term loans.
With Cash Converters it is all about quick, hassle-free services that have stood the test of time. Thousands of New Zealanders are benefitting from their online quick loans services, which is just that, fast, reliable, and prompt.
Bad Credit clients can borrow from as little as NZ$300 to NZ$5,000 over affordable repayment terms and at competitive interest rates. With Easy Bad Credit Loans flexibility is key for Cash Converters. Cash Converters is known for its flexibility when it comes to providing loans for people looking for Easy Bad Credit Loans. They know that sometimes their clients are hard-up for cash and the company is prepared to assist them with their loan needs.
Cash Converters Services
Cash Converters is proud to conform to Responsible Lending practices when providing short-term Bad Credit Loans to clients.
Their well-trained staff will make sure through careful analysis of every application that bad Credit loans NZ only go to those people who can manage them effectively. Cash loans of up to NZ$5,000 are available immediately and can be paid back on the next payday.
What clients get with a short-term loan
Interest rate pegged at Annual Interest Rate of 95%
Interest rate fixed for a period of the loan
Loan amount of up to NZ$5000
Repayment period – 3 months to 24 months
Loans paid out quickly
Apply now for a Bad credit loan
Cash Converters offers simple solutions for Kiwis' loan requirements with various ways of staking a claim for easy cash. Their loan application process is straightforward, so it gives customers more time to see to their daily chores and domestic duties.
All applicants need when making an application is their ID, proof of address, and an original bank statement. The website portal has an online calculator where clients can insert the loan amount required. The calculator assesses the interest rate and the repayment period.
Cash Converters – Short-term loan
Loan Type

Short-term loans

Interest Rate

49.95%

Loan Amount

up to $3,000

Repayment

3 months to 12 months
Benefits of Cash Converters
Loans are paid out quickly
Compare short-term loans online
Apply using the mobile app
Short-term loan calculator
Simple short-term loans for Kiwis
Cash Converters prides itself on transparency. Their motto is while going to the extreme to assist clients they will only pay out loans if customers can manage them.
Interest on loans is calculated daily and applied monthly to the outstanding loan amount. They ensure that the interest rate remains fixed until the end of the loan period. An establishment fee of between NZ$145 – NZ195$ will be charged, only if the loan is approved. An ongoing weekly fee of NZ4$ will apply to the administration costs of the loan. Other fees such as debt collection fees for Bad Credit Loan clients can be gleaned from their website portal.
No-fuss payouts with Unsecured Loans
Cash Converters know that many people have fallen on hard times during tough economic circumstances. Therefore the company will not turn clients who are looking for Unsecured Bad Credit Loans away easily. Some form of credit check might be required but clients do not have to have the perfect credit check to qualify for a short-term loan.
If clients qualify for one of their loans, Cash Converters carries the risk of the loan. Bad Credit Loan applicants do not have to provide security for their loans. The money is paid out within 24-hours to the customer - no further questions asked.
Advantages of the application process
Apply in-store, online, or on the mobile app
Quick response from staffers who will make sure clients can afford the loan
Samples of standard contracts are available online to help applicants understand the process
Monies paid in within 24 hours
The short-term loan provider uses an online loan application and processing system which substantially reduces the waiting time for clients. Loan applicants can chat to a staff member via an online chat platform or contact them telephonically if there is any information needed when an application is made.
The long and the short advantages of this system mean Bad Credit Loan clients can get approved right there and then for their loan applications with prompt and expert feedback.
Customer Reviews & Testimonials
"
My loan was approved in minutes! Thank you!
Ruby S.
— Whakatane —
My consultant was not helpful, I managed the tedious online process by myself. I was approved in minutes and the money paid over the next day though.
Jamie K.
— Whanganui —
Cash Converters Contact
Contact Number
E-Mail
Website
Physical Address
2/100 Church St

Onehunga

Auckland Region

1061

New Zealand
Opening Hours
Monday

09:00 – 17:30

Tuesday

09:00 – 17:30

Wednesday

09:00 – 17:30

Thursday

09:00 – 17:30

Friday

09:00 – 17:30

Saturday

09:00 – 17:30

Sunday

10:00 – 16:30