Bad credit loans up to $100,000
Low-interest starting from 9.95%
Repayment up to 5 years
In-page navigation
---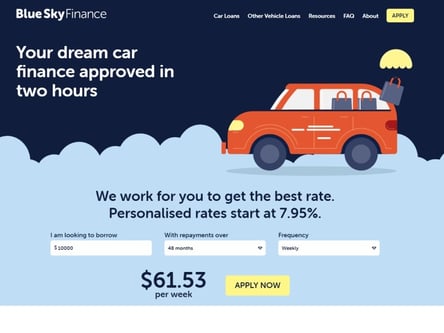 Author Blue Sky Finance. Screenshot of Blue Sky Finance website.


[Accessed March 6, 2023]
About Blue Sky Finance
As a major personal finance broker company in New Zealand, Blue Sky Finance has the knowledge and experience to give you the best loan deal in the market.
We work with a variety of lenders to ensure that you will get exactly what you are looking for. We operate nationwide. The range of products that we offer include secured and unsecured personal loans to pay for various events, projects and purchases, vehicle finance, debt consolidation and business finance.
We assist people with any credit score
We will provide a bad credit loan tailored to you no matter whether you have a good or bad credit history. We work with self-employed individuals, beneficiaries, students and recent graduates and immigrants as well as with employment income earners. When you come to us, we will take into account your ability to repay the loan, your income and residency status and your credit history to determine how much you can borrow.
Blue Sky Finance Services
We owe our success to the fact that we always focus on understanding the individual needs or our customers.
As a broker company specialising in personal finance, Blue Sky Finance has helped many New Zealanders get where they want to be financially by providing tailor-made bad credit loans.
Our loans are fast and easy to obtain
Our unsecured personal loans are available even to people with bad credit history, low-income earners and beneficiaries. They can be highly useful when you have a pressing need for cash. We provide car finance for the purchase of cars, motorbikes, vans and even boats. With our debt consolidation loan, you can put all of your debts together and make a single smaller payment on a regular basis. We have business loans for capital finance and cash flow management.
Blue Sky Finance – Bad credit loan
Loan Type

Bad credit loans

Interest Rate

from 9.95%

Loan Amount

up to $100,000

Repayment

4 weeks to 5 years
Benefits of Blue Sky Finance
Get approved in 2 hours
Affordable car loans
Get a bad credit loan
Personalised loan rates
Bad credit loan calculator
For fast bad credit loan application and instant loan approval, apply with Blue Sky Finance today!
Loans for bad credit are accessible online through Blue Sky Finance in Christchurch.
Different to what most loan organizations say, getting a loan when you are blacklisted is not generally a simple process. Bigger firms will let you know they can assist you only with a high level of security and backing from relatives. This is a lot of work, and can take a while to even get the application through.
We offer loans for blacklisted clients
Another snag in getting a blacklisted loan from larger banks is that the maximum amount you could borrow would be around $5,000. You may not need such a large amount and end up paying out more long term. This is so unnecessary and long-winded. That is why we have a perfect solution for you. We know that you may require some help financially when your bank balance is looking low or to cover an unanticipated or expected expense, whether it is a car repair, birth of an infant, a wedding, a justified journey or a home redesign. This is the reason we offer loans for blacklisted clients from $300 to $5,000.
Our whole loan procedure is done on the web
We have improved what different banks have to offer and made the criteria for our clients easier to meet. You can fill in the online loan application at whatever and wherever is suitable for you - day or night. Contingent upon what time of say you finish your application, you can have a pre affirmed loan from us in inside of an hour!
Cash quicker and easier
The convenience of doing the whole application process on the web, guarantees you don't need to set up a meeting with bank supervisors, sitting tight weeks for approval on your quick loan online, and filling in endless reams of information. We know the staggering feeling you may be under if you have bad credit, and nobody will help you with a blacklisted loan. That is the reason our special loan arrangements will best fit any individual who enquires through us.
Customer Reviews & Testimonials
"
I thought having a bad credit history would mean the end of me moving forward financially, BSF showed me it doesn't have to be that way. They gave me a loan despite my bad credit and helped me ch...
Lise W.
— Wellington —
Blue Sky has been a pleasure to work with, they keep the loan application simple and short. Just what I needed.
Jenelle B.
— Masterton —
Very efficient and friendly staff who helped me complete the loan application.
Elyce R.
— Whakatane —
Blue Sky Finance Contact
Contact Number
E-Mail
Website
Physical Address
8 / 212 Antigua Street

Christchurch

Canterbury Region

8011

New Zealand