Bad credit loans up to $75,000
Low-interest starting from 8.95%
Repayment up to 7 years
In-page navigation
---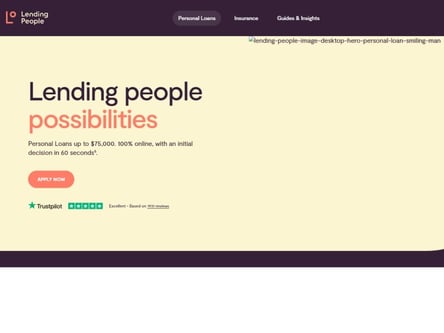 Author The Lending People. Screenshot of The Lending People website.


[Accessed March 6, 2023]
About The Lending People
The Lending People are one of New Zealand's leading brokers, having served more than 38,000 people with quick, easy, and affordable loans.
They offer a broad range of loan amounts and loan terms, a quick and easy way to apply for loans online, and great customer service. What sets them apart from the competition is their ability to accurately source and tailor loans to meet the unique needs of their customers.
Competitive loans and rates
They not only offer loans to people with good credit histories but are able to source bad credit loans for those who don't qualify for competitive credit due to their poor credit history.
They also have one of the country's quickest and easiest online loan application systems which can be completed in just a few minutes. Finally, their turnaround time on approval for application is an incredible 60 seconds as well as 60 minutes for those whose loan applications are referred.
Bad credit loans up to $75,000
The Lending people can source bad credit loans for customers that range from $3,000 to $75,000. The loan's terms on offer range from 12 months to 7 years meaning that you can find a loan repayment term and amount that will suit your budget.
Loan interest rates tailored to you
Loan interest rates are adjusted based on your credit score and profile. If you have a bad credit score you will likely get a higher interest rate than someone with a good credit score, and that's okay! With such a flexible loan term range, they will help you find a loan that will meet your needs.
A commitment to responsible lending
While The Lending People do not offer loans directly they have strong values and are committed to responsible lending. If a customer does not meet their affordability requirements they will let them know and will not continue to try and source a loan for them.
The Lending People Services
The Lending People offer bad credit loans of up to $75,000 with up to 7 years to repay.
Their quick loan calculator available on the homepage of their website lets you adjust your interest rate based on how good or bad your credit score is. The interest rate ranges from 8.95% up to 24.95% for those who've had trouble with their finances.
Use The Lending People to get a bad credit loan
When it comes to bad credit loans, most lenders will decline your application if you have a poor credit score unless they specialize in bad credit lending.
By making use of the brokering services offered by the Lending People you only need to complete a single loan application, have one credit check performed and you will have access to a large variety of lenders, many of which offer loans to people with poor credit.
Benefits of using the Lending People's Broker Services
Access offers from multiple lenders
Fill in a single quick online loan application online
The loan application is quick and easy to complete
Bank statements can be automatically retrieved using Provisio
Improve your chances of getting loan approval if you have bad credit
Access flexible loan amounts and flexible loan terms
Brokers work to find a loan option to suit your needs, regardless of your credit score
No extra cost to you for making use of their brokering services
Chat with a broker via their instant messaging platform or via telephone if you require support
Loans offered by The Lending People
The Lending People also offer personal loans which can be used to purchase a vehicle and consolidate debt among other uses. So whether you need to pay for your upcoming holiday or buy a working car to get to work and back, the Lending People will source the best loan option for you quickly and easily.
The Lending People – Bad credit loan
Loan Type

Bad credit loans

Interest Rate

from 8.95%

Loan Amount

up to $75,000

Repayment

12 months to 7 years
Benefits of The Lending People
Affordable repayment terms
Apply 100% online
Instant bad credit loan decisions
Get approved in 60 seconds
Bad credit loan calculator
A quick & easy bad credit loan application process
Applying for a bad credit loan with the Lending People will be exactly the same as applying for a loan with good credit and all the same supporting documents will be required as well.
You simply need to fill in all the information and details you're prompted to by the 4-step online loan application after which you will be asked to upload your supporting documents.
The loan application can take you as little as 5 minutes to complete and will require that you provide your personal, employment, and contact information in full. Should you not fill in all the required fields you will not be able to proceed with the application.
Required documents for a loan application
You need to provide a copy of your ID, NZ Drivers License or passport, proof of address, a recent payslip as well as 90 days' worth of bank statements in order to complete your loan application. Having these documents on hand before starting the application process will save you time and effort and speed up the process significantly.
Uploading your supporting documents
You do not need to manually upload your bank statements as the Lending People have employed the use of Provisio, an automatic bank statement retrieval system.
Using Provisio to provide the required 90-day bank statements will not give anyone access to your accounts and is 100% safe and secure.
Customer Reviews & Testimonials
"
September 2019
The Lending People helped me get a quick and affordable bad credit loan
Maxwell P
— Nelson —
November 2019
Getting a loan from The Lending People is a stress-free process
Lindy T
— Auckland —
The Lending People Contact
Contact Number
E-Mail
Website
Physical Address
94 Queen Street, Auckland CBD

Auckland

1010

New Zealand
---
Postal Address
PO Box 105063, Auckland City, Auckland, 1143, New Zealand
Opening Hours
Monday

09:00 – 17:00

Tuesday

09:00 – 17:00

Wednesday

09:00 – 17:00

Thursday

09:00 – 17:00

Friday

09:00 – 17:00

Saturday

– Closed

Sunday

– Closed