Business loans up to $1,000,000
Low-interest starting from 6.43%
Repayment up to 15 years
In-page navigation
---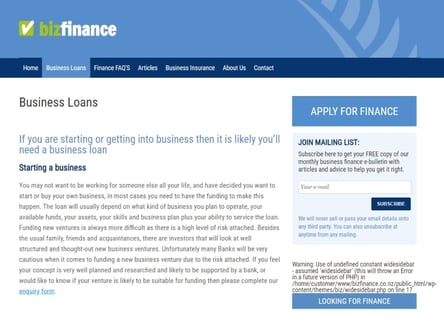 Author Biz Finance. Screenshot of Biz Finance website.


[Accessed March 7, 2023]
About Biz Finance
The role of BizFinance is to assist NZ business buyers in obtaining the most suitable and affordable finance.
It is a joint venture between Financial Service Providers and NZ-biz-buy-sell. We use our extensive experience and expertise to assist clients with finding the best business loan deal in terms of cost and structure and securing it in the fastest and easiest way possible.
We have expert financial skills
The people behind BizFinance are David Weusten and Richard O'Brien. David set up Financial Service Providers in 2000 after 21 years of working in the banking industry in New Zealand and abroad. As an independent financial advisor working with a dedicated team, he has assisted in the granting of loans worth over $102 in New Zealand. Richard has been involved in the marketing of NZ businesses for sale since 2000 when he founded Biz Finance. He has expertise in management and business development.
Biz Finance Services
Use the services of BizFinance to buy an existing business.
Take advantage of professional expertise for securing business finance of the highest quality which matches your needs precisely. Take a look at the listings on NZ-biz-buy-sell to see what is on offer or use our specialist sites dedicated to cafes, restaurants, hotels, and motels for sale.
Our loans will benefit your business
You will have a well-established customer base and recognized lending products and services. Dedicated staff with experience and skills will be working for you. The systems for cash flow operations will already be in place. You will have a clear idea about the financial performance of the business to reduce the risk to a very possible minimum.
Biz Finance – Business loan
Loan Type

Business loans

Interest Rate

from 6.43%

Loan Amount

up to $1,000,000

Repayment

12 months to 15 years
Benefits of Biz Finance
Reliable business insurance
Affordable business finance options
Apply online and save time
Apply for a business loan online & improve your cash flow today
If you are thinking of beginning or getting into business then it is likely you'll require a business loan from Biz Finance.
You might not have any desire to be working for another person all your life, and have chosen to begin or purchase your own business, as a rule, you have to have the financing to get this going. The credit will, for the most part, rely on what sort of business you plan to work, your accessible assets, your benefits, your aptitudes and marketable strategy in addition to your capacity to benefit from the business loan.
Helping you start a business when no one else will
Subsidizing your new pursuit is not easy, and there is a large amount of financial risk attached to the starting of this venture. Unfortunately, most banking institutions are reluctant to give quick easy money to new businesses that have no collateral or financial backing in place. Should you wish to go forward with your business, and get the finance you need to start up, we can help you. You can apply for a loan online or call us to discuss.
Purchasing a built up business is more secure
Having a demonstrated plan of action, credit history and a client base with income diminish the danger to banks. Banks will have the capacity to audit the most recent 3 years financials, see any patterns, and find out if your projections and the business is suitable to loan on. The sum loaned will be restricted to the security you can give and your capacity to reimburse your installments with ease. The bigger the advance, the more security required and the more prominent the reimbursements should be.
Organizations from time to time startup and just don't make it, and with development will regularly require extra capital for upgrades and equipment. Growing a business however is difficult, as more staff put weight on your income, it can be hard to reserve development out of capital. It can require a long investment to set aside adequate cash to develop your business, so getting a business loan from Biz Finance can definitely help all business owners keep their company running smoothly.
Customer Reviews & Testimonials
"
Biz Finance has really helped grow my business, I went to them for the initial start-up costs and now years later I am back to help fund my expansion.
Benji S
— Queenstown —
I had always wanted to be my own boss and own my business - Biz Finance helped me do just that!
Chris W.
— Gisborne —
I could not have asked for a better business partner than Biz Finance. My wife and I shopped around a bit till we found our perfect match.
Harrison H.
— Rotorua —
Biz Finance Contact
Contact Number
E-Mail
Website
Physical Address
---
Postal Address
PO Box 33276, Christchurch, 8244, New Zealand