Home loans up to $600,000
Housing development
Repayment up to 10 years
In-page navigation
---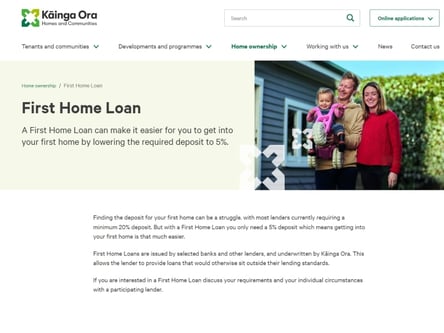 Author Housing New Zealand. Screenshot of Housing New Zealand website.


[Accessed March 7, 2023]
About Housing New Zealand
Housing New Zealand is a corporation that aspires to provide for its clients who cannot afford to rent a flat or a house on their own with housing services.
Tenants can stay for as long as they need to. They receive complete support with every tenancy matter. Housing New Zealand can provide detailed assistance through their partners which include the ministry of social development and the ministry of health.
Get your home loan today
Housing New Zealand's subsidy rental homes offer living conditions of the highest quality. They concentrate on the effectiveness and efficient management of the properties. In addition to their core operations, they offer reasonable home loans in New Zealand. These include Welcome home loans in NZ and KiwiSaver subsidies when buying your first house.
Housing New Zealand Services
When you have sufficient income for making mortgage payments, but you do not have sufficient savings for a deposit, a welcome home loan can be the right solution for you.
It is provided by lenders who work as partners with Housing New Zealand. With a welcome home loan, the deposit is only 10% of the price of the property while conventional mortgages require a deposit of 20%.
10% deposit is required
To qualify, you have to meet the specific requirements set by the chosen lender which can be a bank or a credit union. The maximum personal loan NZ amount that you can borrow will be determined by the area you are looking to invest in. There is an individual price cap for each category. The maximum amount which you can borrow is calculated by subtracting the 10% deposit from the total house price.
Housing New Zealand – Home loan
Loan Type

Home loans

Loan Amount

up to $600,000

Repayment

1 year to 10 years
Benefits of Housing New Zealand
Housing development projects
Choose between home loan options
Fast and easy loan application
---
Turn to Housing New Zealand when you are looking for a home loan with a difference
Housing New Zealand makes homeownership more easily accessible to individuals and families that do not have sufficient savings to pay the deposit required by lenders.
Housing New Zealand in Auckland offers home loans exactly the way you like it. They make the process less demanding for you when moving into your dream home.
Housing New Zealand's home loans are offered by moneylenders, maintained by Housing New Zealand, and intended for first home buyers. As they can easily afford to make general repayments on a home loan, yet experience difficulty with giving surety or collateral as a security measure.
Requirements for a home loan NZ
To qualify for one of Housing New Zealand's home loans, you do not need huge savings in your bank account. Only a 10% deposit will be needed to ensure you meet the standard home loan requirements. Terms and conditions apply, which they will discuss in full detail with you once you decide on how much you need to borrow for your new house.
Credit limits - The greatest sum you can borrow with a Home Loan from Housing New Zealand relies on the district you are purchasing in. Every district has a limit to the value of its dwellings. The greatest advantage for an area is the house value as well as the 10 percent of your savings amount.
New Zealand's house value limits are
Auckland – $550,000
Hamilton City, Tauranga City, Western Bay of Plenty District, Kapiti Coast District, Porirua City, Upper Hutt City, Hutt City, Wellington City, Nelson City, Tasman District, Waimakariri District, Christchurch City, Selwyn District, Queenstown Lakes District – $450,000
Rest of New Zealand – $350,000.
To qualify for a Home Loan from Housing New Zealand your consolidated family unit wage throughout the previous 12 months would need to be no less than $80,000 on the off chance that you are the sole borrower. In the event that you are joining forces with one or more borrowers to purchase a house, then you can have a consolidated salary of up to $120,000.
Call Housing New Zealand today, let them set up some beneficial and valuable options for you as well as assist you with all the inquiries you have and allow them to get you the home you have always wanted. Now you can apply for a loan online or contact them to discuss more details regarding their home loans and mortgage rates.
Customer Reviews & Testimonials
"
What I liked most was that I only needed to put down a 10% deposit instead of the required 20% that my bank asked.
Lenny C
— Hamilton —
Very well organised home loan option, I can recommend their services.
Alec W
— Auckland —
Housing New Zealand Contact
Contact Number
E-Mail
Website
Physical Address
42 201/185 Great South Rd

Manurewa

Auckland Region

2102

New Zealand
---
Postal Address
PO Box 2628, Wellington, 6140, New Zealand
Opening Hours
Monday

08:00 – 17:00

Tuesday

08:00 – 17:00

Wednesday

08:00 – 17:00

Thursday

08:00 – 17:00

Friday

08:00 – 17:00

Saturday

– Closed

Sunday

– Closed