Personal loans up to $200,000
Low-interest starting from 6.99%
Repayment up to 5 years
In-page navigation
---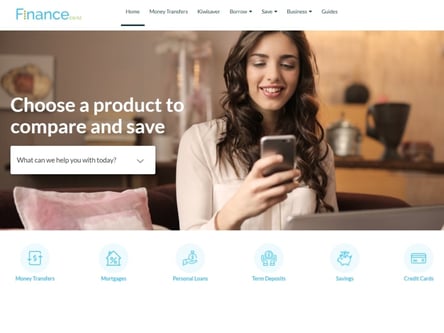 Author Finance.co.nz. Screenshot of Finance.co.nz website.


[Accessed March 3, 2023]
About Finance.co.nz
Finance.co.nz was established by an experienced financial businessman with extensive knowledge of 20 years of the industry behind him.
Mike Fraher took his passion for the finance industry and started Finance.co.nz to best use his skills for the good of New Zealand clients. He built up this empire with employees who shared his passion for helping people and today, the firm is thriving with thousands of new clients.
Let us empower you
With the intent to empower clients of new and existing loan products and financial services in the market, we can offer the best way forward in taking control of your finances, as well as offering affordable personal loans online when you need them.
One platform - hundreds of solutions
We offer a convenient and easy to use website, with lists a mile long containing lending and financial assistance firms for you to choose from. Select the kind of personal loan product or service you require, and we have a selection of choices for our clients to choose from. Choices are everything to our clients. We don't want you to be given one option when it comes to finding the right solution. We have everything you need on one platform, to help you get the assistance you need.
Convenience, simplicity and speed
We offer convenience, simplicity and speed in our services, providing clients with a one-touch one site solution. Saving you time when you in need of financial assistance. Make the right move and let us help you. Our content on our lending firms is continuously growing to offer our clients more options on an ongoing basis. We keep updated in the market, for you.
Finance.co.nz Services
When looking for the right financial service or product, it's better to have a choice.
At finance.co.nz we offer our clients one of the widest choices when it comes to who you want to get your quick loan or product from. Each offering competitive fees and rates and payment terms to suit your budget.
We offer products in the lines of:
Foreign exchange money transfers
Unsecured and secured personal loans
Home loans
Debt consolidation
Choose your loan option
Personal cash loans are convenient for anything! Whether or not you can apply for a secured or unsecured loan, we have the right service to cater to your needs. Use your loan for anything you choose and get the cash quickly. Finding it difficult to get by with your finances each month? We have debt consolidation options that will minimise the amounts you are currently paying each month, and lower your interest rates from the very beginning.
Home loans for Kiwis
Home loans can give you the freedom to choose the dream house you have always wanted. We can help you get it through our convenient lenders, all available on our site. Choose which one suits your budget and before you know it, you moving in!
Our loans are fast and confidential. With a few details, you can have cash in your account with ease. Our applications are done online from anywhere, taking the hassle out of getting instant funds.
Finance.co.nz – Personal loan
Loan Type

Personal loans

Interest Rate

6.99 – 29.95% p/a

Loan Amount

up to $200,000

Repayment

6 months to 5 years
Benefits of Finance.co.nz
Use your personal loan to consolidate debt
Quick and easy online applications
Instant loan approval means instant cash! And we are here to provide you with exactly that
Finance.co.za has made a considerable effort to find the right lending firms to partner with us in order to service our clients.
Be it personal loans, home loans, debt consolidation or credit cards, we have the perfect suited lending firm to fit your criteria. You don't often get loans and save money at the same time, this is what makes us so unique. We are an obvious differentiator in the industry.
We are cheaper than local banks but offer the same guaranteed services.
Accredited lending sources
Our foreign exchange money transfer processes work in a way that our clients save thousands of dollars. We work with providers who are listed on the Securities Exchange, giving our clients the peace of mind that they are lending securely from an accredited source.
Integrated payments ensure streamlined transactions and fast outcomes. Now you can move cash from one country to another from professionals quicker than ever.
Emergency cash loans
When you need extra cash for a vacation with the family, to pay for a wedding, or just to cover medical expenses which are building up interest. We can provide you with secured and unsecured quick cash from a number of accredited lenders on our site.
Apply Online - Saving you time and money
By starting a loan application online through our easy to use site, you get to choose which terms you can afford to pay back your loan. Choose either monthly, weekly or fortnightly, which ever you know will be best for you. Instalment amounts will be worked out according to the amount you lend.
Looking for a home loan?
Home loans can really be complicated and time consuming. At Finance.co.nz, we have changed that perspective completely. Saving you all the time of making appointments at banks and trying to find surety to back you up is no longer a necessity. We can help you through our preferred home loan providers and get you're your home loan, with lower rates at the best possible terms.
We work off how much you need to borrow in proportion to the value of the house. We will assist you in working out how much your deposit would be when you apply for your home loan.
Get approved for a loan today
We have the capacity to help anyone looking for online loans in New Zealand. As a credit union, we are able to provide services which banks and larger corporations can't. We are here to help you find the best solution to your financial needs.
Customer Reviews & Testimonials
"
I was able to get a fair and affordable unsecured personal loan. I can easily recommend their services.
Bella C
— Napier —
Good rates and terms on both secured and unsecured loan options - I have tried both, very satisfied.
Chante A
— Ashburton —
Finance.co.nz Contact
Contact Number
E-Mail
Website