Personal loans up to $10,000
Low-interest starting from 39%
Repayment up to 48 months
In-page navigation
---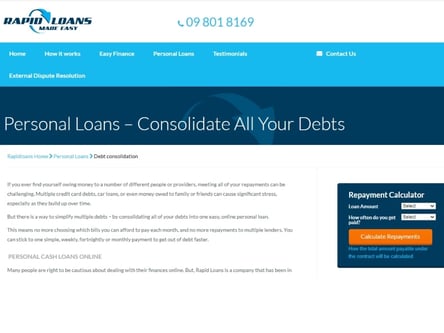 Author Rapid Loans. Screenshot of Rapid Loans website.


[Accessed March 3, 2023]
About Rapid Loans
Rapid Loans offers a fast and convenient online alternative for borrowers.
Whenever you require a personal loan in NZ, think Rapid Loans for personalised service, simple application, and tailored repayments. Rapid Loans has been operating since 2003 and have already assisted over 50,000 customers in New Zealand and Australia.
Some of the benefits you enjoy with Rapid Loans:
An online loan application process which is quick and simple for borrowers.
A high level of customer service and fast cash disbursement if approved.
A 24-hour turnaround in most cases from initial contact to funding, if approved.
Highly personalised service
Rapid Loans assesses each application on an individual basis, and they understand that each case may look different. Their friendly consultants will provide full assistance to you during the application process and for the life of your loan if approved with them.
Rapid Loans Services
Applying for a personal loan with Rapid Loans is quick and straightforward.
Our consultants are dedicated to making the experience pain-free. If approved, Rapid Loans can tailor your repayments to suit your needs. At Rapid loans, you will get a speedy loan service with loans that are flexible
Rapid Loans operate nationwide
You can apply for a loan online on their website from any corner of the country. If you are approved, they will transfer the cash to your bank account.
The service is flexible & convenient
Rapid Loans will take into consideration your needs, budget and lifestyle to come up with the most suitable solution for you. Working with Rapid Loans means you can manage your loan from the comfort of your own home with the help of their friendly consultants. Rapid Loans offers a friendly and professional service which is designed to help you with your loan application process, and, if approved, to support you throughout the life of your loan. Their service is customer-centric.
Rapid Loans – Personal loan
Loan Type

Personal loans

Interest Rate

39 – 48% p/a

Loan Amount

up to $10,000

Repayment

6 months to 48 months
Benefits of Rapid Loans
Flexible loan terms and conditions
Affordable loan rates
Quick online loans
A flexible, hassle-free way of getting personal loans in New Zealand
Whether you hoping to finance a car, do home remodelling or plan the ideal family vacation - or just return to on course with paying off your accounts– Rapid Loans could be the answer.
Before you apply, you should:
Be no less than eighteen years of age – mature enough to be working and earning wages.
Have an adequate FICO assessment – Rapid Loans can help in some cases if your credit record is less than perfect.
Meet your financial related prerequisites – your repayments must be able to fit comfortably in your budget.
Not be bankrupt or under audit.
Their online application process takes just a few minutes and asks for your basic personal and employment information. You'll be able to submit your bank statements automatically, and submit additional documentation online.
What happens when I apply?
You'll get an email to substantiate that your application has been received.
A consultant will call you within 24 hours to discuss your application.
Planning repayments is easy with Rapid Loans
Rapid Loans offers a simple loan product with fixed fees, for a fixed amount, over a fixed term. This means that your repayments won't fluctuate through the life of the loan, allowing you to budget with confidence.
Line up your accounts and thump them down – consolidate debt and pay them off with one little personal cash loan, be back in control of your finances.
What are you waiting for?
Rapid Loans consultants are highly experienced and very passionate about their clients, so should you need assistance, they are just a call away. You can request a call back on their website, or skip straight to filling out the application form online.
Customer Reviews & Testimonials
"
I was blown away at the efficiency of Rapid Loans. For anyone who doesn't like waiting around for things, Rapid Loan is the company for you.
Traci S.
— Queenstown —
They really put the personal in personal loans. Great service and awesome product.
Teri C.
— Wellington —
Very affordable personal loan option.
Mia W.
— Hamilton —
Rapid Loans Contact
Contact Number
E-Mail
Website
Physical Address
Level 31, Vero Building, 48 Shortland Street

Auckland

Auckland Region

1010

New Zealand