Personal loans up to $2,000
Low-interest starting from 9.95%
Repayment up to 18 months
In-page navigation
---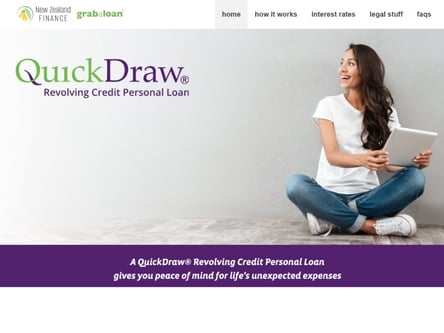 Author Grab a Loan. Screenshot of Grab a Loan website.


[Accessed March 3, 2023]
About Grab a Loan
Grab a Loan in New Zealand provides a specialized loaning solution to clients looking for finance in the country.
We have a specialized service offering of secured and unsecured personal loans which you will find very appealing.
Loans to suit your every need
Knowing that you can get a loan quickly through a financial company which actually cares about your wellbeing is one of the biggest benefits of all. We have a range of personal loans to suit every need. No longer will you have to wait days or weeks from your local bank to get cash in a hurry. With Grab a Loan in New Zealand, we take the most complicated applications and make them simplistic.
Innovation that matters
We apply our knowledge in the industry towards new and exciting ways for our clients to get the best loans online, ensuring our clients get the most up to date deals and the special services that they deserve. We know our clients don't want to be just another number in the system. They need a personalized service with a team devoted to caring for their financial needs.
We provide this kind of customized attention to every one of our valued clients. When you sign with Grab a loan, you get an accredited firm with the backing of sister companies which hold high status in the finance sector. We apply a new way of thinking, taking our services one step further for the best outcome of our client's needs. When you need a quick loan, Grab a loan has the services you want!
Grab a Loan Services
Getting a loan from Grab a loan in New Zealand is as easy as ever before. Through a simple online process, our clients are able to access their personal loans through quick, efficient procedures.
You're busy - and we know it
With our lives being so busy, juggling between home and work life, who has time to stand at the bank and wait weeks to be approved for a simple, quick loan? Grab a Loan has taken this into account, and have come up with a perfect solution for their Kiwi clients.
Loans that make life move
We have personal loans to provide you with a little extra cash to use for whatever you like. You can pay off your overdue bills, take a holiday or use towards paying off your child's schooling. Your personal loan is as easy as 1,2,3 to get approved. They are offered as unsecured loans for smaller amounts and, larger loans may need some security, depending on the amount you need.
We have a range of loan options
We have car loans to help you get that new car you have desperately needed. Get a pre-approved car loan and shop around for new wheels in your price bracket. Our debt consolidation loans are very popular for those who have accumulated lots of little debts and need to get out of paying a number of instalments each month.
With our debt consolidation loans, you minimise your monthly payment structure to one simple instalment at a much lower rate. No matter what kind of loan you need, or how much you need to borrow, we can help you get the finance option you like and which falls within your budget.
Grab a Loan – Personal loan
Loan Type

Personal loans

Interest Rate

9.95 – 29.95% p/a

Loan Amount

up to $2,000

Repayment

12 months to 18 months
Benefits of Grab a Loan
Simple loan applications
Flexible loan criteria
Affordable interest rates and repayment plans
For fast loan application and instant loan approval, apply with Grab-a-Loan today!
Grab a loan had made life a lot easier for a client in New Zealand to obtain a personal loan.
With secured and unsecured options, depending on the amount you need. Our process is very simple. Our clients can simply register on our site and set up a QuickDraw© account. This will act as your loan account whereby you draw cash as you need it.
A safety-net designed for you
Think of us as your savings account holder for a rainy day! We also offer the facility where you can top up your QuickDraw© loan account when you need cash again. One of the most fundamental requirements of our clients is having accessibility to instant cash when they need it. When you apply for a loan through Grab a loan, you have the required cash you need to be deposited into your QuickDraw© account to use on personal items, bills, car loans, home renovations or debt consolidation.
Top up on your loan
When you need to top up, the process is a lot simpler, as being an existing client means you don't have to go through the whole application process again. Our personal loans are very flexible and easy to obtain. We offer amounts ranging from $3000 with repayment terms weekly over 12 months. With our homeowner's debt consolidation options, you can borrow up to $50,000. This can be used to pay off all your debts and still have cash in your wallet each month.
To apply you simply follow the easy steps:
Apply online on our internet based application tool. You will need to be 18 years old, be a resident of New Zealand, and be able to afford the repayment plan of your loan.
Once your application is approved, you can sign your documents online through our innovative secure signing application which allows all paperwork to be initiated online. From there, your cash will be deposited into your QuickDraw© account and accessible for you to use as you please. Everything is done online; you don't need to leave your seat to get the quick cash loan you need. We are there for you 24/7 and available on our toll-free contact number at 0800 85 55 55 for any queries you may have.

Grab a Loan is a trusted & reliable provider of personal loans
Customer Reviews & Testimonials
"
I can appreciate how transparent GAL is with regards to no hidden fees. They are fairly priced and offer a variety of loan options.
Cammie P.
— Palmerston North —
When I needed it I was able to get a quick top-up on an existing loan at no extra cost, great feature!
Cristy W.
— Lower Hutt —
Grab a Loan Contact
Contact Number
E-Mail
Website
Physical Address
23-29 Albert Street

Auckland

Auckland Region

1010

New Zealand
---
Postal Address
PO Box 106878, Auckland, 1143, New Zealand
Opening Hours
Monday

09:00 – 16:00

Tuesday

09:00 – 16:00

Wednesday

09:00 – 16:00

Thursday

09:00 – 16:00

Friday

09:00 – 16:00

Saturday

– Closed

Sunday

– Closed