Personal loans up to $20,000
Low-interest starting from 8.95%
Repayment up to 3 years
In-page navigation
---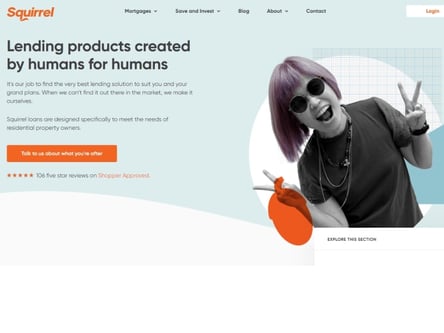 Author Squirrel Money. Screenshot of Squirrel Money website.


[Accessed March 3, 2023]
About Squirrel Money
Squirrel Money believes in creating an environment where its clients are taken care of by providing trustworthy financial solutions and ongoing support.
With their online application process, they have successfully helped many NZ citizens find personal loans NZ. Clients can now access loan offers with the best rates and fees in the country without leaving their house.
Keeping up with client's expectations
Squirrel Finance has expert consultants trained to make sure that clients reach their goals in the most cost-effective manner. They are driven to maintain their standard of service and make sure that each customer feels heard and understood no matter their situation. Their vision is to look for new ways to enhance their loan services continuously.
Loans structured according to client needs
The company offers different services and a range of loans to ensure that all customers can access financial solutions. The consultants all take a personal approach to providing loans to ensure that clients get an offer that fits their needs and budget.
Squirrel Money Services
Squirrel Money provides flexible repayment terms and affordable monthly installments so that their clients can easily control their budgets.
Clients can apply for their loans by using an easy online loan application process, whereafter they receive their cash payout in record time. Squirrel Money interest rates range from 9% to 14%, for loans up to $70 000. All loan terms are fixed, making it easy for clients to budget for their loans.
The benefits of a personal loan
Personal loans are the perfect short-term solution for covering any sudden large bills. Clients who need help finding a holiday, renovations, medical bills, and even student debt will find it to be the ideal solution. Clients can also consolidate their debt into a loan and only pay towards one installment instead of many forms of debt.
24-hour loan turnaround times
All Squirrel Money online personal loans are approved and paid out in 24 hours. Using their easy-to-use online application platform, clients can upload their documents instantly, making the process much faster and easier. Their repayments are also flexible and easy because clients can choose between weekly, monthly, and fortnightly terms - making it easy for them to find a loan option that matches their needs.
Squirrel Money – Personal loan
Loan Type

Personal loans

Interest Rate

8.95 – 24.95% p/a

Loan Amount

up to $20,000

Repayment

2 years to 3 years
Benefits of Squirrel Money
Repay your loan early without additional fees
Affordable unsecured loan rates
Secured vehicle loans
Getting a personal loan is as easy as completing a quick online loan application
Squirrel money provides many loan benefits, including low rates and easy repayment terms.
They go beyond what traditional banks offer to ensure that clients receive a personal experience without waiting in long lines. Their online system is safe to use and completely transparent and does not come at an extra cost.
Clients can choose between secured and unsecured loans, depending on how much money they need. Fast loans require collateral to secure the loan, such as a vehicle or house. These loans range up to $70 000 with terms that go up to 5 years.
Unsecured loans are smaller and don't require security to obtain. Clients can borrow up to $3000 with an unsecured loan and choose a 2, 3, or 5 years repayment term.
Personal loan benefits
Fixed low rates- All loans have affordable rates and are set for the duration of the loan.
Real-life consultants- A team of professional and experienced stand members tend to every client's needs.
Transparency and flexibility- Their loan amount and terms are flexible and don't have any hidden charges.
Squirrel Finance supports early repayments
Many lenders charge clients who want to make early repayments and settle their loans quicker. Squirrel Finance offers a unique service where they offer clients the opportunity to make early repayments without charging them for ending their loan contract sooner.
After applying and receiving approval on a personal loan, clients will receive their cash within two days, which allows them to get back control of their budget quickly. Squirrel finance will help anyone who needs financial support for business or pleasure reasons and make sure that they get the amount they need when they need it.
Customer Reviews & Testimonials
"
With Squirrel Money I was able to go online and apply for my loan, it could not have been any simpler. Fast approval and payout!
Missie B.
— Dunedin —
I was looking at a few lenders when I needed my personal loan, Squirrel had the best rates and terms.
Alexa B.
— Tauranga —
I applied the afternoon and was approved the same day, the funds were in my account first thing the next morning.
Gypsy R.
— Wellington —
Squirrel Money Contact
Contact Number
E-Mail
Website
Physical Address
Level 2, 20 Beaumont St

Freemans Bay

Auckland Region

1011

New Zealand
---
Postal Address
PO Box 911254 Victoria Street, West Auckland, 1142, New Zealand
Opening Hours
Monday

09:00 – 17:00

Tuesday

09:00 – 17:00

Wednesday

09:00 – 17:00

Thursday

09:00 – 17:00

Friday

09:00 – 17:00

Saturday

– Closed

Sunday

– Closed