Personal loans up to $80,000
Low-interest starting from 10.93%
Repayment up to 5 years
In-page navigation
---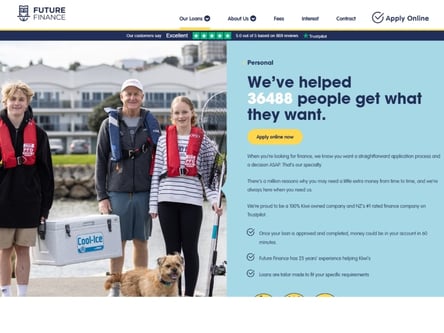 Author Future Finance. Screenshot of Future Finance website.


[Accessed March 3, 2023]
About Future Finance
Over ten years in the financial industry providing short-term loans and financial assistance to our valued New Zealand clients is just a small portion of what Future Finance hold as a firm.
When you partner with our team, you get financial means, services and guidance like never before. We offer valuable and recognisable products through a team of well-experienced staff members who have a great passion for helping people obtain financial goals.
Better rates - better service
We are a privately owned firm who are 100% New Zealand owned! This allows us to offer clients better rates on car, personal and home loans. You get a solid background of people who know what people want, and how to get it.
Our people matter as much as our customers
When you are in the market for a quick loan, you get the service and the product you need safely, quickly and efficiently through Future Finance. The success of our business is conveyed through our largest asset – our people. We listen to your needs and focus our attention on offering you sound advice and beneficial products.
A direct and transparent lender
We do not harbour around fluff and content which does not pertain to you. We do not try and force you into a different service or market. We give you exactly what you want – and we do it quickly. Get the service you deserve, through the people who go the extra mile to make your dreams a reality. It's simple and hassle-free to apply for your loan through Future Finance. Why not contact us today? The cash is just waiting for you!
Future Finance Services
Future Finance has hit the nail on the head when it comes to providing personal loan solutions in New Zealand.
This is why we've been so successful for over a decade in the industry. By providing a simple and straightforward lending solution in NZ for our clients, we are able to provide the best affordable loans at the best possible rates.
Simplicity is key to success
We keep our services completely simple and user friendly. Why should life be complicated? There are far more important things to worry about in life that is why we make getting a short-term loan simple.
Get things done - today
At some point, we all need a little extra personal cash to pay for something we just don't have cash on hand for. A personal loan through Future Finance is the perfect option for that. In 60 minutes your pre-approved personal loan can get you planning for a vacation overseas, put in that long awaited swimming pool or finish those home renovations.
Get pre-approved and save time
Our car loans and home loans are perfect options when you need to go out with the old and in with the new. Pre-approved loans offer you the freedom to shop around for that perfect car or home which is in your price bracket. If you struggling to pay off your debts every month, leaving you flustered and short of cash. We have debt consolidation options that will take the load off your shoulders.
Feel free to contact our team at any time to discuss any queries you have, or simply apply for a loan online through our very quick and simple application on the web.
Future Finance – Personal loan
Loan Type

Personal loans

Interest Rate

10.93 – 100.67% p/a

Loan Amount

up to $80,000

Repayment

6 months to 5 years
Benefits of Future Finance
Tailor-made loan options
Manage your debt with debt consolidation
Hassle-free business loans
Quick online loan applications
At Future Finance we have quick and simple loan applications
With Future Finance getting the loan you need is as easy as 1,2,3. Quick, reliable service which is provided through our online platform. By applying online, you save time and can get your application in no matter where you are and no matter what time of day it is.
We have a speedy loan service
If you are in the market for a personal loan, car or home loan, debt consolidation, or literally anything that means you need that extra cash! We have the solution for you. Your application can take just 60 minutes to be approved. That is record timing in the financial industry. The process is so simple.
We have outlined the procedure below:
Apply through our online application wither by telephone or online on our site. Our contact number is 0800 25 10 10, which allows instant loan approval notifications. Once your application is in, we do a few cross checks, credit checks and note if you fall within the loaning criteria (note: you would have to be 18 years or older, live permanently in New Zealand, and have a valid banking account with a wage going in on a regular basis), we will then offer you a quick loan option which best suits your budget and discuss payment terms of weekly, monthly, or fortnightly.
Quick loan approval rates
Your loan application will run through the approval process, sent to you for signing and, then within hours, your personal loan will be in your banking account to do with as you please.
We offer all kinds of solutions to your financial needs. If we don't have what you looking for, we will find it. Our peer to peer lending solution allows us the flexibility to source, find and give our clients exactly what they want. We will work with you on the amount you need, repayment plans to suit your budget and let you get on with the fun things in life, with a little extra cash on hand to use as you like. Future Finance is the preferred financial solutions firm of choice, be another happy customer and get the financial freedom you are looking for.
Customer Reviews & Testimonials
"
Future Finance is great if you are looking for a personal loan to payout right now or at least the same day!
Vivien B.
— Christchurch —
The repayment terms are flexible so I got to pick what was right for me and the rates are competitive.
Macie L.
— Dunedin —
Future Finance Contact
Contact Number
E-Mail
Website
Physical Address
Hastings

Camberley

4120

New Zealand
Opening Hours
Monday

08:00 – 17:00

Tuesday

08:00 – 17:00

Wednesday

08:00 – 17:00

Thursday

08:00 – 17:00

Friday

08:00 – 17:00

Saturday

– Closed

Sunday

– Closed