Business loans up to $50,000
Low-interest starting from 13.95%
Repayment up to 5 years
In-page navigation
---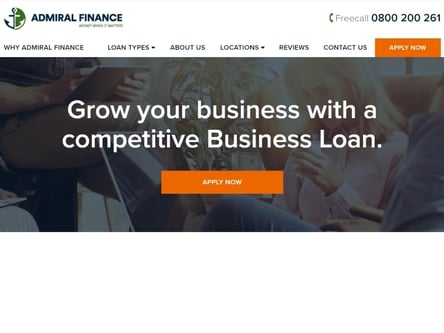 Author Admiral Finance. Screenshot of Admiral Finance website.


[Accessed March 7, 2023]
About Admiral Finance
At Admiral Finance, we focus on helping people who have problems to solve.
We take into account the personal story and needs of every applicant before we do the math and extend a loan which the person will be able to repay. We know the ways of the market and we can understand your situation fully as well.
A team of experts - here for you
We provide personal loans, vehicle finance, debt consolidation, and more. The company is a Registered Financial Adviser and so are all of the people who are responsible for approving loans. The company was started in 2003 by Dougal Shand, a Chartered Accountant with international experience, and remains 100% New Zealand-owned. It has a team of experienced specialists who strive to provide the ideal personal loan to every client.
Admiral Finance Services
We offer personal and business loans, car and boat finance, consolidation loans, and quick loans at highly competitive rates.
At Admiral Finance, our goal is to meet your personal needs and to come up with a loan that matches your requirements and your ability to repay. No matter whether you need money to manage your cash flow or to buy a new vehicle for your business, we are here to help.
We specialize in secured and unsecured loans
We pay special attention to each and every customer. We will listen to your personal story. We are speedy. You can have the cash which you need within 24 hours of applying for a loan online. We show maximum flexibility. We will come up with the most comfortable loan repayment schedule for you.
Admiral Finance – Business loan
Loan Type

Business loans

Interest Rate

13.95 – 24.95% p/a

Loan Amount

up to $50,000

Repayment

6 months to 5 years
Benefits of Admiral Finance
Flexible financial options
Applying online is easy
Get a loan in 60 minutes
Loan rates are competitive
Admiral Finance is the trusted name when it comes to business loan providers
Admiral Finance of Christchurch in New Zealand is the place to contact when looking for a business loan.
We are different from other banks in your area. Providing quick and flexible solutions, we can accommodate the rates, payment terms and the amount needed in order to give you the service you deserve, and the cash flow to get your business started. We take your business personally and take interest in what you are all about. It's not just about offering you the finance you need; it's also about building relationships with our customers.
Not all New Zealand money lenders are the same. We like to know we are your top choice when it comes to growing your business, and getting the finances you need to get there.
We're quicker than your average bank
You can get your money rapidly. It's exceptionally straightforward - We tune in to your ideal business needs. We choose. You get the cash. It all happens inside of 24 hours as well!
We're flexible with tailor-made financial solutions
If you are able to manage the cost of the quick online loan reimbursements and meet our loaning criteria, we'll help. Being turned away by other lenders can leave you feeling distraught and unmotivated. We will lift your spirits again, by helping you get the business loan you need.
We can loan to you the cash you need if you are
More than 18 years of age. Have a base wage of $400 a week going into your bank account. For all Admiral Finance advances, there are terms and conditions, and charges that apply.
Our Loan Advances range from $400 to $50,000 with easy repayment terms and you can apply for a loan online.
We're a genuine financial business
We are situated in Christchurch, New Zealand. We've been around since 2003 and our overseeing executive is an all-around regarded Chartered Accountant who has worked for significant organizations everywhere throughout the world. Everybody at Admiral Finance has extensive experience with money and the capacity to get in touch with the individual needs of all our customers.
Apply online or simply call us – it's so simple!
We'll listen to your circumstances and assist you wherever and however we can!

Admiral Finance is a trusted & reliable provider of business loans
Customer Reviews & Testimonials
"
Admiral Finance helped me with an affordable business loan when I wanted to expand my business premises.
Joseph P.
— Napier —
Best business loan solution in the business!
Heinz M.
— Hamilton —
The most affordable business loan option I have been offered to date.
Joe A.
— Auckland —
Admiral Finance Contact
Contact Number
E-Mail
Website
Physical Address
45 Mandeville St

Riccarton

Christchurch

8011

New Zealand
---
Postal Address
PO Box 36 606, Merivale, Christchurch, 8146, New Zealand
Opening Hours
Monday

08:00 – 17:00

Tuesday

08:00 – 17:00

Wednesday

08:00 – 17:00

Thursday

08:00 – 17:00

Friday

08:00 – 17:00

Saturday

– Closed

Sunday

– Closed