Home loans up to $1,000,000
Low-interest starting from 3.49%
Repayment up to 10 years
In-page navigation
---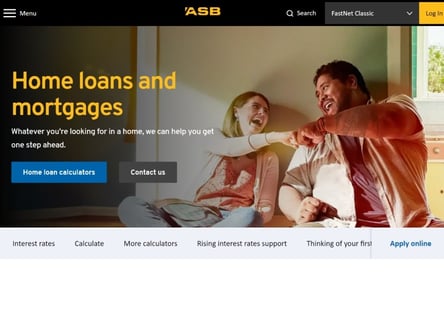 Author ASB. Screenshot of ASB website.


[Accessed March 7, 2023]
About ASB
Planning on buying a house? ASB will work hard to see you succeed!
Kiwis have been turning to ASB for the most profound NZ home loans since 1847. ASB is a passionate lender with the greater goal in mind of making New Zealand a better place to live, grow and succeed.
They offer a variety of products and services to the people of New Zealand and they are continuously evolving their products and business model for the modern and ever-changing world we live in. Currently, they have more than 1.3 million happy customers that rely on them for financial support.
Get $3,000 cash for your first home loan NZ
Are you a first-time homebuyer? Are you planning on living in the home you are buying? Will your home loan be $250,000 or more? Well, guess what, ASB Bank will then give you $3,000! Remember there are a lot of costs to take into account when you buy a house and you'll possibly need money to move, renovate, maybe some new furniture, etc.
Get the guidance you need
They can direct you to extremely helpful tools and sites to give you guidance on how to get the perfect home for you, how to save up for your deposit, tips on buying your first home. They even have a KiwiSaver to help you out and you can of course phone them if you have any questions on how to get started with this huge financial step you are planning to take.
ASB Services
Access a home loan with a highly competitive fixed-rate starting at 3.25%p.a. or a variable interest rate starting at 4.45%p.a.
You can qualify for a home loan amount depending on your income, and you can take a home loan over 6 months up to 30 years. Use their NZ home loan calculator to get a better idea.
Access a flexible home loan
You will also have the option of making extra payments, opting for a repayment holiday, or topping up the loan, leaving you in perfect control over your mortgage to manage effectively as time passes.
Talk to one of their highly experienced consultants to find out which option will be most suitable for you. Their home loans are diverse and highly customizable to fit your pocket and help you achieve your goals.
Stay ahead, grow and prosper
You can grow your savings without paying any administration fees while your savings are managed by leading industry experts ensuring a brighter future for your finances. Calculate your future savings with their online loan NZ calculator, this will also give you an indication of when you will be ready to put down a deposit on your next house.
They also offer a range of other investment options that will allow your money to grow and work harder for you. With ASB Bank it is never too early or too late to start investing or saving, start small today and finish strong tomorrow!
ASB – Home loan
Loan Type

Home loans

Interest Rate

from 3.49%

Loan Amount

up to $1,000,000

Repayment

12 months to 10 years
Benefits of ASB
Apply online for a home loan
Top up an existing loan
Make extra repayments without penalties
Use your loan to consolidate debts
---
Buying your dream home is just one online loan application away
You can call them at any time, apply at your nearest branch or you can apply from the comfort of your couch online. Remember there are two ways of applying:
Pre-approval – if you are still searching for your dream home.
Full approval – if you already have your eye on a house.
Getting Pre-approved
One: Sit on your couch while you provide them with your details, a summary of your income, debts, and monthly expenses as well as some supporting documents like a proof of ID, proof of address, bank statements, etc.
Two: They will then look at the information you provided to determine if you have enough surplus income each month to afford a mortgage.
Three: They will then come back to you with a pre-approval stating exactly how much you qualify for so that you can confidently start your house hunting.
To be eligible, you must
Be 18+.
Have a stable and regular income.
Have a surplus income every month.
You will need to buy a property within the regional house price caps.
Plan and agree to live in your new house for at least 6 months.
Make sure the house you want to buy meets the property requirements.
Have a deposit of at least 5% of the purchase price of the house you want to buy or build.
You may have to provide evidence that you paid a fair market price if you are buying privately.
Buying a house through ASB Bank
You can apply for a loan online, call them or visit a branch.
The option of topping up your loan as well as paying it off earlier without additional charges.
Enjoy great rates.
Flexible repayment terms.
Continuous customer care.
Helpful guidance and advice.
$3,000 cash if your first home loan is $250,000 or more.
Fast processing and approval process.
Customer Reviews & Testimonials
"
ASB Bank has been wonderful in tailoring a home loan to our need. The staff is so friendly and helpful, really a wonderful experience.
Carlson T
— Masterton —
After using ASB Bank I can understand why they are so highly recommended. Excellent service and home loan options.
Jaylen G
— Nelson —
ASB Contact
Contact Number
E-Mail
Website
Physical Address
12 Jellicoe St

Auckland

Auckland Region

1010

New Zealand
---
Postal Address
PO Box 35, Shortland Street, Auckland, 1140, New Zealand
Opening Hours
Monday

09:00 – 16:30

Tuesday

09:00 – 16:30

Wednesday

09:00 – 16:30

Thursday

09:00 – 16:30

Friday

09:00 – 16:30

Saturday

– Closed

Sunday

– Closed