Home loans up to $10,000
Low-interest starting from 9.95%
Repayment up to 5 years
In-page navigation
---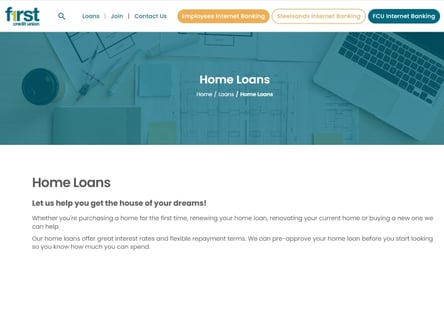 Author First Credit Union. Screenshot of First Credit Union website.


[Accessed March 7, 2023]
About First Credit Union
Are you struggling to get your 20% deposit ready? Don't panic as First Credit Union considers home loans with smaller deposits.
They have been offering world-class service and innovative home loans for over 65 years, helping kiwis to get exactly what they want. Reach your goal by getting the home of your dreams, whether you are buying your very first home, renewing, renovating, or buying your second one. Enjoy a home loan with highly competitive rates and flexible repayment terms. The great part is that you can pay extra without being penalized.
NZ home loans – get pre-approved
Do you have your eye on the perfect home already, or are you still looking? With First Credit Union you can get your pre-approval before you do your house-hunting, this way you'll know exactly how much you can spend.
They are always ready to help you out and answer whatever questions you might have as they have an in-depth understanding of the property and finance industry along with a passion for helping people succeed.
You can apply by completing their home loan application form and submitting it at one of their branches or via email. You will be dealing with people that have a diverse range of backgrounds and skills to assist you with your financial needs.
Their branches
They have multiple branches all over New Zealand and you can visit one of them whether you are in Hamilton, Te Aroha, Tauranga, Taupo, Whakatane, Kawerau, Ngaruawahia, or Rotorua
First Credit Union Services
Buying a house can be extremely exciting as well as stressful, but with First Credit Union is will only be an exciting journey as they will put your needs first.
Access a mortgage over a maximum term of 30 years with a floating interest rate from 5.85%p.a., a 1-year fixed rate from 2.95%p.a. or a 2-year fixed rate from 3.45%p.a.
Home loan tips for the best pre-approval
Remember that your credit history and affordability as well as your income can play a huge role in the tailored offer you will receive. Better your chances by paying your bills on time and lowering your expenses so that you can leave a little extra in your account each month without using it.
Get your dream wheels on the road
Buying a car? With First Credit Union you can enjoy no application fees and no additional charges when you pay off your loan earlier. Get fast pre-approval and be behind the wheel of your new car before you know it! car loan NZ interest rates start at 9.95%p.a. over up to 5 years.
Get rib off your debt
Save thousands on interest and gain control over your finances again by combining your debt into one easy-to-manage loan. No more harassing calls from debt collectors, no more stress or sleepless nights over money problems as this loan will allow you to enjoy instant relief.
First Credit Union – Home loan
Loan Type

Home loans

Interest Rate

from 9.95%

Loan Amount

up to $10,000

Repayment

1 year to 5 years
Benefits of First Credit Union
Low rate home loans
A transparent service
Apply online
---
With lower interest rates, we are the preferred home loan lender in NZ
What information you will need to provide:
A completed home loan application form, you can find this form on their website.
Proof of Income. You will need to provide them with three of your most recent payslips, or an original letter from your employer confirming your base annual salary and starting date.
Self-employed? You need to provide them with signed final financial accounts for the last two years.
Bank statements of the last three months – for your main transactional account/s.
Confirmation of all your outstanding balances such as any personal loans, hire purchases, and credit cards if applicable.
Application process
To apply for a home loan with First Credit union, you need to be at least 18 years old and be a New Zealand resident.
Step 1: Submit the completed application form together with the needed documents either via email or at your nearest branch.
Step 2: They will assess to see if you are financially viable and if you have enough surplus income to afford a mortgage. They will then send you a pre-approval and you can start your house shopping while you know exactly what you can afford.
Benefits of applying with First Credit Union
Online application or the option of applying at multiple branches and having face-to-face assistance.
Dealing with a company that will put you first.
Low-cost loans.
Flexible repayments.
Quickly getting exactly what you need.
Knowing exactly what you can afford when you look for the perfect house.
Get your questions answered in-depth by a highly experienced team.
Customer Reviews & Testimonials
"
I wanted to purchase a home, but traditional banks were unable to help me out as I could not put down a sizeable deposit, a friend recommended I check out FCU. I did and they were able to help me...
Taylor S
— Auckland —
I was more than surprised when I found out that First Credit Union could not only offer me a home loan but that it would be at a lower interest rate than my traditional bank.
Howard N
— Queenstown —
I spoke to one of the loaning experts and they were able to answer all the questions I had before applying for my loan. Very helpful and informative.
Calum B
— Christchurch —
First Credit Union Contact
Contact Number
E-Mail
Website
Physical Address
111 Collingwood St

Hamilton

Waikato

3204

New Zealand
Opening Hours
Monday

10:00 – 14:00

Tuesday

10:00 – 14:00

Wednesday

10:00 – 14:00

Thursday

10:00 – 14:00

Friday

10:00 – 14:00

Saturday

– Closed

Sunday

– Closed