Personal loans up to $20,000
Low-interest starting from 11.97%
Repayment up to 5 years
In-page navigation
---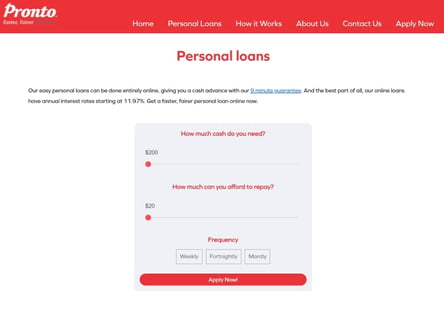 Author Pronto Finance. Screenshot of Pronto Finance website.


[Accessed March 3, 2023]
About Pronto Finance
Pronto Finance offers personal loans of between $200 and $20,000 that are flexible, quick and affordable!
Whether you're looking for cash to pay for a holiday or need a secured loan with great rates to help you get your home upgrades completed, Pronto Finance has you covered. With a 9 minute loan guarantee you can rest assured that you'll get your cash fast!
Unparalleled transparency and reliability
When it comes to transparency Pronto are in a league of their own. In addition to laying out their interest range, you can review the costs of borrowing from them in detail on their home page.
This summary of borrowing costs includes their establishment and administration fees as well as other fees and rates incurred as a result of late payments or default.
Access low at Pronto loan
If you're a low-risk customer as determined by Pronto's client rating, that takes into account your repayment of previous loans, you will have access to low-interest loans.
This is a feature that makes Pronto unique and ensures their customers are rewarded for good repayment habits.
To get your personal loan, all you need to do is visit their website and use the sliders to customise a loan amount and loan term that suits your needs and personal budget.
Once you've selected your ideal loan you can then click on the apply button and start the application process.
Budget-friendly personal loans
There's more to loans that just finding a lender that provides the loan amount that you need. Apart from the interest rates on offer, another important consideration is the loan terms available.
Those with a smaller disposable income will have to opt for a longer loan term to ensure they can afford the repayments.
Pronto Finance Services
Pronto Finance offers online loans that range from $200 to $20,000 with a loan application and approval process that enables them to stay true to their 9 minute guarantee.
This guarantee states that your approved loan will be paid into your account within 9 minutes after the Pronto Finance team receive your signed loan agreement.
The cost of borrowing
Pronto's interest rates range between 11.97% and 29.97% and are fixed for the duration of the desired loan term. They also charge a loan establishment fee and an administration fee of $4.09 per week.
Pronto's establishment fees
For loans ranging from $200 to $499, the charge is $160
For loans ranging from $500 to $999, the charge is $260
For loans of between $1,000 and $20,000 the establishment fee is $360
Flexible loan terms
Pronto Finance offers a loan term that ranges from 26 weeks to 5 years. This loan term range ensures that customers are able to easily afford the repayments until the personal loan is completely repaid.
If you'd like to repay your loan early, Pronto will not charge any early repayment fees. This ensures that those who want to rid themselves of debt faster can do so without having to worry about the penalty fees that usually come along with early repayment of credit.
Loan default charges
Staying on top of your loan repayments is critical to ensuring you keep your credit healthy and can access the best personal loan rates with us the next time you need to take out a loan.
That being said, there are many occasions where customers simply don't pay their loan and this is where default fees and interest come in. When a customer defaults on their loan they will be charged a weekly default fee of 0.97% per day. There is also an annual default interest that is charged on the total outstanding balance. This is charged at 17.5%.
Pronto Finance – Personal loan
Loan Type

Personal loans

Interest Rate

from 11.97%

Loan Amount

up to $20,000

Repayment

26 weeks to 5 years

Decision

9 minutes
Benefits of Pronto Finance
Get a loan in 9 minutes
Quick online loan application
Faster loan processes
Applying for your personal loan online
Once you've made the decision to take out a loan and know exactly how much you want and how much you can afford to repay every month, it's time to complete an online loan application.
Pronto Finance have developed their application system to ensure that it's quick and simple for their customers.
Whether it's a secured loan to purchase a car or a small payday loan, this 9 minute guarantee applies and is there to offer you excellent customer service.
There's no more waiting around in long queues or completing long and complicated applications to get a loan.
Pronto Finance aims to make your entire experience as pleasant as possible. From selecting the appropriate loan amount and repayment terms to applying online and signing your loan agreement, this lender has streamlined the entire process.
Benefits of Pronto Finance's online loans
Choose a loan amount from $200 to $20,000
Loan terms extend from 26 weeks to 5 years
Those looking for bad credit loans may also apply
They offer a quick and simple 4 minute loan application
The entire loan application can be completed online
Once your loan is approved Pronto will payout your loan in 9 minutes or less
No early repayment fees
A 4 minute loan application
Pronto Finance's loan application has been designed to be quick and simple. Ideally borrowers should only take 4 minutes to complete this application.
Pronto Finance will ask you to provide a range of personal and contact information as well as details on your finances.
Once processed and approved your personal loan contract will be detail all the important features and terms of your loan which you should carefully read before signing the agreement.

Pronto Finance is a trusted & reliable provider of personal loans
Customer Reviews & Testimonials
"
October 2019
Pronto Finance helped me with a quick loan, within minutes I got approved for my loan. Thank you
Duncan R
— Nelson —
October 2019
I got a personal loan under 9 minutes of application. Try Pronto Finance when you need a loan, fast.
Shaun Q
— Wellington —
Pronto Finance Contact
Contact Number
E-Mail
Website
Physical Address
2 Cambridge Street

Nelson

7020

New Zealand
Opening Hours
Monday

09:00 – 17:00

Tuesday

09:00 – 17:00

Wednesday

09:00 – 17:00

Thursday

09:00 – 17:00

Friday

09:00 – 17:00

Saturday

– Closed

Sunday

– Closed