Short-term loans up to $50,000
Low-interest up to 9.95%
Repayment up to 5 years
In-page navigation
---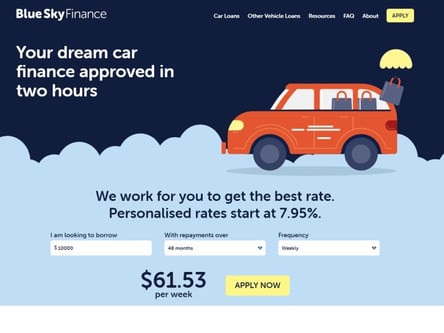 Author Blue Sky Finance. Screenshot of Blue Sky Finance website.


[Accessed March 3, 2023]
About Blue Sky Finance
As a leading personal finance broker in New Zealand, Blue Sky Finance is able to assist you with everything which you need to get a loan which matches your requirements and your ability to pay.
We work with a multitude of lenders to find a loan online which is designed especially for you. We operate nationwide and are able to secure a wide variety of credit products for you. We can provide short-term loans for all sorts of important events and purchases, car finance, business finance, debt consolidation and more.
We can help even with bad your credit history
We can arrange loans for self-employed individuals, school leavers and immigrants. Whatever your needs are, we can meet them and provide the right financial solution quickly.
Blue Sky Finance Services
At Blue Sky Finance, we are always ready to respond to your need for cash. As an experienced brokerage company, we work with many micro lenders to offer the best loans online to our clients.
We offer a variety of personal loans
You can select from unsecured and secured options. The choice of term is yours as well. We rely on our experience, industry contacts and negotiation skills to provide the right deals even to people with bad credit, low income or short or no employment history. Depending on your credit record and income, you can qualify for a loan up to $15,000. Whatever your requirements are, we are here to suit your needs. In addition to personal loans, we offer business loans, vehicle finance and debt consolidation.
Blue Sky Finance – Short-term loan
Loan Type

Short-term loans

Interest Rate

up to 9.95%

Loan Amount

up to $50,000

Repayment

6 months to 5 years
Benefits of Blue Sky Finance
Get approved in 2 hours
Affordable short-term loans
Get a loan even if you have bad credit
Short-term loan calculator
At Blue Sky Finance the sky's the limit
Blue Sky Finance in New Zealand makes getting short-term loans a breeze.
We offer simple access fast, friendly, effective short term loans that can help you through financial difficulties in only a few hours. We provide a quick fix when it comes to financial problems, and when you need to pay for an urgent bill or account that comes up.
We offer a range of benefits with our short term loans, including:
Short term cash loans from $50 to $2,000
On-the-spot money – at particular branches
Competitive credit & interest rates
Loan up to $50,000 against an unfinished settlement.
Contact us today
We will go through your application and have your approval done within hours. This can mean you will have your cash-in-hand within 24 hours, depending on what time of day to submit your application.
If you would like to get more information regarding our loan offers we will gladly run through all the available options with you. We will accommodate your loan according to your budget, aiming at making the short term loan instalments affordable and reasonable to you.
Blue Sky Finance has been providing loans online in New Zealand for many years, helping customers with their financial requirements when no one else will. If you have been turned down by major credit institutes, and not in the place to wait weeks to get a quick loan, then we are the right place for you.
Our Vision
To be a number one supplier of financial assistance throughout New Zealand.
Our Mission
To draw in customers permanently by keeping on supplying a genuine client focused administration that gives an assortment of flexible account arrangements. Blue Sky Finance offers access to quick money with our straightforward, simple and quick loan application. Your loan application, approval and payout can all be completed within 24 hours, and the cash is yours.
Blue Sky Finance offers short-term loans from $50 to $2,000, giving fast and direct access to cash, to help with taking away the financial burdens from your shoulder in a day!
Customer Reviews & Testimonials
"
Despite the brashness of the consultant that helped me, I found the rest of the online application smooth and understandable. My money was also only paid in the next day.
Sarah-Lee P.
— Hamilton —
The online application was easy and fast; I had my money within seven hours.
Eshaan R.
— Ivercargill —
I needed money to pay my university registration. Thankfully the smooth process brought my money much faster than I thought!
Stella S.
— Napier —
Blue Sky Finance Contact
Contact Number
E-Mail
Website
Physical Address
Level 1, 8 / 212 Antigua Street

Christchurch

Canterbury Region

8011

New Zealand