Short-term loans up to $30,000
Low-interest starting from 20.89%
Repayment up to 5 years
In-page navigation
---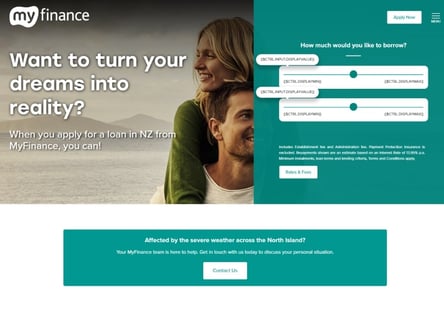 Author MyFinance. Screenshot of MyFinance website.


[Accessed March 3, 2023]
About MyFinance
With a development team that is unrivalled in expertise, experience and professionalism, MyFinance offers customers a fresh, simple and flexible alternative to traditional short-term financing.
Our team of financial experts and loan managers are known for their superior customer service, attention to detail and can-do attitudes - which is why our customers trust us and recommend us to their friends and family.
Short term finance with a difference
If you're looking for a personal loan, MyFinance offers leading interests rates, a quick-turn-around time and flexible repayment options to suit you and, your lifestyle. Our entire loan application process has been simplified and streamlined and, you can apply for credit from the comfort of your own home, in just minutes.
Quick turnaround times
With an average processing time of under an hour - MyFinance will process your application and make a decision faster than you'd expect. Even if you've experienced financial hardship in the past, we'll consider your application and, do the best we can to accommodate you.
MyFinance Services
MyFinance offers you short-term loans that suit your immediate and long term needs.
From financing a holiday to refurbishing your home, our flexible loans can certainly accommodate any loan amount, loan term and budget that you may have.
Flexible loan ranges, terms and rates
We offer personal loans between $1,000 and $30,000 with a loan term of between 6 and 48 months. Interest rates will vary based on your personal circumstances and needs, however, our current representative rate, (which is used to calculate your repayments on our loan calculator), is 13.95% - which includes our set-up fees.
Services you can count on
Since we believe that quick loan products should be moulded to suit your needs and not the other way around - you can select a repayment schedule that allows you to make repayments either fortnightly, weekly or monthly. To find out how much a loan will cost you, use our loan calculator which uses a standard 13.95% interest rate. We recommend that you never borrow more than you really need since this will unnecessarily increase your monthly repayments and, may make it difficult for you to keep up over the long term.
MyFinance – Short-term loan
Loan Type

Short-term loans

Interest Rate

from 20.89%

Loan Amount

up to $30,000

Repayment

3 months to 5 years
Benefits of MyFinance
Affordable short-term loans
Flexible repayment options
Low interest rates
Reliable online loan applications
Short-term loan calculator
Applying for a loan at MyFinance is quick and convenient
MyFinance has put a lot of time and effort into streamlining the application process and making it as effortless as possible for you to get financed. With MyFinance you can apply for a personal loan, a car loan or a debt consolidation loan online - saving you the hassle of having to visit a branch or prepare hard-copies for submission.
Quick, easy, convenient online application
Our online application process is simple, easy and quick - it saves you time and allows you to access the short-term credit, sooner than you ever thought possible. The entire application will take only a few minutes and our team will endeavor to process your application and, provide you with a decision, as quickly as possible.
How much do you need to borrow today?
Your loan application should begin with an estimate of the loan amount needed. If you're looking to finance a home renovation, you should obtain a price estimate on your desired refurbishments and then, make your way to our website, where you will find our loan calculator.
Here you can determine how much you can afford to borrow based on the estimated monthly repayments on your desired loan amount. If the calculated repayments are too high for your budget you can either lower the amount you will borrow or increase the term to arrive at a suitable amount.
Information, details and supporting documents
The next step is to visit our online loan application page where you will find a three-step application form. First we will ask you about your loan requirements, your contact details and then we will proceed to gather some personal and financial information such as your current income and expenses.
If you have a guarantor that will co-sign for your loan we will require their details too. Once you've completed these three sections you must agree to our application privacy notice before submitting your application.
Customer Reviews & Testimonials
"
After struggling through the beginning of the online application, the friendly consultant directed me through all the steps. Within hours I had the loan approved and paid out.
Harriet Bradshaw
— Christchurch —
The online application process was so easy! The only issue I had was the money took two days to reflect in my account.
Joshua L.
— Wellington —
MyFinance Contact
Contact Number
E-Mail
Website