Quick loans up to $1,500
Repayment up to 38 days
In-page navigation
---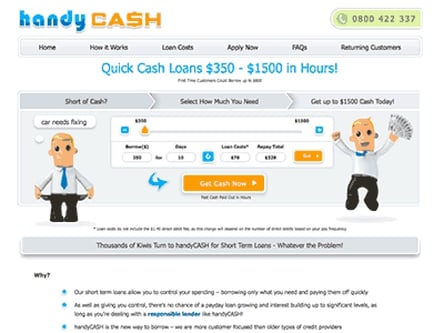 Author Handy CASH. Screenshot of Handy CASH website.


[Accessed March 6, 2023]
About Handy CASH
One of the major goals of Handy CASH is to achieve high customer satisfaction. We strongly believe that this is the key to success.
That is why we offer a range of benefits to clients who take out our short-term loans. We have an entirely online application process. You simply need to fill out a short loan application form and submit it. We have extended office hours to ensure that we can help even more people who face a cash emergency.
We strive to provide same-day payments
We are proud of our customer service which is of exceptional quality in every respect. HandyCASH is a brand of First Stop Money Pty Ltd, a company with an excellent reputation and a senior management team with over 50 years of combined experience in the finance and banking industry.
Handy CASH Services
The loans are particularly helpful for covering unexpected cash emergencies.
If you have not provided for the spending in your budget, we will help you take care of things. The quick loans online of Handy Cash are designed to help you gain full control over your spending.
Our loan payout fast
You do not have to worry about your loan getting out of control due to the growing size and fast building of interest. You will work with specialists who will find the most suitable solution for you given your income and budget as well as your needs.
We place the major focus on the customer, unlike most traditional lenders. We have a simple online loan application process with super short turnaround time.
Handy CASH – Quick loan
Loan Type

Quick loans

Loan Amount

up to $1,500

Repayment

10 days to 38 days
Benefits of Handy CASH
INSTANT Loans
SHORT-TERM Loans
PAYDAY Loans
QUICK Cash Loan
HandyCASH offers quick cash loans in NZ – Whatever the problem, we have the answer
Our range of loan options helps you to manage your money – getting what you require and repaying your loan off quickly.
And additionally giving you control, there's no chance of a quick cash loan building up to huge levels in debt, we lend you only what you can afford – this is why your best loan choice is through a capable moneylender like Handy Cash!
HandyCASH has a better approach – We are client-centered
handyCASH's fast loans are here for you when you require them most. With a basic application process and a quick turnaround, our online loans are straightforward, helpful and simple to utilize.
An unforeseen bill – Not a problem!
We've all overlooked a bill that is coming up – don't get disengaged, get a fast cash loan and spending plan for easy installments. Something that is happened which is financially out of your control – no problem! Your car has broken down, it's 2 weeks until payday and you don't have the money to get it back on the road! Sound familiar?
These sorts of issues happen each day. It's a common issue for which a fast cash loan is an answer, with our basic online application, you can apply now and get approval within minutes.
Going on vacation, but don't have cash?
We're not proposing you take out a fast cash loan to pay for the whole holiday itself, however, you need to have additional money to take along as spending cash! Now you can use a fast cash loan from HandyCASH to do just that. Apply now with HandyCASH.
Customer Reviews & Testimonials
"
The online application process is marvelous! My loan was approved within two hours and I had the money about an hour later.
Lola S.
— Invercargill —
Great service, both the approval process and payout of my loan were speedy.
Sara P.
— Hastings —
I needed a consultant to help me through the online process, and thanks to her my application was processed quickly and I had the money two hours later.
Beatrice G.
— Queenstown —
Handy CASH Contact
Contact Number
E-Mail
Website
Physical Address
---
Postal Address
P.O. Box 22, Seventh Avenue Mail Centre, Tauranga, 3140, New Zealand
Opening Hours
Monday

11:30 – 20:00

Tuesday

11:30 – 20:00

Wednesday

11:30 – 20:00

Thursday

11:30 – 20:00

Friday

11:30 – 20:00

Saturday

– Closed

Sunday

– Closed