Bad credit loans up to $1,000
Low-interest up to 227%
Repayment up to 45 days
In-page navigation
---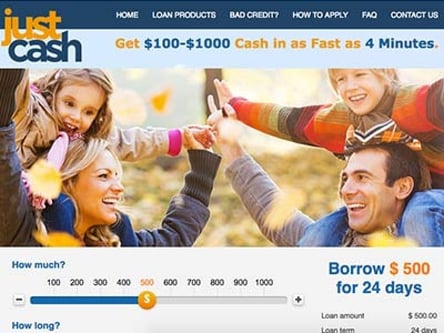 Author Just Cash. Screenshot of Just Cash website.


[Accessed March 6, 2023]
About Just Cash
Just Cash is the solution you have been searching for when you need cash in a hurry.
We specialize in cash advances while offering you a very competitive interest rate and first-rate customer service.
Our payday loans are perfect for when you need money for an unexpected gift or need cash to help you make it to your next payday.
Apply online 24 hours a day
When you need money, you usually need it as quickly as possible. Most people don't have time to sit around in banks all day or spend hours running around trying to get the correct documents to submit with their loan application. At Just Cash, we take the hassle out of applying for a loan. There is no need to visit a branch. Simply complete the generated application form on our website in only a few minutes.
Giving you a second chance
We are there for our clients every step of the way and we believe that everyone should have an equal opportunity to apply for a loan regardless of their previous credit history. Giving you a second chance to take control of your finances is what we do best.
Blacklisted clients welcome
Even if you have previously been blacklisted, you may still apply for a loan. A loan for blacklisted will allow you to borrow a small amount of money to prove to us that you have learnt from your past mistakes and you can stick to your repayment plan. Once you have proved that you can pay back the loan, you will be given the opportunity to borrow more money in the future.
As you pay back your loan and prove that you are no longer a risky client to lend money too you will start to improve your credit history and raise your credit score.
Just Cash Services
Clients with a bad credit score usually get the short end of the stick when it comes to applying for a loan.
Traditional banks are very unlikely to grant them loans without a form of security and the terms and conditions are usually very strict. People with bad credit need money too so we developed the perfect solution.
Bad credit personal loans
A bad credit loan will allow you to borrow a small amount of money over a short period of time. The amount will depend on your credit score and credit history. Once you have repaid the loan and shown that you are reliable you will be eligible to borrow more money in the future.
What you need to apply
We believe in keeping the process of applying for a loan as simple as possible, the only supporting documents that we need when you apply for a loan is a copy of your lasts months bank statement. This statement must clearly indicate your name, address and bank account number.
This is all that we need to process your loan application and you will receive an outcome in only a few minutes. There is nothing worse than waiting around for hours to see if your loan application is approved only to be told it has been declined. Now you have wasted time, you still need the money and you will have to start the entire process all over again.
Loan approval in minutes
Our pre-approval process will give you an outcome within a few minutes and if your loan application is declined, we will let you know straight away so that you don't waste time waiting around. What's more, is, we will do everything that we can in order to assist you with fixing your application and showing you why your loan was declined.
Just Cash – Bad credit loan
Loan Type

Bad credit loans

Interest Rate

227%

Loan Amount

up to $1,000

Repayment

7 days to 45 days
Benefits of Just Cash
Apply with a bad credit history
Affordable loan options
Easy online applications
Bad credit loan calculator
Apply for a bad credit loan online & improve your cash flow today
When you have a bad credit score it is very difficult to apply for a loan, but what exactly is bad credit and why is it so important to keep your credit score high?
Your credit report is a record your credit history this includes account payments, bills and your payment history. When you miss a payment on an account or you don't pay the full amount due on your credit card, this information is recorded in your credit report and this affects your credit score.
Request a copy of your credit report
Before you even apply for a loan, you should request a copy of your credit report. There are many websites that will give you a copy of your credit report for free. Make sure that you understand the information listed in the report and make sure that the information is correct.
If there are any errors on the report or there are transgressions listed that have been sorted out. Then you will need to report them and have them corrected. If you have a bad credit record don't despair, there are still many loan options available to you and ways to improve your credit score.
Other loan options for those with bad credit
There are other loan options available to those with bad credit including credit union loans, peer-to-peer loans, loans from family and friends or secured personal loans. Our friendly consultants will assist you in finding the right financial solution to suit your needs.
Customer Reviews & Testimonials
"
Just Cash makes it easy for the everyday person with bad credit to get the cash they need. I recommend them.
Sue B.
— Hamilton —
I was pleased with how little time it took to get my hands on a loan with JC, the application and approval was quick and the funds transferred soon.
Ellison R.
— Masterton —
Just Cash Contact
Contact Number
E-Mail
Website
Physical Address
132 Hurstmere Rd

Takapuna

Auckland Region

0622

New Zealand
---
Postal Address
PO Box 33-1009, Takapuna, 0740, New Zealand
Opening Hours
Monday

09:00 – 17:00

Tuesday

09:00 – 17:00

Wednesday

09:00 – 17:00

Thursday

09:00 – 17:00

Friday

09:00 – 17:00

Saturday

– Closed

Sunday

– Closed