Debt consolidation up to $5,000
Low-interest starting from 12.95%
Repayment up to 12 months
In-page navigation
---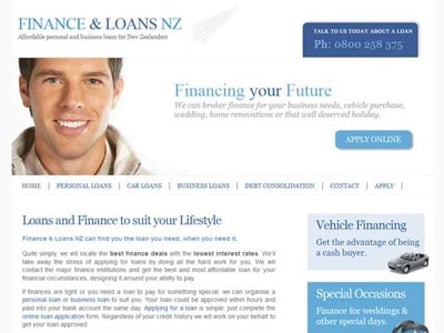 Author Finance and Loans NZ. Screenshot of Finance and Loans NZ website.


[Accessed March 7, 2023]
About Finance and Loans NZ
At Finance & Loans NZ, we make taking out an instant loan a simple task. We will locate the best deal at the lowest interest rate for you. This is what we are specialists at.
We have extensive experience as a broker company and a full commitment to serving our clients. We remove the stress when you apply for a loan by making the process simple and fast
We can help you, even with a bad credit history
We will contact the leading lenders in New Zealand to deliver the most useful and affordable loan to you based on your individual circumstances, needs, requirements, and ability to pay. We will work with you regardless of your credit history and attempt to negotiate the most favorable deal. You can expect approval and cash transfer to your account in hours.
Finance and Loans NZ Services
Wrap all of your debt on credit cards, store cards, and personal loans into a single debt consolidation loan with the professional assistance of Finance & Loans NZ.
You will have just one low-interest loan with a single payment to take care of. We have the experience and expertise to assist low-income earners, people with bad credit, beneficiaries, and students as well as those with good credit and income positions.
Affordable payments & quick applications
With the debt consolidation loans which we can provide, you can borrow over $1,500 and set a term up to 5 years. We will work with you to guarantee affordable payments. We can provide for early repayments and extended repayment. Once you make an application, we will do our best to process it within the same working day.
Finance and Loans NZ – Consolidation loan
Loan Type

Debt consolidation

Interest Rate

12.95 – 29.95% p/a

Loan Amount

up to $5,000

Repayment

4 weeks to 12 months
Benefits of Finance and Loans NZ
Competitive debt consolidation loans options
Lower interest rates
Affordable loan deals
---
You can regain financial control with effective debt consolidation
Finance and Loans New Zealand offers consumers one loan to fit their financial needs with a debt consolidation loan.
Is all that debt getting you down? Tired of monitoring your reimbursements on different debts? We have the solution to suit your needs! Move the greater part of your credit card debt, store cards, and individual advances into one debt consolidation loan so you simply have one installment to make for each month.
We simply want to make budgeting easier for our clients
No more will you need to monitor numerous due dates and distinctive reimbursement amounts. You will have one low credit and you can set aside as much time as you like to pay it off. Take out all that stress and time. Once the reimbursement terms are completed the debt will be gone. We can arrange individual advances for those on low salaries or those who have a not so perfect credit history.
Apply for debt consolidation today
Now is the time to be applying for a debt consolidation credit with Finance and Loans NZ - you may need to fit the following criteria first. You should be 18 years old, be a permanent resident of New Zealand and earn a salary from your permanent job. How much can I lend? You can acquire from $1500 upwards. You can take up to 60 months to reimburse the credit.
You will be able to sort out those debts within 24 hours
We will work with you to guarantee installments are moderate and if your situation transforms and you are unable to make the payments, we will assist you with the arrangements thereof. Our simple and easy online loan application process is simply simple! Just chat to our advisers who are readily available to assist you with whatever you need to get the process started.
Customer Reviews & Testimonials
"
F&L NZ offered me a very low rate on a personal loan to help consolidate my debt, I would recommend them to anyone in the same position.
Jimmy B.
— Wellington —
My loan from Finance & Loans NZ is incredibly affordable and easy to manage.
Bill J.
— Dunedin —
Simple online application, approval, and payout. I can manage my entire account online.
Adam H.
— Queenstown —
Finance and Loans NZ Contact
Contact Number
E-Mail
Website