Short-term loans up to $40,000
Low-interest starting from 13.95%
Repayment up to 6 months
In-page navigation
---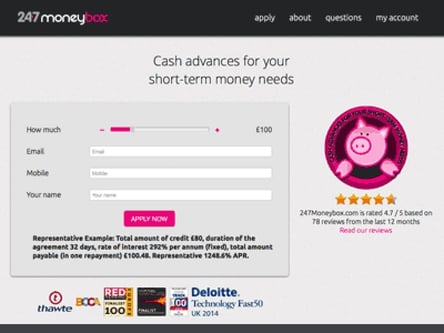 Author 247 Moneybox. Screenshot of 247 Moneybox website.


[Accessed March 3, 2023]
About 247 Moneybox
We take an innovative approach to finance to meet the short-term credit needs of New Zealanders.
247Moneybox has been operating in the UK since 2009 and has a growing customer base in the county. We brought our award-winning lending service to New Zealand in 2013 and we have already established solid positions in the local market.
Our finance solutions are fast and convenient
We use advanced technology and our experience to bring superior credit products which are easy to understand and to manage. We believe that every customer is unique and deserves a perfectly customised loan. We will provide the optimal interest rates, repayment terms, and conditions to you. Our individual approach is what sets us apart from most competitors. Our microfinance is clear and transparent.
247 Moneybox Services
Our service is driven by experience, technology and personal attention to every customer.
We have a strict policy for responsible lending intending to provide the most suitable and affordable payday loans to New Zealanders. The 247Moneybox short-term loans are designed to help you get out of a cash emergency.
Our loan terms
If you require a larger amount of finance for meeting any long-term needs, you should consider online loans which are specially designed for the purpose. Whenever you face unexpected bills for car repair, taxes or medications, you can use the quick cash loan to stay on top of your cash flow and to sail smoothly through the month. The loan amounts are sufficient for covering urgent expenses and have a short repayment term to make things easy and convenient for you.
247 Moneybox – Short-term loan
Loan Type

Short-term loans

Interest Rate

13.95 – 24.70% p/a

Loan Amount

up to $40,000

Repayment

1 month to 6 months
Benefits of 247 Moneybox
Quick online loan applications
Get approved fast
Short-term loan calculator
247 Money Box is a great choice for short-term loans
247 Moneybox in Auckland gives you new ways to get short term loans. We think out the box!
We opened our doors in early 2009, and since then have been providing innovative and basic financial needs to clients in and around New Zealand. We expanded our financial lending abroad and have since become one of the most well sorted brands of financial assistance around the world.
Short term loans with low premiums and excellent rates
At 247Moneybox in addition to the fact that we are energetic about innovation, it's what makes us tick; we're additionally completely dedicated to providing online loans to those wanting to get quick cash.
247Moneybox loans are not intended for long term time frames, they are rather to be reimbursed in the short-term. This in turn keeps you out of the long term bet trap. In the event that you have to obtain over a more extended period there are other, more suitable types of credit accessible. Our administration is intended to place you in control of your income, for the times when a surprising bill arrives.
Our loans assist you financially for urgent cash needs
We believe that should something drastic come up that needs an instant cash payment, we can loan you the cash to get it paid.
We utilize the data you give to offer us some assistance with making a dependable loaning choice regarding whether you can reimburse your loan without loading a heap of debt on your shoulders. You will see our application process is very easy to complete. Submit the loan application with supporting information and we will immediately get going with the process for you.
We offer easy flexile & small instalments
We customise the instalments according to the amount you have borrowed. However, we are flexible with a number of terms to choose from. We encourage our clients to ensure they meet all their instalments, and not skip any. This can be a hazard to your credit rating, and create and block when it comes to loaning cash again.

247 Moneybox is a trusted & reliable provider of short-term loans
Customer Reviews & Testimonials
"
I sent my application in and the super helpful consultant got back to me immediately. My loan was approved in minutes and the payout was quick.
Richieu B.
— Auckland —
Quick and easy online application, money paid the next day. Quite pleased.
Nicola S.
— Lower Hutt —
I had an unfortunate accident which took up most of my savings, luckily I had access to this loan the next day! Friendly service.
Rafael S.
— Wellington —
247 Moneybox Contact
Contact Number
E-Mail
Website
Physical Address
Level 4, 369 Queen Street

Auckland CBD

Auckland Region

1010

New Zealand