Short-term loans up to $15,000
Low-interest starting from 8.95%
Repayment up to 36 weeks
In-page navigation
---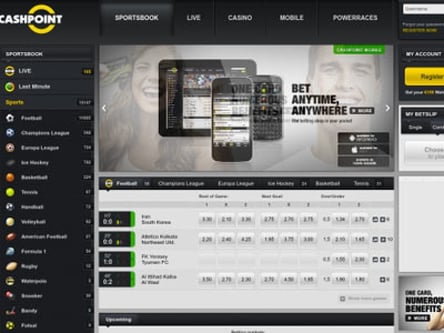 Author Cash Point. Screenshot of Cash Point website.


[Accessed March 3, 2023]
About Cash Point
Cash Point is an online credit provider which has put many locals on a sound financial footing when it comes to the provision of Bad Credit Loans in New Zealand.
Cash flow problems? No worries they offer loans from as little as NZ$300. Do you have a car that needs fixing? An outbuilding that needs refurbishing? Or need to pay a plumber for that quick-fix job in the kitchen? Don't fear because Cash Point is always near to help customers in distress.
Quick Bad Credit Loans
Cash Point, based in the Auckland area, is a fair and responsible lender offering lower rates and fees than most other payday lenders for Bad Credit loans clients. Their online application process can be completed within 15 minutes, that's how fast the service is.
A team of expert administrators is always available to assist clients with their payday loan inquiries via an online chat. With better rates, better service, and faster turnaround times, Cash Point is one of the nation's most trusted lenders. There is no quibbling with Cash Point. They are tolerant and flexible with clients, offering loans to people with poor credit – provided they can manage it.
Cash Point Services
The advantage of a Cash Point short-term loan is that the interest rates are among the most competitive in the market for Easy Bad Credit Loans.
New customers are welcome to apply for a loan of up to $300 while customers that have used their services in the past can apply for any amount up to $500. The online lender charges a daily interest rate of 0.95% over a loan term of 30 days.
They are honest and upfront about charges and clients can be rest assured that they will be kept informed from the time they apply for any loan with the company. Cash Point staff always thoroughly analyze every application and clients can therefore be sure that they will only be provided loans they can manage and afford.
Bad Credit Loans to suit every particular need
Cash Point knows that the market for quick payday for Easy Bad Credit loans is no one-size-fits-all in terms of need. Therefore their highly qualified staff who conform to Responsible Lending Practices will ensure that every loan they provide is tailored to a specific need.
What a Cash Point short-term loan is about
Interest rate pegged between 8.95 – 29.95%
Loan amounts of up to NZ$15,000
Repayment period from 6 to 36 weeks
Cash Point – Short-term loan
Loan Type

Short-term loans

Interest Rate

8.95 – 29.95% p/a

Loan Amount

up to $15,000

Repayment

6 weeks to 36 weeks
Benefits of Cash Point
SHORT-TERM Loans
PERSONAL Loans
CAR Loans
Short-term loan calculator
Get a short-term loan within just minutes, simply apply online
If a customer has poor credit, Cash Point may still be able to help but Bad Credit Loan applicants must have been employed for at least two months.
They also need to have sufficient income to repay their loan. The client must select the loan amount they want on the online portal. From there it's on to the application page where Cash Point gathers some information.
Here the client enters their name and employment and residential details as well as contact information like an email address and telephone number. The client must indicate how much they would like to borrow and when they'd like to make repayments. Once the client has completed the online quick loan request form they will then evaluate it. If Cash Point is satisfied that the client can afford the debt, they will forward a loan agreement form.
Requirements criteria
Must be a legal resident of New Zealand
Proof of address and valid ID document
Net weekly income of NZ$350
Applicant must be bankruptcy free
Easy process for Bad Credit online customers
Cash Point takes pride in the fact that it focuses on making the loan application a hassle-free process. They are aware that New Zealanders are caught up in busy schedules and aim to make applying for a loan product as smooth a process as possible.
To this end, the entire application process is therefore paperless, so clients can sign the agreement form electronically. Once they have received the signed agreement, Cash Point will then immediately transfer the money to the client's bank account, it's as simple as that.
And what is more, the successful client does not have to leave their home to pocket their cash, it is deposited directly into their bank account. Cash Point does not take its label of being a fair and responsible lender lightly. They prescribe to Best Practices by being a lender of good standing and offer lower rates and fees than most other payday lenders on the market.
This not only ensures that they remain competitive amongst their competitors but, it allows us to stand true to their commitment to being a responsible and fair lender. They don't believe you should pay more for loans just to support a lender's profits, that is why they are one of the go-to lenders for quick payday loans.
Customer Reviews & Testimonials
"
Easy application process but I did have some complaints about the consultant. All in all, I got the money pretty fast.
Eboni Saddler
— Queenstown —
Good service, relatively quick response times from the consultant, and I had my money two days later.
Guiseppe F.
— Hastings —
The online application was a bit long and tedious; it isn't usually this long at other companies (or so I've heard). However, my loan was approved in minutes.
Isabell J.
— Auckland —
Cash Point Contact
Contact Number
E-Mail
Website
Physical Address
349 Remuera Road

Remuera

Auckland Region

1050

New Zealand
---
Postal Address
P.O. BOX 2176, Remuera, 1050, New Zealand