Short-term loans up to $15,000
Low-interest starting from 18.95%
Repayment up to 48 months
In-page navigation
---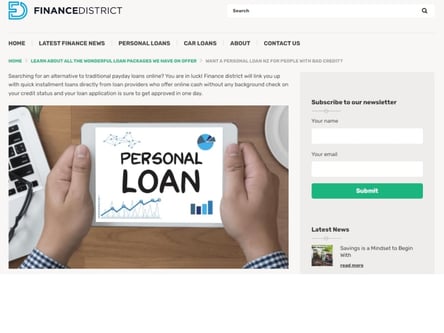 Author Finance District. Screenshot of Finance District website.


[Accessed March 3, 2023]
About Finance District
Finance District is an online finance platform that assists Kiwis in their search for just the right credit products.
From bad credit loans, to personal loans and credit cards - we have scoured the internet to bring all the financial products and services to you in one easy click! Traditional banking simply won't do it for the savvy consumers and the technologically advanced world that we now live in. Finance District brings New Zealand's quick access short-term loans right to your front door!
Top 3 options in one application
We review all the various local lenders and their products to see how much they offer, what their rates and payment terms are as well as how fast they can approve and wire the quick loan to the customer's account.
When you make an online loan application with us, you'll have instant access to all the various offers available and - we'll then present your with the top 3 options. No need to run around comparing rates and lending criteria - all you need to do is tell us what you need and we'll find it!
Finance District Services
We offer a similar service to that of a broker, however, we prefer to refer to ourselves as a platform linking customers and lenders.
If you're looking for short-term financing, Finance District will use a carefully researched database of lending products to find a solution that meets your needs. At Finance District we believe that knowledge is power and, endeavor to provide our customers with the most accurate, up-to-date and relevant information about lending, lenders and all matter relating to money.
Access the best products and deals on NZ's market
We believe that the complex, secretive and, sometimes downright unfair financial services sector, needs to make a big change and, Finance District aim to lead that change by putting the power into the hands of the customer - where it belongs.
Whether you're looking for a secured or unsecured loan, a big loan or a small one - Finance District is your portal to the best online loans and deals on NZ's market.
Finance District – Short-term loan
Loan Type

Short-term loans

Interest Rate

18.95 – 26.95% p/a

Loan Amount

up to $15,000

Repayment

3 months to 48 months
Benefits of Finance District
BAD Credit Loans
DEBT Consolidation Loans
CAR Loans
SHORT-TERM Loans
Short-term loan calculator
It is quick and easy to apply for a loan at Finance District
Many lenders claim that applying for a loan is easy and will take only minutes, however, this couldn't be further from the truth.
For those who look to traditional banks and credit unions, the process can be arduous and take weeks. Any blemish on your credit report or any circumstances which do not fit their strict lending criterions will result in your application being denied.
When turning to alternative online lenders the problem morphs into one where there are simple so many lenders available and so many products that customers have to spend hour and even days doing research and trying to find a solution that they qualify for and that will meet their needs. In essence, lenders seem to think that they can pick and choose from a base of customers desperately trying to access finance to help achieve their goals and financial needs.
The truth about lending online
In addition, short term online lenders can be quite vague about their fees and interest rates and over-emphasize the speed at which they can transfer the loan through to the customer. The truth is, if you don't know what you should be looking for and what sales pitches to ignore you could end up choosing a lender that will overcharge you and over terms which just don't suit your income or budget.
Many people, particularly those with bad credit, will make a number of applications to different lenders only to be denied a personal loan because they didn't understand the criteria or requirements of the lender. This then leads to multiple credit searches by multiple lenders, which only further damages the applicants credit and leaves them frustrated, disappointed and confused.
Find a loan fast
By utilizing Finance District you don't have to worry about researching lenders and pouring over their websites trying to read through the lines because we've done all that for you. Once you've provided us with your loan details we will then check our database of lenders and products to find one that not only meets your loan amount requirements but, one that you will be very likely to qualify for. Once we present your details and short-term loan needs to the lenders we will then sort through the responses and provide you with the top three options in a way that is easy for you to compare, consider and understand.
Essentially, Finance District does all the leg work for customers by helping them find the products that they need and that they qualify for. Once you've decided on which lender or product you believe to meet your needs best you can then proceed to formalize your online loan application - knowing full well that you've found the best deal available to you.
Customer Reviews & Testimonials
"
Good service and friendly advice. Not to mention how quick my loan was processed, approved and the money paid over.
Mila-Rose D.
— Hamilton —
It's a really easy-to-follow application process and I had my money three hours later. Super happy!
Elias S.
— Ashburton —
Finance District Contact
Contact Number
E-Mail
Website
Physical Address
Grey Lynn

Auckland

Auckland Region

1021

New Zealand
Opening Hours
Monday

06:30 – 21:30

Tuesday

06:30 – 21:30

Wednesday

06:30 – 21:30

Thursday

06:30 – 21:30

Friday

06:30 – 21:30

Saturday

06:30 – 21:30

Sunday

06:30 – 21:30