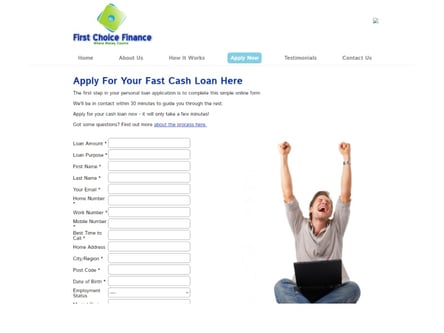 Author First Choice Finance. Screenshot of First Choice Finance website.


[Accessed March 3, 2023]
About First Choice Finance
First Choice Finance offers uncomplicated secured and unsecured online loans in NZ.
We are a well established financial services provider that operates entirely online - this means that you can apply for credit from your home office and get the money on the very same day.
Simple and straightforward loans
We're not a complicated lender and we endeavour to make things as simple as possible for our customers - all you have to do is decide if you want a secured or unsecured short-term loan and then, fill in a quick and easy application form and - it's plain sailing from there on!
Secured and unsecured - we've got it all!
With First Choice Finance customers can apply for loans of between $300 and $5,000 with good or bad credit and with or without security. We generally recommend secured personal loan for an amount above $2,000 and unsecured loans for people looking to borrow less than $2,000 and have a good credit history.
Our customer service team is available to assist you throughout the online loan application, approval and repayment phases of the lending process and will make things as simple and pleasant as possible.
First Choice Finance Services
First Choice Finance gives customers access to unsecured personal loans of between $300 and $2,000 which they can apply for online.
Secure better rates with a secured loan
We also offer secured short-term loans of up to $5,000 for people who can use their home or vehicle as security for the loan.
We offer flexible repayment terms that will link into your pay cycle and ensure you never miss a payment or have to worry about remembering to make your repayments.
Tailor-made loans to suit you
Unlike so many inflexible lenders on the market, we tailor our quick cash loans to suit the needs and budgets of our customers and are more than willing to give you some breathing space by allowing you to choose a repayment term that best suits you.
Our unsecured loans currently carry a annual percentage rate of between 95% and 130% while our secured loans carry an annual percentage rate of between 75% and 85%. We will not penalize you for making additional payments on your loan!
First Choice Finance – Short-term loan
Loan Type

Short-term loans
Benefits of First Choice Finance
BAD Credit Loans
PAYDAY Loans
SHORT-TERM Loans
Short-term loan calculator
First Choice Finance are the experts when it comes to quick short-term loans
Are you ready to apply for a personal loan with us? The first decision that needs to be made is how much you are going to borrow.
If this amount exceeds $2,000 then you should consider putting up some form of security so that you can access better rates. If the amount is below $2,000 or if you have good credit then you can proceed to apply for an unsecured personal loan.
Once you've decided how much you want to borrow and what you'll be using as security you can then begin to gather a few documents to support your online loan application. You will need a drivers license or other form of identity, proof of address, your most recent pay slips or bank statements and your banking details. We will always protect your information and identity and will verify any information provided to us to prevent fraud.
We have straightforward loan requirements
First Choicemakesance makes applying for a loan easy with our efficient and well-organized online loan application. We have worked tirelessly to streamline our processes to achieve the stress-free application and loan acquisition that our customers enjoy. The entire process can be completed online and there is no paperwork, faxing, scanning or in branch signing required. Our application for requests that you enter some basic information such as your name and contact details, employment information and details about the short-term loan that you're looking for. We have a dedicated team of administrators available to guide you through the process and attend to any queries that you may have and they can be contacted by phone and email at any time.
We have quick loan turnaround times
Once you have filled out our application form our team will review the information and contact you to request the supporting documentation that we require. Once we've received these documents we will go ahead and make you a loan offer. If you accept our offer you will then receive a loan agreement which you must carefully read and approve by affixing your signature. We will then immediately transfer the funds to your account and, you can then get on with life. The scheduled repayments will be deducted from your account via a direct debit so you don't have to stress about remembering to make the payments on your loan!
Customer Reviews & Testimonials
"
Nearly had to come up with a plan B, luckily the money was transferred soon enough. Fantastic service by an extremely helpful consultant though.
Dayna W.
— Hastings —
Easy application process and I had my money within two hours. Real good job!
Corey S.
— Christchurch —
First Choice Finance Contact
Contact Number
E-Mail
Website