Short-term loans up to $3,500
Low-interest up to 227%
Repayment up to 45 days
In-page navigation
---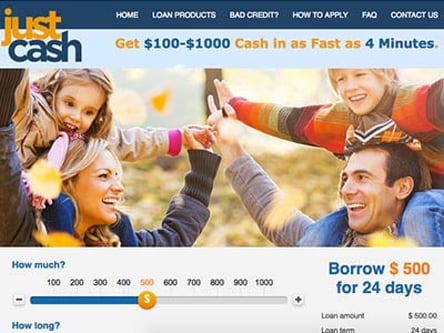 Author Just Cash. Screenshot of Just Cash website.


[Accessed March 3, 2023]
About Just Cash
Just Cash is the answer you have been searching for when you need a quick loan. We offer cash advances with a very competitive interest rate.
Our short-term cash solutions were designed for when you need money for life's unexpected expenses.
Taking the hassle out of applying for a loan
When applying for a loan via a bank, they will sometimes make you wait days to find out if your loan application was approved. The bank will request piles of supporting documents and require a deep look into your financial history.
Get the loan you want within minutes after approval
We know that you want to receive your money as quickly as possible and not sit around in banks all day waiting for an answer or spend hours trying to get the correct documents to submit. So we give you an outcome within a few minutes and won't waste your time if you don't qualify.
Equal opportunities for financial solutions
Our clients are the key to our business and we aim to assist them with every step of the way during the loan process. At Just Cash, we believe that everyone should have an equal opportunity to apply for a loan regardless of their previous credit history.
If you have poor credit history then you should apply for a loan for bad credit that was specifically designed to give you a second chance at managing your finances. This loan option will lend you a small amount of money. You will then need to prove to us that you have learnt from your mistakes and you will pay your bills on time and in full. Once you have proved that you are able to make the loan repayments, you may qualify to borrow more money in the future.
Just Cash Services
Short-term loans are a popular type of credit option available to our clients.
These solutions include payday loans and quick loans. These types of loans are very easy to obtain and are the perfect solution for when you need some quick cash in a hurry. When applying for a short term loan it is important to remember that this loan option was designed for those clients that need a small amount of money for a limited period of time. This loan will need to be repaid in full by your next payday.
Short-term loans are a form of small loans and are granted to clients in their time of need quickly and without much effort.
Cash to spend as you wish
These are basically secured loans as the lender will set up a direct debit on your account and the total amount will be deducted from your account in one easy payment.
These loans are secured by your salary and if for any reason the payment is dishonoured, you will be charged penalty fees and the direct debit will roll over until the funds are paid into your account.
Bad credit is no problem
As short-term loans don't require a credit check, your bad credit score will have no effect on your loan application. These loans charge a higher interest rate and can become quite expensive if not managed correctly.
As the money needs to be paid back in one payment on your next payday this could cause those that are under financial strain even more financial hardship and push you further into debt.
These types of loans should be used in the case of emergencies and only taken if you are sure you will be able to pay back the loan in full on your next payday without causing yourself undue financial pressure.
Just Cash – Short-term loan
Loan Type

Short-term loans

Interest Rate

227%

Loan Amount

up to $3,500

Repayment

7 days to 45 days
Benefits of Just Cash
Apply with a bad credit history
Affordable short-term loan options
Easy online applications
Short-term loan calculator
Need a Loan? Just Cash makes it easy for you!
Short-term loans have a high level of risk associated with them and for a very good reason. This loan option is the easiest loan to obtain.
As there is no need to perform a credit check, those that are already struggling financially are still able to apply.
This is great for those clients that have a bad credit record as they can get their hands on the cash they need when they need it, but this becomes a problem when they need to repay the loan and don't have sufficient funds to do so.
Paying back the loan
If you are already struggling to make your salary stretch to get through each month then this option might not be in your best interest. You will be required to repay the loan in full as well as settle the interest and any other fees that might be due.
As many people struggle to repay the full amount in one payment, many clients get trapped in a vicious debt cycle as they need to secure additional loans to repay the loans that they already have.
This is not a long-term solution as if your credit score decreases due to all the loans listed on your credit report, your loan application may be declined in the future putting you even deeper into financial peril and leaving you with nowhere left to turn.
Making your short-term loan work for you
If you pay your short-term loan on time, you will minimise the risk associated with your loan application and qualify for better loan terms in the future.
Customer Reviews & Testimonials
"
Received excellent service from my consultant, the online application process was as easy as breathing and I had my money the next morning!
Jacqueline V.
— Christchurch —
I had a really good consultant, he knew exactly what he was doing and guided me through the process. My money reflected seven hours later.
Gino W.
— Hamilton —
Pleasant service, the swift response from the consultant and an approved loan in minutes!
Faiza B.
— Tauranga —
Just Cash Contact
Contact Number
E-Mail
Website
Physical Address
132 Hurstmere Road

Takapuna

Auckland Region

0622

New Zealand
---
Postal Address
PO Box 33-1009, Takapuna, 0740, New Zealand
Opening Hours
Monday

09:00 – 17:00

Tuesday

09:00 – 17:00

Wednesday

09:00 – 17:00

Thursday

09:00 – 17:00

Friday

09:00 – 17:00

Saturday

– Closed

Sunday

– Closed