Short-term loans up to $10,000
Repayment up to 12 months
In-page navigation
---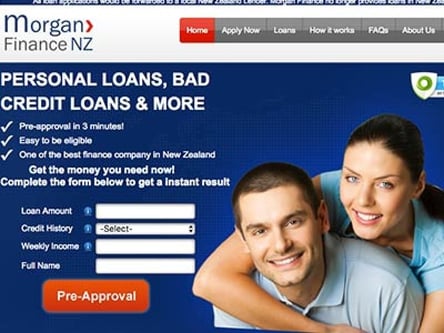 Author Morgan Finance. Screenshot of Morgan Finance website.


[Accessed March 3, 2023]
About Morgan Finance
Morgan Finance is one of New Zealand's leading providers of secured personal loans and bad credit loans.
Flexible loan ranges just for you
We offer individuals and businesses secured short-term loans of between $500 and $50,000 to use for any purpose they desire via our lending partner. This is, by far, one of the broadest loans ranges available on the market and can, therefore, suit any purpose. Specifically, we offer bad credit loans, debt consolidation loans, rental loans and business loans and are one of the most flexible lenders around.
Pre-approval - why we're unique
We are also one of the only alternative lenders that provide customers with a no-obligation pre-approval. This pre-approval is done in just 3 minutes and can save you the trouble of going through a loan application and having a credit check performed and then being denied a loan. In order to apply for a loan with Morgan Finance, you must be able to provide some form of security - whether in the form of a vehicle or home or, alternatively in by providing a joint applicant who can provide the necessary security.
Morgan Finance Services
Whether you want to take your family on holiday overseas, pay bills that are overdue or purchase a car to get around in style - Morgan Finance's large personal loan range will allow us to help you.
Financial products that make sense
Morgan Finance offer secured short-term loans of up to $50,000 at very affordable rates. Our rates are so affordable because we only provide loans to people who can provide security or a joint applicant. We can assist people that have bad credit ratings if they can supply this security and prove that they can comfortable afford to make the repayments.
Easy application & same-day approval
Our entire loan application can be completed online and the funds can be transferred to you on the very same day provided that we have received all the relevant documentation. We always recommend that customers make use of our pre-approval feature so that they can be sure they will be approved before they spend the time to complete the application and before they are subjected to a credit search.
This unique feature certainly makes Morgan Finance stand out from the competition and is one of the many reasons customers return over time and even recommend us to others.
Morgan Finance – Short-term loan
Loan Type

Short-term loans

Loan Amount

up to $10,000

Repayment

1 month to 12 months
Benefits of Morgan Finance
PERSONAL Loans
BUSINESS Loans
DEBT Consolidation
Short-term loan calculator
We are the preferred short-term loan lender in NZ
Applying for a short-term loan in the past was a complicated, time-consuming and stressful procedure that had to be done in person. Customers had to fill in lots of paperwork and the banks and credit unions all had very rigid and strict qualification requirements than not many people were able to meet.
Apart from the long and arduous process most would end up leaving empty-handed and disappointed but, with the advent of the internet and online banking customers now demand to be able to apply for loans in mere minutes without having to leave their homes or fill in any paperwork. With this in mind, Morgan Finance has created an efficient, simple and fast online loan application process that will get the cash in your wallet on the very same day!
Get a loan of between $300 and $50,000
Applying for a personal loan through Morgan Finance is simple, stress-free and quick; you can have your loan approved and the money credited to your account the very same day and sometimes, even within an hour! Firstly, you must decide on the loan amount that you want to pursue - we offer between $300 and $50,000 through our lending partner and, loan amounts are subject to the security being provided as well as your income.
Once you've decided on the personal loan amount you can then use our pre-approval from which will tell you whether we will be able to help you or not. We will still be able to help you if you have poor credit - so don't worry and just fill out that form!
Sign your loan agreement & get your cash!
Once you've received confirmation that we can help you via our pre-approval feature you can then being the formal online loan application procedure via our website. This application is very simple and will not take more than 10 minutes of your time. Once we've received your information we will review it and then contact you to request some supporting documentation.
These documents generally include your driver's license or, another form of identification, proof of income through your most recent pay slips and bank statements, proof of ownership of the security and a few other things. Once we've received these, our partners will then be able to review your application and provide you with loan offers online. If you're happy with the offer you can then proceed to sign the loan agreement and the money will be deposited to your bank account immediately.
Customer Reviews & Testimonials
"
My consultant needs a raise! Superb effort to help an old geezer like myself with this new technology. I had to make an effort to write a review, even if it meant my granddaughter had to show me ...
Evita Samahra M.
— Auckland —
The consultant who helped me really was a breath of air fresh – sorry my English is broken – she knew what I was talking about. Had money soon after! Much thanks.
Mateusz V.
— Queenstown —
My money was paid over three hours later. I managed the online application without the need for a consultant.
Holli M.
— Nelson —
Morgan Finance Contact
Contact Number
E-Mail
Website
Physical Address
24B Moorefield Rd

Wellington

Johnsonville Region

6037

New Zealand