Short-term loans up to $1,000
Low-interest starting from 14.95%
Repayment up to 6 months
In-page navigation
---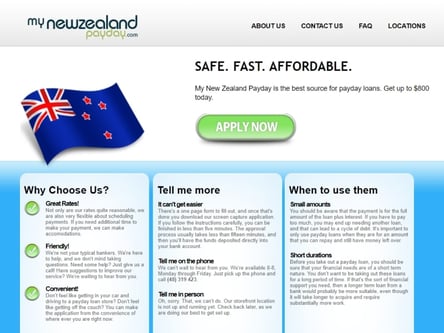 Author My New Zealand Payday. Screenshot of My New Zealand Payday website.


[Accessed March 3, 2023]
About My New Zealand Payday
My New Zealand Payday started out as a Canadian lending company - My Canadian Payday.
As all ambitious and successful companies, we wanted to expand and explore foreign markets. Therefore, as a result, we have earned a tried and trusted name in the lending industry.
We respect your values
At My New Zealand Payday, we understand the financial limitations we all face from time to time. This is why we have taken the necessary steps to create a system that provides you with financial backing and allows you to have peace of mind when you are in need of additional funds before payday. We value each and every client that we assist and are always ready to assist you when you need it most.
We put our customers first
At My New Zealand Payday, we believe in putting our customers first. We do everything in our power to remove the unnecessary stress that comes along with applying for a short-term loan. Applying for a loan should be hassle-free, reliable and fast. Our aim is to be there for our clients when they need us and our experienced customer service providers will be on standby to assist you with any queries you might have.
My New Zealand Payday Services
At My New Zealand Payday, we aim to provide the most affordable payday loan services.
On top of our friendly customer service, we also believe that we need to offer our clients the best possible lending services when it comes to absolutely everything – starting with interest rates.
Great interest rates make loans affordable
At My New Zealand Payday, we offer competitive interest rates as our aim is to have our clients in better financial positions. Beyond that, we are flexible when it comes to scheduling payments. We are open to negotiations regarding repayment times. If you would require additional time to repay your short-term loan, we will gladly give you an extension to repay your loan in a time period that suits you.
Fast loan approval times
Waiting to find out if your online loan application has been approved or if you need to find some other source of financing, should not take any time at all. Therefore, we will not make you wait for any longer than you need to. We will ensure that the assessment of your loan application takes as little time as possible.
With My New Zealand Payday, we guarantee that you will get the best and most efficient service.
My New Zealand Payday – Short-term loan
Loan Type

Short-term loans

Interest Rate

14.95 – 29.95% p/a

Loan Amount

up to $1,000

Repayment

1 month to 6 months
Benefits of My New Zealand Payday
Low interest rates
Affordable short-term finance options
A convenient and friendly service
Short-term loan calculator
Get a fast, safe and affordable loan today
My New Zealand Payday might have the word "payday" in their name but they have so much more to offer than average quick cash loans.
At My New Zealand Payday, our loan terms are negotiable and there is no requirement for your loan to be repaid by your next payday if you would like to take a different path of repayment. We ensure that we offer you various options to suit your requirements.
Get up to $800
At My New Zealand Payday, you can easily apply for a short-term loan of up to $800, which you can be repaid in a short but pre-determined time that suits you. Of course, if you would like to, you can repay the loan when you receive your next paycheck. You can be assured that your loan will come at a very reasonable interest rate that and that you can easily apply online for your convenience. My New Zealand Payday is a great choice for a lender if you are looking for a short-term loan that you can repay in a negotiable time period.
Customer Reviews & Testimonials
"
The consultant rushed through explaining the application process and then left me to my own devices. Thankfully it isn't that hard to understand and I could apply for the loan. I got the money th...
Tayla W.
— Wellington —
The consultant was quite professional and escorted me through the process. My loan was approved and paid out within a day.
Michael Lester M.
— Christchurch —
My New Zealand Payday Contact
Contact Number
E-Mail
Website
Opening Hours
Monday

08:00 – 20:00

Tuesday

08:00 – 20:00

Wednesday

08:00 – 20:00

Thursday

08:00 – 20:00

Friday

08:00 – 20:00

Saturday

08:00 – 20:00

Sunday

08:00 – 20:00