Short-term loans up to $30,000
Low-interest starting from 15.95%
Repayment up to 60 months
In-page navigation
---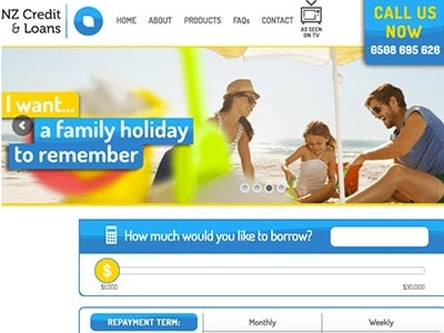 Author NZ Credit & Loans. Screenshot of NZ Credit & Loans website.


[Accessed March 3, 2023]
About NZ Credit & Loans
NZ Credit & Loans has one mission - to make borrowing easier and faster for consumers.
Unlike so many of our competitors - we value our customer's time and simply want to get you the quick cash loan that you need without worry, effort or fuss.
A leading lender with a big heart
We've been growing in the hearts and minds of our customers and are now one of the leading finance brokers on the market. We help our clients through the entire loan comparison, application and acquisition processes - even going so far as to explain the repayment terms and conditions that go along with your short-term loan.
Our range of unique products and services
We offer a wide range of financial products; from affordable personal loans to car and debt consolidation loans - there isn't much that we haven't thought of. We offer both secured and unsecured loans and are able to help people that have a bad credit history and are struggling to get approved.
By completing one simple online application with NZ Credit & Loans, you'll get instant access to some of the top lenders and products on the market and will be able to compare and select the best rates and repayment terms available.
NZ Credit & Loans Services
NZ Credit & Loans offer you a market-leading brokerage service that will help you find the right personal loan for you.
Whatever your needs - we have you covered
Whether you're looking to borrow money to finance your dream wedding or refurbish your outdated kitchen, our expert team will help you find a product to suit your loan amount and term needs like a glove - in the shortest span of time possible - we often arrange same-day approval and loan advancement.
We've done the work - so you don't have to
Scouring the internet to identify lenders or running around filling out paperwork for large banks is something of the past - with NZ Credit & Loans all you have to do is fill out one simple loan application form and we'll proceed to find you a lender and a product that truly meets your needs.
The choice is yours
We can assist you in acquiring both a secured and unsecured loan, with highly diverse loan amounts typically ranging from $1,000 to $30,000 with a loan term of up to 60 months.
NZ Credit & Loans – Short-term loan
Loan Type

Short-term loans

Interest Rate

from 15.95%

Loan Amount

up to $30,000

Repayment

36 months to 60 months
Benefits of NZ Credit & Loans
Easy online short-term loans
Flexible repayment options
Explore affordable loan options
Quick online loan applications
Short-term loan calculator
Applying with NZ Credit & Loans is the best decision you can make
We offer simple and fuss-free secured, unsecured and guarantor personal loans to Kiwis across the Nation. One of the reasons that NZ Credit and Loans are so popular is that we offer customers a simple way to find, compare and apply for a loan that meets their needs.
From people who have stellar credit histories to those who've had many bumps along the way, our online loan application and processing systems are streamlined, simple and will help just about anyone, find the most competitive interest rates on the market. Why waste time researching lenders and comparing offers manually when we've already done the work for you?
How much do you want to borrow?
One of the first steps is to decide on how much money you want to borrow and, our handy online loan calculator can help you do just that. You can move the sliding bar back and forth to arrive at a loan amount and term that offers you the most affordable monthly repayment.
It is, however, important to note that this is a representative interest rate and that you may be offered a different rate depending on your credit history, loan amount and loan term as well as whether you're looking for a secured or unsecured short-term loan. Additionally, applying for a longer loan term may lower monthly repayments but it will cause you to pay more on your loan overall and, it's quite wise to select the shortest loan term that you can conformably afford.
Access to multiple offers in a single click
If you're looking to apply for a microfinance in NZ, forget long bank queues and multiple online applications - with NZ Credit & Loans all you have to do is visit our website and navigate to our application form to get started.
Our application is quick, simple and streamline and will take you only a couple of minutes to complete. We will only gather the most relevant details before forwarding your requirements to a variety of reliable lenders on our database. Once we've gathered numerous offers we will provide you with a list of options to compare and then help you select the best online loan deal. This entire process will not negatively affect your credit score as can occur when multiple loan applications are made.
Three easy ways to apply for a loan
If you're not one for online application forms and would prefer a face-to-face experience you can simply visit us in-branch and one of our expert brokers will assist you in identifying a loan amount and loan term that would best suit you and to complete the application.
Similarly, those who prefer to shy away from both online application and in-branch meetings can give us a call and complete their application telephonically. With all these quick and convenient ways to apply for cash through NZ Credit & Loans - you can finally do finance in a way that suits you.
Customer Reviews & Testimonials
"
I needed extra cash to combat my expenses at the doctor. One-click to a speedy application process and I had the money the next day.
Daphne W.
— Ashburton —
Average service, but the payout was quick.
Devon M.
— Whakatane —
NZ Credit & Loans Contact
Contact Number
E-Mail
Website
Physical Address
109 Lyndon Road

Hastings

East Hastings

4122

New Zealand